June 29th, 2015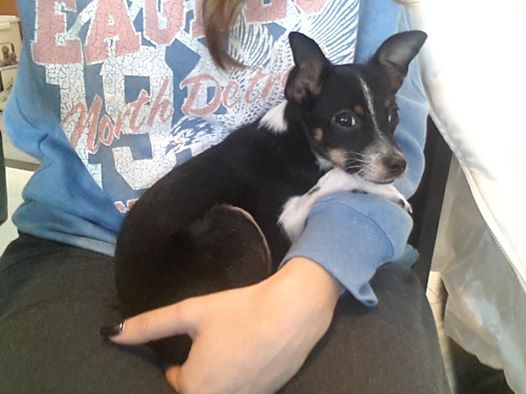 Tim Falk discovers how a wedding gift registry with a difference helped save a little dog's life.
Meet Lucky, a six-month-old Chihuahua with a playful personality and a love of cuddles and human companionship. But although his name may be Lucky, this adorable little Chihuahua's start to life was anything but fortunate. It all started when Lucky's owner took his dog into Lort Smith Animal Hospital to get him treatment for a broken leg, but then left this adorable pooch at the hospital and was never seen again.
With no home to go to, Lucky became a Lort Smith shelter dog as staff looked to get his broken femur operated on and find him a new home. But even though Lucky's story starts out as a sad one, it has a very happy ending, thanks largely to Maria Moeller.
She's getting married!
Moeller has loved animals her whole life. "We've always had a pet in the family so growing up, I always had animals around me and loved spending time with them," she explains. "Becoming a foster carer with the Lort Smith Animal Hospital reinforced how much I loved being around animals, especially dogs, and how rewarding having dogs in your life can be."
Having grown up in Melbourne, Moeller had heard about Lort Smith Animal Hospital and the wonderful work its staff do long before she'd ever been there. Being a dog lover, once she was able to take on a pet, she knew she wanted a rescue dog.
"I went to the Lort Smith website where I read about their foster care programme. I knew straight away it was what I wanted to do," she says.
"So I contacted the Lort Smith staff and signed up as a volunteer foster carer. It's one of the best things I have ever done. Lort Smith are 100 per cent committed to giving every single animal that comes through their doors the best care and treatment possible. I feel extremely lucky to be volunteering with such a dedicated organisation."
But when Moeller and Fletcher Herring got engaged after two years as foster carers, the couple came up with a unique idea to help support Lort Smith even further: instead of having a gift registry at their upcoming wedding, they decided to set up a donation registry to give guests a chance to give money to Lort Smith.
"Fletcher is an amazing person who adores animals; the donation registry was actually his idea. As soon as he had suggested it, we knew it was what we wanted to do," says Moeller.
So, when the pair walked down the aisle at their beautiful Fijian wedding in June 2014, their generous guests were only too happy to be able to give a meaningful gift.
"Having been foster carers with Lort Smith for approximately two years, we saw first-hand the difference that even a few dollars could make in caring for animals," says Moeller. "Deciding to have a donation registry instead of a gift registry at our wedding was never a question of would we or wouldn't we — there were animals needing help and we were in a position to do something about that. The reward that comes from seeing the donations go towards turning homeless, sick or injured dogs into happy, healthy pets is priceless."
Everyone at the wedding loved the idea, and their donations were enough to pay for Lucky's leg surgery and care while at Lort Smith, as well as help out other animals. Lucky then lived with the newlyweds and their two dogs — Scamp the Jack Russell cross and Halle the Chow Chow cross — while his leg healed.
"He is teeny tiny, barely a handful, so gentle and just so sweet," gushes Moeller. "It is impossible not to fall in love with him. He loves to play but also loves nothing better than cuddling up on someone's lap. And he's extremely well behaved, adores people, loves children and is happy spending time with other dogs. He's the perfect family pet."
After two months of much-needed TLC, Lucky's leg had completely healed and he was ready to find a permanent home.
"What was even more exciting for us was that we knew there was a very special seven-year-old girl called Lily Rose waiting to adopt him," says Moeller. "Lily Rose was the flower girl at our wedding. While Lucky was in foster care with us, Lily Rose met Lucky and there was an instant connection between the two. They adore each other."
Lily Rose's family adopted Lucky as soon as he left foster care. This courageous canine now lives on a two-acre property with a fireplace to curl up in front of and an endless supply of love, pats and cuddles.
Lort Smith foster carers
Foster caring for dogs is an extremely rewarding experience, and Lort Smith relies on the assistance of volunteers to look after some unlucky canines in need of a helping hand. Dogs that are in foster care are generally going through a difficult time, so people like Moeller are determined to make a difference in their lives.
"It is amazing the effect that something as simple as love and kindness can have on a dog," says Moeller. "It is also great to be able to help an organisation such as Lort Smith. You know that you are doing something extremely worthwhile.
"If you're a dog lover and are willing to share your home with a four-legged friend, do it! It's a wonderful experience."
You will need to be prepared to give the pooch back, which can be hard, but the reward of seeing a dog find a loving home makes it all worth it. "You can always be assured that Lort Smith will find each dog the best-possible home for their needs and personality," explains Moeller.
And if you want proof, you need look no further than little Lucky.
For more information
Lort Smith Animal Hospital is always on the lookout for foster carers to care for lovable canines like Lucky who are looking for their forever homes. To find out more about becoming a foster carer, visit the website.
Love dogs? Why not visit our
DOGSLife Directory