November 17th, 2016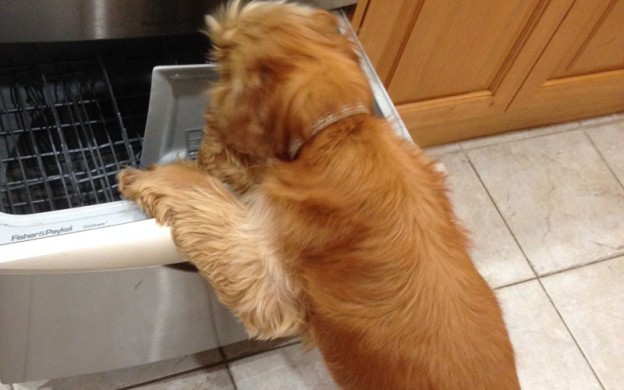 Our Cocker Spaniel Jazz was hanging around the kitchen one night and I found her with her head in the dishwasher. She likes food a lot.
Jazz and the dishwasher
I looked down at the dishwasher
And there I saw
A furry head with her tongue
In the door
She was licking away
And before I knew
All the dishes
Looked brand new
The plates were sparkling
Knives and forks shining
Mans best friend
Full from dining
She sat there contented
Licking her feet
Her eyes asked the question
What's next to eat?
Jeanie Axton lives with her husband Nick, two dogs, two cats and three chickens in the beautiful South East of South Australian Mt Gambier, famously known for its Blue Lake. A secondary teacher at a local Lutheran College, Jeanie has been dabbling in the area of children nonsense poems for many years. She expresses the comedy in animal antics and in her poetry.
Jeanie's poems will be published to dogslife.com.au every fortnight.
Make sure your furry friend is always looked after at our
DOGSLife Directory