February 3rd, 2017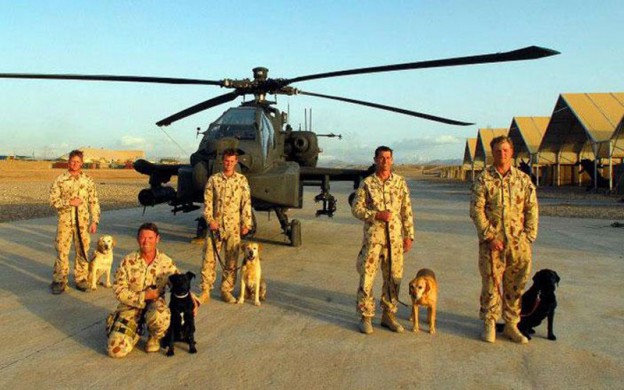 They protect us but they have four feet instead of two. Danielle Chenery explores the world of military working dogs.
Just like people can take on wide and varying roles in the military, there are many different jobs military working dogs can be assigned to. A few examples include explosive detection dogs, bite dogs/trackers, and roles within the special forces, such as explosives or narcotics detection and asset and personnel protection. It's the superior sense of smell and hearing that dogs possess that make them essential to the military, not to mention their obedience and responsiveness when they are well trained.
There's something about the working dog that really captures the imagination of dog lovers. Some feel it's not right for dogs to have to work at all, or, on the flipside, they feel a working dog is even more of a man's best friend because of the loyalty and obedience it displays.
The Royal Australian Air Force Military Working Dog, and the Australian Defence Force Trackers & War Dogs Association (@aussiewardogs) even have their own Facebook page, providing their combined 46,000 fans with beautiful tributes to our four-legged friends (facebook.com/RAAF.MWD and facebook.com/aussiewardogs/). There's also the Australian Defence Force Trackers and War Dogs Association, which has its own website, aussietrackers.org, and events such as the National Military Working Dog Day ceremony, held on June 7, supported by the RSPCA.
According the army.gov.au website, the military working dogs that are part of Special Operations come from a variety of breeds and ages.
The jobs of military working dogs
Special Operations military working dogs perform several roles:
Detection: explosives or narcotics detection
Early warning: of adversary positions
Asset and personnel protection: the psychological effects of dogs on adversaries.
Source: army.gov.au
Aussie war dogs online
Lieutenant Colonel George Hulse RAE (Retd) has created a beautiful tribute to military dogs and their handlers through the website aussiewardogs. org. Sectioned into series according to which country the proiled personnel and military working dog worked in, the proiles tell the stories of the dog handlers and their working dogs in active service on combat missions through beautiful images. George explains on the site: "These proiles demonstrate the incredible contribution of dog handlers and their military working dogs to the safety and security of Australia's defence interests."
Check out the stories at aussiewardogs.org
The original article was published in DOGSLife issue #140. Subscribe to our magazine here.
Make sure your furry friend is always looked after at our
DOGSLife Directory