July 23rd, 2008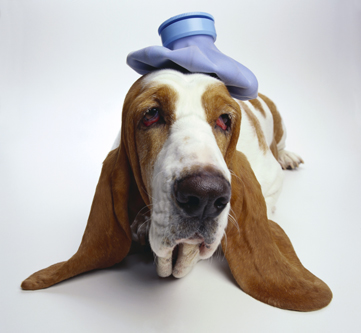 Advances in medical veterinary technology helps veterinarians to offer a more comprehensive, flexible and cost-effective service for treating a huge range of conditions. Caroline Zambrano discovers how high-tech machines bring a fast and accurate diagnosis to many pet owners.
Imagine that your dog has been hit by a car and you do not know the extent of damage to his body. You rush Fido to the veterinary hospital and wait outside the surgery for news. A short while later, your vet appears at the door with a gentle smile and says your poochs CT scan shows a few broken ribs, some internal bruising and a fractured jawbone, but he'll be OK.
Thanks to the detailed, high-quality images produced by the CT scan, your vet has been able to quickly and accurately assess Fidos condition and provide a treatment plan to aid his recovery.
More and more pets are reaping the benefits of advancing veterinary technologies, and one of the new machines that brings fast, accurate diagnosis to pet owners is Computed Tomography, commonly referred to as the CT or CatScan.
Last September, Ku-Ring-Gai Veterinary Hospital in the northern suburbs of Sydney unveiled the first publicly available helical CT machine for pets in Australia. The machine uses modern digital technology and is fully supported by the manufacturer, GE, one of the worlds largest and most reputable CT suppliers.
The CT machines high image quality allows more accurate diagnosis and improved prognosis for a wide range of disorders.With this machine, we will be able to offer a one-stop-shop to any pet owner who wants the best available outcomes for their pet, says Dr Angus Ross, veterinary partner at Ku-Ring-Gai Veterinary Hospital.
CT machine benefits
The benefits of CT are things you can see that you have never been able to see before, Ross says. In recent years, we have had access to CT, but the hassle factor was to take the pet off-site to a human practice, going out-of-hours or at odd times, and in an environment where if something went wrong, we would struggle to deal with it.
At Ku-Ring-Gai Veterinary Hospital, vets have 24-hour rapid and immediate access to the CT machine, and if their furry patients condition unexpectedly changes for the worse, they have everything they need at the hospital to deal with the problem.
Our vets have also been comprehensively trained to drive the machine, which means you wont need to call someone in to do it, Ross tells Dogs Life.
The advantage of having a CT supplied, installed and supported by GE is that the company provides training and continuous support to ensure vets are not only qualified to use it, but also understand what kind of information the machine is capable of providing.
A vet for 12 years, Ross has always had a special interest in diagnostic imaging, which explains why his hospital has an extensive range of high tech diagnostic equipment to cater for pets suffering from a range of conditions.
It's the mindset of knowing what technology you have and appropriately using it. That makes the care of the animals in a different dimension, he says.
For instance, a dog with a urination problem might normally be asked to provide a urine sample to the vet for testing, possibly leaving a number of important stones left unturned. However, Ku-Ring-Gai Vet Hospital takes a different approach.
We have a set standard for urinary issues, whereby we ultrasound the bladder and kidneys, whilst not necessarily charging the owner for it, because we just need to know. The equipment is there, its available and quick, Ross says.
Assessing conditions
The CT machine assists in diagnosing and assessing conditions within the nose, ear, brain, spine, lung, abdomen, bone, bladder and kidneys, as well as being an invaluable tool for assessment of patients with cancer, Ross adds.
When Ross first thought about getting a CT machine for the practice, he had the option of purchasing a used one from a hospital. It would be considerably cheaper, but would not do a quality job.
Normally, machines available from hospitals have been worked to death and the tubes are getting old, he says. The tube is like an engine in a car. It can take 400,000 CT slices. Hospitals get rid of them at 350,000 slices. Its like buying a used car that is five years old, but completely flogged.
Another option was to work with GE, which manufactures, installs and supports veterinary hospitals in all aspects of operating the machine. We wanted a machine that was basically brand new and had been completely certified by the manufacturer, Ross says.
GE took a second-hand under-used machine, pulled it to bits in Minnesota, USA, put brand-new parts in it and sent it back to Ku-Ring-Gai Veterinary Hospital.
It's like buying a brand-new car but a superceded model, he says. What you're getting is a machine that is exceedingly reliable, has new equipment and produces very good images. The fact that the manufacturer [GE] has installed it and trained us how to use and maintain it, means you get a machine with not as many problems, so you wont have reliability issues and errors or breakdowns.
What is most amazing to Dogs Life about using the CT is that todays computer technology allows vets to email in-depth images to experts around the world for a second opinion on their diagnosis.
You never know, your dogs chest X-rays may end up getting printed in a veterinary journal in America or be used in a canine heart study in New Zealand. Opportunities are endless with the developing technology in veterinary medicine.
Q&A with Dr Angus Ross from Ku-Ring-Gai Veterinary Hospital
Q. What is a CT scan?
A. Some areas of the body are difficult to image with conventional radiographs (X-rays) or ultrasound, therefore, tomographic (or slice) images are necessary to evaluate the area. CT machines can display images digitally, and the viewing software helps emphasise differences between normal and abnormal tissues, making diagnosis of problems easier.
Q. How does it work?
A. The animal is sedated or anaesthetised during the procedure, in order to get a quality image. The table on which the animal is lying is slowly advancing into the gantry, the part of the machine that performs the scan. An X-ray tube rotates 360 around the animal to record the X-rays from many angles. When the computer finishes processing the information, an image appears on a monitor, which is saved for further review and can be compared to later scans to determine the effectiveness of the treatment.
Q. What is CT useful for?
A. CT scans are particularly useful for looking at complex bony and soft-tissue structures, like the skull, spine or joints, detecting and characterising lung disease, ear problems and studying patients with cancer or other conditions within the nose, ear, brain, abdomen, bladder and kidneys.
Q. What is MRI?
A. Magnetic Resonance Imaging (MRI) is a non-invasive procedure that uses a magnetic field from super-cooled magnets, and can often distinguish more accurately between healthy and diseased tissue. Like CT Scans, MRI can provide pictures from various angles and construct a three-dimensional image.
But the main distinction is in MRI's ability to provide better definition of soft tissues, like brains and spines. However, it runs much slower and longer than a CT scan, requiring an anaesthetic to keep your pet motionless throughout the procedure. MRI also costs more than a CT scan ($800,000 plus).
Love dogs? Why not visit our
DOGSLife Directory