June 17th, 2008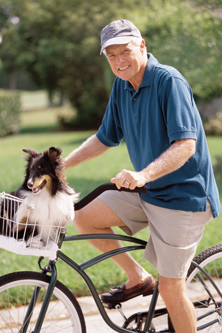 Have you thought about holidaying/travelling with pets overseas, or scored that dream job in the United Kingdom but can't bear to leave your pooch behind? Mei Yen Chua investigates the quarantine and travel procedures that need to be followed before you can skip town with your dog.
People planning to travel to England with their pets face complex quarantine and travel procedures as British import legislation has been undergoing changes over the past five years. Dogs Life spoke to the Australian Quarantine and Inspection Services (AQIS) and discovered the UK Pet Travel Scheme may be a good option to consider.
For many, the idea of travelling with pets may seem like a good idea, but find themselves shying away because of high costs and quarantine procedures. Quarantine rules for Australia are very strict and complex and with good reason. Australia is an island continent and is vulnerable to diseases that could prove fatal here to many species of animals and plants.
Dr Ainslie Brown, Live Animals veterinarian from AQIS, said many people are confused by the term pet passport. It is not a one-stop passbook for pets and does not apply to most countries, she said.
The Pet Travel Scheme (PETS) is only available in the United Kingdom for pets coming into the country. It is also for pets that normally reside in the United Kingdom, but have travelled outside and have to come back into the country again. What this system does is facilitate easier passage into the United Kingdom for pet owners.
Pets going into various countries are still subject to each individual countrys pet import laws. Therefore, you will need to research what the regulations are for the particular country you are travelling to.
PETS was introduced in February 2000 for pets travelling from most European countries. The scheme was then extended in January 2001 to Cyprus, Malta and certain long-haul countries and territories. Bahrain joined in 2002, as did the USA and Canada. The pet passport scheme is a useful program because it eliminates the need for the traumatic quarantine time away from your pet.
Entry into the UK
For entry into the United Kingdom, your pet will need to be more than seven months old. First, your pet will need a Pet Certificate to be eligible for the scheme. How do you apply for one? The certificate is issued by a recognised or accredited veterinarian. Check out the contact numbers for statewide AQIS Live Animal offices at the end of the article.
In order to get the certificate, you must register your pets ISO standard microchip number and vaccinate your pet against rabies. Blood sample tests are then taken a month after the vaccination for rabies antibodies. The test must show sufficient protection against rabies.
The pet certificate only becomes valid six months after blood samples are taken. Another test is done 24 to 48 hours before departure to confirm the pet is free from ticks and tapeworm. The final test is done by the AQIS vet to certify that there is no clinical sign of rabies. The certificate is then valid for six months.
An important piece of information to remember is that if your travelling plans have been delayed or changed and you're still taking your pet, you must renew your pet certificate. If your pet has missed its revaccination, the whole procedure of vaccination and blood sampling must be repeated again and that means a further six-month wait. If you are in a rush to travel and have no paperwork, your pet will have to go into quarantine for around six months. Puppies under seven months also have to go into quarantine. All veterinary charges will be subject to individual vets, but it will cost around $75 for certification.
In order to comply with the PETS scheme, all blood testing in Australia is done by the CSIROs Australian Animal Health Laboratory (AAHL) in Geelong, Vic. You can contact them on 1300 363 400. One form must be submitted to them with any samples to be tested. These forms are available from AAHL. They do not accept copies; only original documents must be submitted.
Travelling
When you buy your ticket, inform your travel agent or airline company in advance that you are travelling with a pet. They can advise on appropriate customs forms and procedures for you. Your pet may be subject to a 15 percent Value Added Tax (VAT) charge upon arrival in the UK.
Not all airlines are participants in the PETS scheme. At the moment, Qantas is the only airline you can fly from Australia. Qantas carries animals under the scheme from Sydney, Melbourne, Darwin, Perth, Brisbane, Adelaide and Cairns.
Another important point to note is that not all airports allow pets into passenger terminals. If you are travelling to and from Adelaide, Cairns, Darwin, Gove, Hobart, Karratha, Alice Springs, Perth, Port  Hedland and Townsville airports, you will need to collect your animal from the freight terminal.
Animals on the UK PETS scheme must travel on approved routes. Travelling on unapproved routes could see your pet ending up in quarantine, so make sure of this when you book your tickets.
Service dogs
Only service dogs can be accommodated in the airline cabin on an absorbent mat. All other pets fly in the cargo section in appropriately sized pet packs. For domestic flights, pets are considered part of the baggage allowance. A small pet pack made of plastic material is considered one unit of baggage for dogs up to 15kg. A medium polypropylene cage is for dogs up to 20kg and a large timber crate with escape-proof hinges and latches (must not exceed 84cm in height) is for dogs up to 40kg. Passengers usually supply their own cages.
There are various pet transport companies that sell or hire out pet packs for domestic travel. If you're travelling overseas, you may be required to buy a pet pack due to difficult logistics of returning the pack to the company. Small plastic dog cages range from around $90 some may be a little more expensive as they feature a water bowl and funnel. Medium-sized packs start from $200, large dog packs (under 75cm) start at around $280 and extra-large packs are around $340. Timber crates are also an option; they cost less but are significantly more bulky and awkward to handle. This isnt so much of a problem with small sizes, but remember some of the larger sizes may be harder to source so always order your pet pack at least a week in advance for the supplier to acquire the stock.
With increasing numbers of pets travelling to the UK since the scheme was introduced about six years ago, the British system creates an opportunity to discuss the pros and cons of implementing a similar system in Australia. For information about Biosecurity Australia, the organisation that implements and negotiates for these systems, check out their website at www.daff.gov.au/biosecurityaustralia.
For enquiries regarding pet travel contact:
QANTAS Central Reservations:
Tel: (02) 1300 368 747
Fax: (02) 9691 1251
Email: livestock@qantas.com.au
Accredited AQIS Veterinarians in Australia:
New South Wales – (02) 8334 7432
Victoria – (03) 8318 6970
Queensland – (07) 3246 8731
Australian Capital Territory – (02) 6272 4466
South Australia – (08) 8201 6004
Western Australia – (08) 9334 1536
Northern Territory – (08) 8999 2093
Tasmania – (03) 6336 5382
Love dogs? Why not visit our
DOGSLife Directory