November 19th, 2013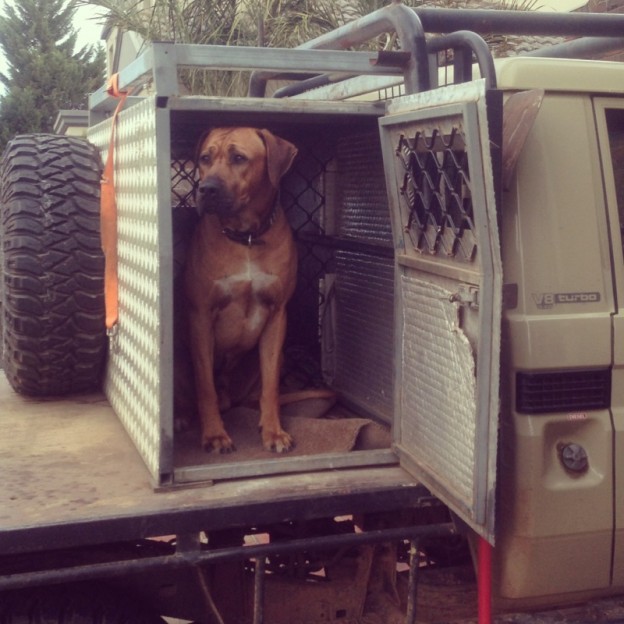 If you've had a blubber through the magnificent Australian film Red Dog, you'll know the magic, romance and loyalty associated with travelling with your dog. Katie Cincotta tracks down some of the coolest mutts across this wide brown land of ours — four-legged adventurers who travel with their owners as trusty sidekicks.
Yandoit's Italian Greyhounds
When you own a property in Victoria's spa country that could pass for Tuscany, of course you'd want to share it with handsome Italian Greyhounds. Artists and historic property operators Gerhard and Bernadette Emmerichs travel around the picturesque hills of Yandoit in Victoria's Goldfields country with two adorable and intelligent companions — 15-year-old Charlie and his 4-year-old son, Will.
"They really don't like to be left alone," says Gerhard, which is why when they have guests at the San Gallo cottage at Historic Bergamo House, the petite pooches are right alongside them, cruising the fertile five-acre grounds brimming with pears, pomegranates, and grapevines, surveying the idyllic scenery from the elevated back verandah.
In Italy, the Royal family would use them as bed warmers because they liked to sleep under the blankets and were bred to emit no odour from their skin.
"When we used to go camping with the kids, they would always tuck into the end of the sleeping bag."
In commuting between their warehouse in Collingwood and their country retreat, the petite hounds are always in tow.
"They love it in the car because it's nice and cosy. And they sit on top of each other, with Will on the top. He likes to try and be the boss, but he's not," says Bernadette.
Charlie came from a breeder in Ballan, a woman who had more than 20 Italian Greyhounds of her own, and they knew he was the one when he came up to their daughter and curled up in her lap.
"Charlie is like an elderly gentleman, very distinguished," says Bernadette, which harks back to his champion bloodline in Holland.
The dogs certainly have the run of the property, which lies on part of the remote and rustic terrain of Yandoit, between Castlemaine and Daylesford.
Across the road, there lives another Italian Greyhound friend — the gorgeous grey Alba — who is owned by chef Rosa Mitchell who runs Rosa's Kitchen in Punch Lane, Melbourne.
With only local traffic on the road, these three Italian Greyhounds seem to have the countryside in check. And they certainly look the part among the olive trees and the sandstone houses built by the Swiss-Italian immigrants who colonised this very special part of Victoria in the 19th century.
Kangaroo Island's Pelican Man
His Kelpie Labrador cross Roy has a wooden sign next to him on the back of his master's Ute that says "I'm Roy, I like pats, lamb chops and honey ice cream."
At 5pm every day on Kingscote Wharf, the northern side of Kangaroo Island's central tourist point, you'll find the Pelican Man John about to do his daily feeding session and wildlife talk about the great ocean bird – the pelican.
He's been doing this for 16 years, and it's a sight to behold — with dozens of the giant birds diving and flying for their fish feed at dusk. Just don't sit up the front unless you want to risk flying pelican poo overhead.
For $5 per head and $3 per child (which goes towards the cost of feeding some 40 to 50 pelicans a night), this is one of the must-do attractions on the wildlife mecca of Kangaroo Island in South Australia. Not only will you see these great seabirds take flight, land, swim and dive, you'll also learn a lot from the colourful and charismatic Pelican Man and his trusty sidekick Kelpie.
Roy does love the attention. He sits on the back of the Ute and waits for children to come up and say hello, and give him a pat.
His master John is a retired tradie, and waits by his dog pal with a hat to collect the night's takings. There are only a few shops and restaurants in the main town of Kingscote and it's not uncommon to bump into John and his signature Kelpie on the back tray, lapping up the sunshine and waiting for his owner to return. It's a dog's life for sure when you live on an island as quiet, beautiful and unspoiled as KI.
K9 Marathon team
Mark Jensen is a licensed electrician from Sydney who often takes his Kelpie cross Ty to work with him. She loves her car rides, but what this working dog prefers is hitting the bitumen on all four paws.
She and her owner are the country's marathon running champions, and even at the age of seven — which qualifies her senior status — this RSPCA adoption dog shows no signs of wanting to settle back on the couch.
"Ty has been described as an indefatigable K-9 and she certainly lives up to her nickname.
Nothing will ever hold her back. She's averaging 35 to 55km a week. Ty is now officially six times Australian K-9 Marathon running champion and is now in training for her seventh marathon event," says her running partner Mark.
When the running canine sets off for the 42.2km Westlink M7 Cities Marathon in July, from Liverpool to Blacktown, she'll be fundraising for the RSPCA — and sure to steal the show in her running gear which includes a handmade harness to help the pair stay in synch while hitting the pavement.
With vets diagnosing Ty with a canine version of ADHD, her owners feel blessed that she's found a way to channel her energy — which forced her former elderly owner to surrender her in the first place, unable to keep up with her energetic ways.
Mark says unsurprisingly there's not much professional advice available for a dog preparing for her seventh marathon event, but they do as much research as possible to keep her nutrition and health on track in the lead-up to the marathon which they completed in just over five hours in 2012.
"Ty is running great and shows no sign of slowing down at all. For a dog almost seven years old, she is a remarkable athlete. She really pushes me to the limit most days, and I could not ask for a better running partner."
Chopper on the job
As a 50kg puppy, Chopper the Rhodesian Ridgeback copped a stern talking to after he would poke his giant paw in wet cement. It was one of the first training lessons this hulking hound needed to learn if he was going to be on the job with his concreter father, Adem Razorr.
The 27-year-old tradie works in Melbourne's northern suburbs and takes his stately specimen to most commercial sites. He's even custom built a steel dog kennel on his Ute, which means his big hunk of a dog travels safely from site to site.
"He loves getting up early for work in the morning and is full of energy until about lunch time and then he likes to rest or sleep. He has his own trowl that he fetches and brings back and sometimes he doesn't like to give it back."
Originating from Zimbabwe, Rhodesian Ridgebacks have an imposing presence as they were bred as lion hunters and guardians, often set up as security dogs to protect precious diamonds mined in Sierra Leone.
Adem admits some people do reel at the sight of him — as he now stands at almost 75cm to the shoulder as a four-year-old adult. The upside is that there are not many people who would dare to approach his vehicle and his expensive tools with the big boy on show — which is the best insurance policy you can get.
"And he barks and growls on command which comes in handy when negotiating with sales reps," laughs Adem.
But don't let the tough name fool you. Chopper looks the part as a gangland member, but he's really just a gentle giant at heart. Other tradies who bring their dogs to work include a plumber with a fluffy white Maltese Terrier, and despite looking like Laurel and Hardy, big and little are the best of friends. Just don't tell anyone. It'll ruin Chopper's bad boy reputation.
Love dogs? Why not visit our
DOGSLife Directory