October 23rd, 2013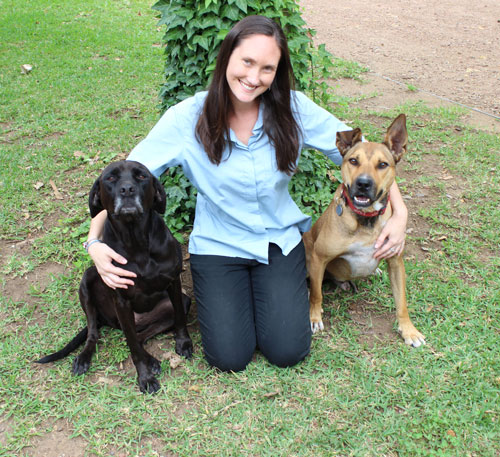 Dog trainer Zoe Daly not only teaches dog obedience classes; she also trains canines to save lives. Daly chats to Kylie Baracz about her work training these remarkable dogs.
How long have you been working with dogs and how did you get started?
I have been training dogs for seven years, working professionally at a dog training and boarding kennel for two years, training dogs for obedience and rehabilitating dogs with aggression and anxiety issues.
I have been running my own business, Puppy Perfect, for almost a year and love every minute of it. I also have experience training scent detection dogs for the Australian Army, NSW Corrective Services, the Macquarie Island Project, WWF Germany, NSW Parks and Wildlife Service and the Cheetah Conservation Fund in Africa, working with Australia's leading dog trainer, Steve Austin.
My own dog Jay Jay and I are part of the SES and NSW Fire Brigade Urban Search and Rescue team for Australia and are undergoing training to assist in rescue operations at home and overseas in the event of a disaster.
As a result of our International External Classification assessment in September 2012, we are now qualified with INSARAG (International Search and Rescue Advisory Group), part of the United Nations, so we can assist overseas on behalf of Australia.
I compete with Jay Jay in obedience, and my older dog Matilda and I compete in obedience, agility, flyball and canine freestyle. All of these sports are fun and the dogs love it.
I became interested in training when I got my first dog, Matilda, while living in the US. A few years later, after moving home to Australia, I completed the National Dog Trainers Federation course in Dog Behaviour and Training, Scent Detection and Assistance Dogs.
I also completed Vicki Austin's Puppy Class Instructor Course, which I highly recommend. I developed my skills further from there by beginning my work as a trainer at a boarding kennel in Sydney.
Training people and their dogs is my passion.
What does your work involve?
My work involves carefully assessing a dog's behaviour in order to select the best training methods for the individual dog. Every dog is different, so this step is very important.
From there, I make a training plan and work with people and their dogs to teach them both new skills and techniques. I use a training method where I reward wanted behaviour and block unwanted behaviour.
I reward good behaviour with what the dog loves the most, and set the dogs up for success so they are always happy and confident in their training. As a result, their owners are very happy with their new well-behaved and balanced dogs.
What inspires you to do your job?
Maintaining welfare for dogs is my inspiration. Lots of dogs have problems as a result of living in today's society. Behaviours such as anxiety, destructive behaviour, hyperactivity, aggression towards other dogs or people, digging, barking, running away etc are not tolerated. As a result, many dogs are being put down at pounds and vets for behavioural problems.
I want to educate people about socialising their dogs and training them so that the dog knows the human is the leader and they are to behave a certain way. Dogs who know their place are very happy dogs.
My dog Jay Jay is from a Sydney pound. He was put in there because he destroyed the yard, was aggressive to dogs and jumped on people. If I didn't rescue him he would have been put down, all because someone didn't train him or socialise him. Now, he is a certified urban search and rescue dog for Fire and Rescue NSW, SES NSW and the United Nations. All dogs can be heroes.
What is the worst part of your job?
The worst part of my job would have to be the cases where the owners are unable or unwilling to take on board the advice I give to them. As a result, these dogs often end up alone in the backyard, at the pound, or at the vet to be put down.
It makes me very sad to think such a lovely animal ends up in that situation because of humans.
What is the best thing about your job?
The best part about my job is making a difference for dogs with behaviour problems and bringing relief and happiness to their owners.
Anxiety and aggression problems are my specialty — there is nothing better than seeing a dog overcome severe behaviour issues and become happy and well-balanced.
Love dogs? Why not visit our
DOGSLife Directory