February 13th, 2014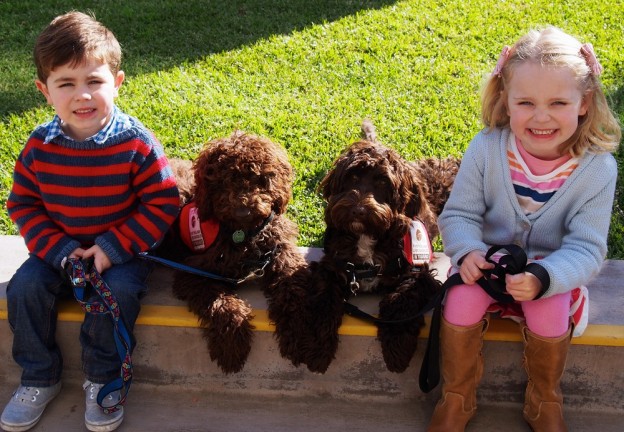 A newly-formed charity trains Labradoodles as therapy dogs to assist children living with Autism. Kylie Baracz discovers how these special dogs help and inspire their human companions.
With many Australians living with disabilities, support has been found in our furry canine friends. Dogs are not only man's best friend but they have been found to change the quality of the lives of people living with disabilities.
Founded this year, Taloodles Therapy and Assistance Labradoodles Inc is dedicated to acquiring and training dogs to assist in the care and treatment of people who have a disability that is attributable to one or more intellectual, cognitive, neurological, sensory or physical impairments.
"Dogs are supportive, nurturing and can, and do, boost confidence and help improve self-esteem, assisting with an overall increase in social integration and lifestyle quality not just for the individual but for their family also," says Rebecca Meyer from the Taloodles charity.
"Possibly the most important benefit of the dogs is that of a steady, loving friend and companion who will never judge them and who will always remain by their side."
The main focus of the charity is providing therapy dogs to those living with Autism Spectrum Disorders (ASD). These disorders are lifelong developmental disabilities characterised by marked difficulties in social interaction, impaired communications, restricted and repetitive interests and behaviours, and sensory sensitivities.
"Our main focus is to provide therapy dogs to children with special needs, particularly those living with Autism," says Meyer. "Therapy dogs have been proven to be loving, non-judgemental companions that assist with cognitive functioning, social interaction, boosting self-confidence and can make a huge impact on the individual and their family's lifestyle. It is for these reasons that we established Taloodles and are strong supporters of increasing the number of therapy dogs throughout Australia.
"It is an incredible thing witnessing the rate at which these changes can start to occur after bringing a therapy dog into a home," says Meyer.
Taloodles stems from the great need for therapy and assistance dogs for disabled members in the community and, while there are a number of organisations across Australia who train them, demand for therapy and assistance dogs far outweighs the current supply.
"We believed that there was an opportunity to be seized that could truly make a difference to peoples' lives and decided to grab it," says Meyer. "Coming from quite fortunate backgrounds, it is important to recognise and advocate for those who would benefit from our assistance and to be a part of something that gives back to the community."
Why Labradoodles?
Labradoodles are unique in many ways. It has been said that they were purpose bred and developed over many generations for genetic strength and temperament. They are loving, gentle and highly intelligent animals with allergy friendly, silky, non-shedding coats.
According to Meyer, their wonderful temperaments mixed together with their intelligence makes them perfect for the role of therapy dog and they are quick to learn and love people.
"We are very fortunate to be able to identify and source the Labradoodle puppies from a very reputable breeder who is located in the Hunter Valley. She has spent the last 17 years developing the Australian Labradoodle to a very high standard. Charlotte McGrath from Tamaruke Australian Labradoodles has identified and placed many therapy and assistance dogs over the past years and her website is testament to the difference these dogs can make in the lives of special needs children," says Meyer.
How much does it cost to train a therapy dog?
The tempered personalities of Tamaruke Australian Labradoodles allow the puppies to enter foster care at around eight weeks of age to begin their training. They live with their foster care families for about five to seven months.
The foster care families are volunteers who look after the needs of the dog and invest hundreds of hours in attending training sessions with professional trainers, continuing that training at home and taking the puppies into as many different environments as possible so that they are comfortable and relaxed at all times.
It is a very special process that ends with the dogs being placed with a recipient family. "We work towards placing the dogs with their recipient families by the time they are seven or eight months of age so that they can develop a strong bond with their family. Depending upon the level of training required, it costs in excess of $7000 per puppy," says Meyer.
So what's next for Taloodles?
The Taloodles Dogs' Day Out event, which was held in July, was well supported and will now be held annually to assist the charity with raising awareness.
"We are continually looking for ways to raise our profile and for people or businesses to assist us with sponsorship, donations, raffles etc," says Meyer. "We do intend to organise and hold more fundraising events in the future and are also looking to form relationships with people who can assist us in this very worthwhile process by providing products or services that reduce the cost of the puppy's care while they are in training.
"We hope that more people can recognise the important place these therapy dogs have in this world and the huge difference they make to all the lives around them."
Taloodles Assistance and Therapy Labradoodles Inc
For more information about the charity and what you can do to support them, visit taloodles.com or call (02) 6574 1327.
Love dogs? Why not visit our
DOGSLife Directory