August 21st, 2014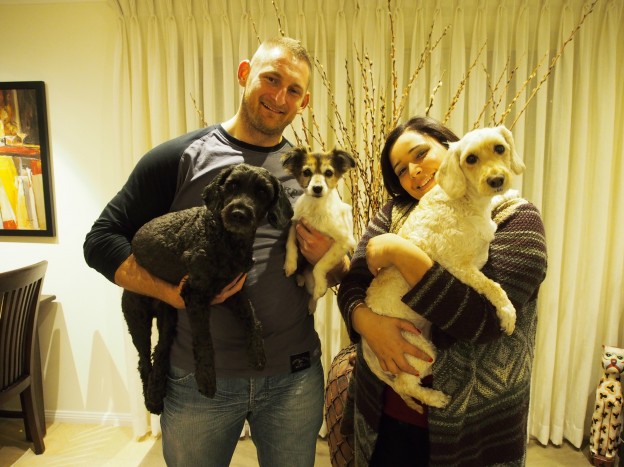 We hear about house fires on the news, but rarely do we meet the people and their pets that just managed to escape. Kylie Baracz speaks with Nancy Deregowski about the three dogs that survived a house fire.
It is an owner's worst nightmare. Nancy and her husband were going out at night and left the dogs in the house when a fire broke out.
It was only by chance that her husband went back into the house and realised there was a fire that they managed to escape before it was too late.
"My husband and I were both out separately with friends," recalls Nancy. "Before I left to go to a friend's place, I picked up some precooked meals. I placed the meals which were in a cardboard box by the electric stove top and as I did that, I must have grazed the knob and turned the stove top on.
"I left the house at around 3pm. It was a hot day so I closed all the block-out blinds and left the girls in the kitchen and closed the door. I thought I was doing the right thing by keeping them out of the heat. They had nowhere to go."
When Nancy and her husband decided to go out to dinner, they met at the house at 8pm. She waited outside for her husband to get the car and once inside the car, asked if he needed anything from inside the house.
"He drove halfway out and then said 'Actually I need to go to the bathroom' so I said to my husband, 'Walk in through the front door so we don't excite the girls and then just leave to go out.' As my husband opened the front door he said, 'Is there a fire?' I didn't think for one moment that it would be our home. I stepped back outside to smell if the smoke was from outside. Before I knew it he was screaming, trying to break down the kitchen door."
Rescuing the dogs
When Nancy walked into the lounge room, she couldn't see anything in front of her – the smoke was so thick.
"We got the door open and the girls kind of stumbled out. Bella, who is a golden Spoodle, was grey. There were no open flames at that point, however it was like the fire spread to kitchen cabinets — everything was smouldering."
After grabbing the dogs, Nancy ran to her neighbour's house to get water to wash their eyes out and give them a drink.
"I left my husband in the house and I got onto Animal Referral Hospital as I knew they were an after-hour emergency hospital. They said to get them in the fresh air, give them water and get them there ASAP. Within 40 minutes, we were at the hospital."
All the dogs were affected by the smoke. They had some eye damage and quite serious lung damage.
"Bella, the youngest, was the most affected. I was initially most concerned with Lulu. Being 13 years old, I thought that she would be most impacted. She is a little fighter though — she had not long ago recovered from a spinal stroke. She was the one that did the best!" says Nancy.
After about nine to 10 weeks at ARH, the dogs recovered well. Nancy says the care that they received was unbelievable and is so grateful for their help.
"Our girls are our children. They are a central part of our lives and we needed to feel that they were not only being cared for medically but emotionally. They received endless love, cuddles and interaction at home; and although I was really concerned initially that they would just be treated as patients, they weren't.
"The nurses knew so much about the girls and I would get photos sent to me. We were able to visit every night — at any time. I do believe they loved the girls and that to me was priceless. My own vet said that he would not have been able to save them. However, although Bella has some ongoing issues with bronchitis, I have that under control with puffers and a diet and exercise plan that the ARH have me when we discharged them. The other two dogs are just back to normal," says Nancy.
Looking to the future
Although the dogs are almost fully recovered, the Deregowskis still paid a price from that terrifying night. There was significant damage to the kitchen, carpets and tiles. They also lost a lot of electrical items.
"The whole house needed to be re-painted, and all our clothes and linens were smoke-damaged. The entire house had to be emptied," says Nancy.
It took a significant amount of time to repair their damaged home, but at the end of it all, Nancy and her husband are just happy their dogs are OK.
"It took some time for me to feel totally comfortable in our home again. I was concerned that the girls would be scared to be in the home but dogs are so resilient. We have also made some changes. We installed a doggy door — which I would like to stress is so important. That way there is a way out if something happens in the backyard and vice-versa. My dogs are indoor dogs but now they have a way to get out if they need too. Also I now have a 'no [indoor] closed door policy' when we are not home!"
How pet insurance helped
By having pet insurance, Nancy was able to give her dogs the best care possible.
"I had three otherwise perfectly healthy dogs that, thank God, I did not have to make the decision to put down because I could not afford treatment," she says. "The treatment was costly and for a lot of people, it would not have been affordable. It is so important as a pet owner to plan for the unexpected."
Love dogs? Why not visit our
DOGSLife Directory