September 10th, 2013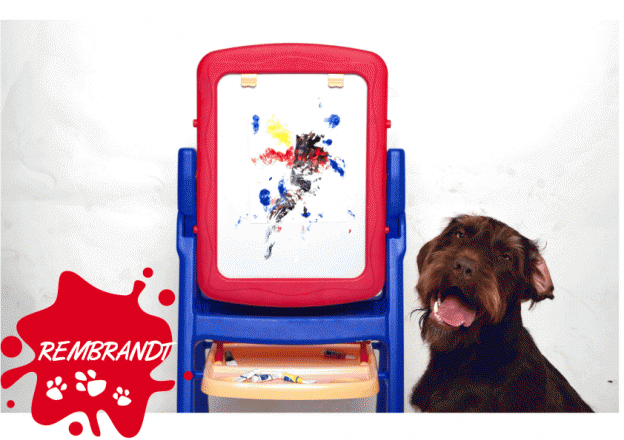 Forget rolling over or bringing in the newspaper — dogs are capable of far more than we often give them credit for. Tim Falk meets some amazingly talented dogs and discovers their special skills.
Migaloo
On the surface, three-year-old Migaloo looks like your average Labrador-cross: she's affectionate, full of beans and loves a game. But there's much more to Migaloo than meets the eye.
With a nose for archaeology, this lovable Lab is trained to find fossils. In fact, in 2012 Migaloo made a stunning discovery in Queensland when she sniffed out fossilised remains that date back to the Pliocene era — which was astonishingly between 5.3 and 2.6 million years ago. "The bones were discovered by an Aboriginal elder and I was sent a fossil in the mail that I trained Migaloo on for three months," says Migaloo's trainer and owner of Multinational K9, Gary Jackson. At the time of writing, it was thought the bones probably came from a very large kangaroo.
But that's not all this talented pooch has done. "Migaloo achieved the world's oldest human remains find at 600 years old and I believe Migaloo is the first dog in history trained on megafauna," Jackson says.
Jackson says it is possible for other dogs to be trained to find fossils — a prospect which must have archaeologists frothing at the mouth with excitement. "I have trained cadaver dogs for years and been involved in many cases but I always wanted to go older, into the hundreds or thousands of years old, so we managed to get old Aboriginal bones from the museum of around 250 years old and built a graveyard. Once Migaloo was good here the training became harder for her with the detection of only residue odour."
The total training program took six months, but regular training is also required to maintain Migaloo's skills. Called into action roughly two or three times per month, Migaloo will work for one or two hours and then have a break, before putting her nose to work again for another hour.
And with Migaloo set to head off to WWI and WWII battlefields to search for soldiers who never made it home, there's no doubt that this gorgeous pooch's amazing talent will be put to good use.
Diabetic alert dogs
Many dog owners try to train their puppies not to nibble fingers, lick their face or whimper. For a diabetic alert dog, however, these skills are vitally important.
Paws For Diabetics (PFD) is a non-profit organisation of dedicated volunteers committed to training and certifying diabetic alert dogs for type 1 and type 2 diabetics who also have the potentially life-threatening condition called Hypoglycaemia Unawareness. "Any breed of dog can detect hypoglycaemia and many can be trained to alert their owners," says PFD secretary Kaylene Burnell. "PFD choose breeds that are naturally attached to one owner and mature quickly. When choosing a puppy from a litter to train, PFD looks for an outgoing and curious nature."
All dogs are sourced from reputable breeders, and while adult dogs have been effectively trained to become diabetic alert dogs, PFD has a higher success rate with puppies because they bond with their owners right from the start. "Training a dog for diabetes alert differs from training a pet dog. Most owners stop their puppies from licking their face, nibbling fingers and whimpering, but these are the first steps to alerting and we encourage our puppies to do this," Burnell says.
PFD uses scent-training methods similar to drug detection and quarantine dogs. While every dog will progress through training at slightly different speeds, a general timeline will consist of:
From five weeks old: Dogs start their training with scent association from the recipient they will be placed with.
Eight to 12 weeks: They are placed with their recipient and begin proper alerting and obedience training. They are taught to remain calm and confident in all situations and ignore external factors that most dogs would react to such as sudden noises, crowds, vehicles, other dogs and strangers.
From 18 months: The dogs undertake the Public Access Test which determines if they qualify for Assistance Dog Accreditation.
Yearly: Dogs are assessed and reaccredited once a year. The annual check also includes vet examinations to ensure the dog is fit and healthy enough to continue his duties.
Since its establishment in 2005, PFD has successfully trained many dogs to help their owners. "The effects of Hypoglycaemia Unawareness can be crippling, and the stress of carers and family is just as important an issue as the stress to the diabetic, as everyone can be affected," Burnell says.
"PFD dogs are real little life-savers. As well as alerting their owners to impending hypos, a PFD dog also gives their owner back their independence, confidence, improved health and diabetic management."
Paws For Diabetics
PFD is an Australia-wide charitable non-profit organisation and services the whole of Australia. Its website is www.pfd.org.au. Donations can be made through Paypal, by emailing secretary@pfd.org.au or texting 0400 781 876 for banking details. Cheques and money orders are also welcome at PO Box 81, Osborne Park, WA 6917.
Service dogs
It's no secret that dogs have the amazing ability to change the lives of people with disabilities, but there's a unique Australian program going to new lengths to harness the unique skills of our canine companions. Developed by Hans van Heesbeen, Service Dog Training runs an accredited program that teaches people with disabilities to train their own service dogs.
"While going about the business of running of my company K9Coach, I was consistently asked to help people to train their dog as a service or assistance dog," van Heesbeen says. "Most of these people had 'fallen through the gaps' for many reasons — not meeting the criteria set by larger organisations, not having the funds, having disabilities that preclude them from being considered etc."
After extensive research, van Heesbeen discovered that the demand for assistance, service and therapy dogs has rapidly increased in recent years, resulting in long waiting lists for people with a disability. "The crucial difference with Service Dog Training is we coach the handler to train their own dog using scenarios designed to best suit the handler's ability," van Heesbeen says.
Nearly any dog can be trained as a service dog, but there are several issues to be considered. "Our priority is the bond between handler and dog. A great team will help each other together, underpinned by intuitive responses between dog and handler and vice versa. A little like a good marriage, not everything needs to be said," van Heesbeen says.
The skills taught depend on what the handler needs. Dogs can be taught skills needed inside the home such as opening drawers and doors, taking clothing off, switching on lights and fetching items like a remote control or mobile phone. Outside, the dogs can learn to push a pedestrian crossing button, help their handler sit and stand, take items from a supermarket shelf, pay the checkout person and sit quietly while the handler listens to a lecture or works at their desk.
And despite the fact that Service Dog Training is only a small player with limited resources, van Heesbeen says its program has produced remarkable results. "As far as our success is concerned, if it is gauged against the achievements and increased quality of life of our clients then it is a resounding success," he says.
For more information, visit www.servicedogtraining.com.au
Rembrandt
What do you get when you cross a paintbrush with a pooch? You get Rembrandt, the German Wire-haired Pointer who loves to create masterpieces and put smiles on the faces of everyone he visits.
Rembrandt was surrendered to Animal Aid East Gippsland in 2011 and was considered to be something of a "juvenile delinquent". Known for his tendency to destroy things, Rembrandt was thought by many to be unadoptable without significant rehabilitation.
Animal Aid East Gippsland Manager, Luis Marquez, identified Rembrandt's potential and realised this gorgeous pooch was capable of much greater things. And after 12 months of training, Marquez has taught Rembrandt to play with a toy piano and has discovered Rembrandt's enjoyment of painting.
"With Rembrandt, he touches the paint with his mouth, and then he moves his head up and down, left to right, resulting in a beautiful work of art," Marquez says.
Love dogs? Why not visit our
DOGSLife Directory