July 23rd, 2014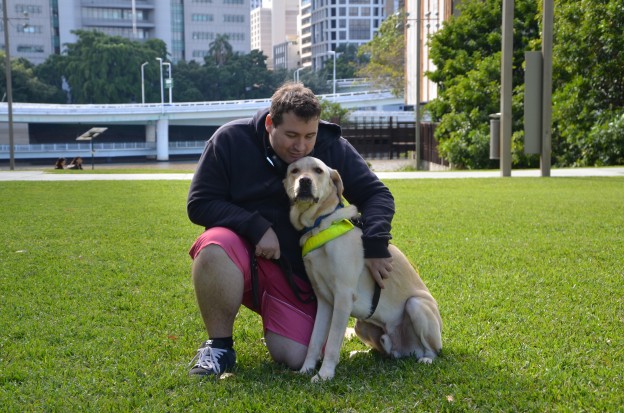 Returning to full-time study as an adult can be challenging at the best of times — imagine studying with a Guide Dog in tow. Laura Greaves meets one dedicated student and his canine companion.
Aaron Steley has been visually impaired all his life. He was born with about 10 per cent of the average level of eyesight, which has progressively decreased over the years. He's used to the challenges associated with being partially sighted and he takes most things in his stride. But even Steley admits to a few jitters before going back to school at the age of 32. "I left high school and immediately started in the IT industry, working for various universities and colleges," he says. "After a few years I took a break from that to pursue other things and when I wanted to get back into it I realised I needed the little pieces of paper (qualifications).
"Obviously having limited vision presents its difficulties when it comes to study. Reading without the use of adaptive technology is almost impossible, although online information can be modified fairly quickly and easily to overcome this. Plenty of places say 'we accommodate everyone', but then you present them with a challenge like this (and the reality can be very different)."
After weighing up his options, Steley enrolled in a six-month Diploma of IT course at Martin College, a private business, technology and design school based in vibrant inner-city Sydney. The one thing he didn't mention when signing up for the program was that he'd be bringing a 'plus one' to class each day: his four-year-old guide dog, Barry. "I didn't mention my issues when I enrolled. I simply enrolled and then rocked up to the orientation day with Barry and they didn't say a word," he says. "They sorted it out very quickly — they just went with it."
Going with the flow
Martin College's Head of College, John Martin, says staff were quick to respond to Steley and Barry's needs. "We didn't have concerns in a negative way (when Aaron enrolled); it was more a proactive response of 'what do we need to do?'," Martin explains. "It was a discussion with Aaron of how we could use the technologies we have to help him succeed. "Aaron was pretty well organised. He was able to describe exactly what he needed in terms of hardware. The main thing we had to do was get him an extra-large computer monitor."
It was also explained to fellow students in Steley's classes how they should behave around Barry. "We instructed each of our educators so that, at the start of the unit, students were given a quick rundown along the lines of, 'Aaron won't bite and neither will Barry, but please don't distract Barry while he's working'," says Martin. "The educators were constantly talking to Aaron to make sure the arrangements were working, and if there was anything that needed to be fed back to the larger student body we were quite prepared to do that."
Of course, Steley is used to his handsome Labrador cross Golden Retriever winning hearts wherever he goes. "People often try to pat or cuddle Barry while he's working — that just happens, it doesn't matter where you go," says Steley. "Fortunately, he copes with everything. I actually think it was a really good experience for the college, because the majority of students are international and hadn't ever been exposed to a guide dog. They'd occasionally ask questions but after a while most of them just ignored Barry."
Martin agrees that having Steley and Barry at the school was a positive experience for students and teachers alike. "People didn't see it as an imposition. They really embraced it as an opportunity to challenge assumptions they may have had (about disability or vision impairment)," he says.
Laidback Barry
With Steley's study needs easily met, the remaining challenge was simply to ensure Barry was as comfortable as possible at school — and that meant addressing one rather essential practicality. "The hardest part was finding a tree where Barry could relieve himself," he says. "You generally use whatever is available and for Barry that was the secure parking lot up the road – they had a little bush outside that became 'Barry's tree'."
Steley admits to being slightly nervous about how Barry would conduct himself in the classroom, based on the habits of his previous guide dog. "They can be somewhat vocal when they're uninterested. My last assistance dog, with some of the uni classes I used to do, if the class was boring the dog would snore," he laughs. "The lecturer would gauge class participation based on the dog. He would often have to talk louder to be heard over the dog."
Happily, Barry proved himself to be an exemplary student. "Barry is one of those very docile dogs. He's very easy to like," says Martin. Steley says he's not surprised his laidback four-legged friend took so readily to campus life. "The way Barry was described to me when I first got him was that he 'embodies Barry Humphries' and he definitely has that way about him," he says. "Barry is just chilled and relaxed — nothing ever bothers him. He's just happy to go wherever."
And where the pair is off to next is university — Steley is poised to start a four-year honors degree at Central Queensland University's Sydney campus, after which it may be time for Barry to hang up his schoolbooks for good. "After I graduate from there, it may be time for Barry to retire. Around eight is the age they start looking at (guide dogs) to see how they're going. They work up to a maximum of 10 years," he says.
Give it a go
While returning to study after more than a decade is a daunting prospect for anyone, Steley urges others — especially those with disabilities — to give it a go. "The only bit of advice I'd offer is to say that you're not going to know what it's like unless you actually try it," he says. Martin says it's important for prospective students to research and find an educational institution that can meet the needs of both human and dog.
"Check out the culture and the level of support that an institution is prepared to provide," he advises. "Trust the good nature and willingness to learn from difference that adults can bring for each other in a learning environment. Most of our students — at least 50 per cent — have had experience in the broader community rather than coming straight from a secondary school environment, which I think gives them a deeper level of insight. "Trust yourself and your college."
More information
To find out more about Martin College, go to martincollege.edu.au. For more information about guide dogs, visit guidedogsaustralia.com and follow the links to your state's guide dogs organisation.
Love dogs? Why not visit our
DOGSLife Directory