May 19th, 2015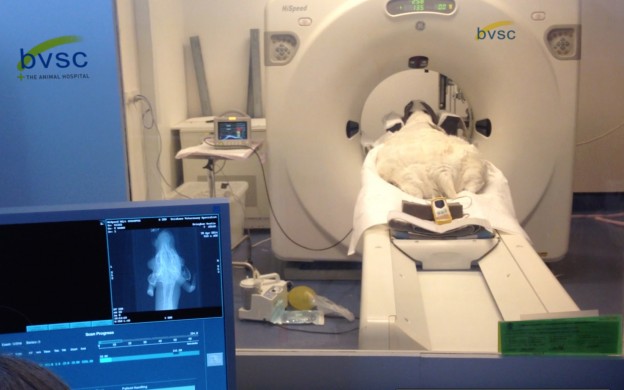 In 2014, the Brisbane Veterinary Specialist Centre celebrated a decade of treating sick and injured animals. Ben Nour speaks to founder Dr Rod Straw about the amazing work of the hospital, and what efforts are being made to find a cure for cancer.
It might come as a surprise to some, but cancer is not just a human affliction. Horses have been known to suffer from skin cancer, lymphoma is common in ferrets, and since the 1990s the Tasmania devil population has dwindled due to an outbreak of parasite cancer.
Sadly, our canine companions also suffer from this terrible group of diseases, with cancer being the leading cause of pet fatalities. Fortunately, your dog's cancer diagnosis is not a death sentence, and treatment is available.
The Brisbane Veterinary Specialist Centre (BVSC) is one such hospital that offers cancer therapy, and whose work, as supported by the Australian Animal Cancer Foundation (AACF), is focused on finding a cure for cancer – for both humans and canines.
A helping hand
For more than a decade, the Brisbane Veterinary Special Centre has treated sick and injured animals, from common companion animals like dogs and cats, to more exotic wildlife.
One of the few certified veterinary hospitals in Australia (defined as a vet facility where animals may be hospitalised overnight), the BVSC is a state-of-the-art veterinary facility with modern medical and surgical equipment to rival that of a human hospital.
According to founder Dr Straw, there are around three or four veterinary hospitals like the BVSC in each of the major capital cities — Sydney, Melbourne, and Brisbane — and they will become increasingly more common in the decades to come.
"In the last 15 years, the acceptance of specialist vet practice has grown. More of these facilities are being rolled out, and I think it's going to continue that way with the increase in population, the growing awareness of animal health and the increased availability of trained people," Dr Straw says.
The hospital, which sees around 2000 patients annually and is open all year 24/7, employs just under 100 employees, which includes specialists, residents, dentists, physiotherapists, radiotherapists, nurses, and administrative and emergency personnel.
Such a huge number of staff is a testament to the variety of animal illnesses and problems the hospital treats, which according to Dr Straw includes "everything from eyes all the way to the tip of the tail. We have specialists in ophthalmology, internal medicine, surgery, and cancer therapy including radiation and chemotherapy."
Aiding the staff is a range of cutting edge medical equipment that includes high-end ultrasound machines, a multi-slice helical CT scanner, radiology equipment and an ultra centrifuge.
"The philosophy of the hospital is to do the absolute best possible, and that requires the use of certain medical equipment. Sometimes we'll be treating dogs that are 60 or 70kg, which is as heavy as a person. We might then be required to go down and examine a 500g kidney or something like that, which requires us to have a decent array of toys."
The Australian Animal Cancer Foundation
The Australian Animal Cancer Foundation was established by Dr Straw as a not-for-profit charity focused on scientific research into cancer in companion animals such as dogs and cats.
The AACF provides funding, equipment and training so Dr Straw and his colleagues have the opportunity to do clinical trials and collaborate with other research centres and universities, including the University of Queensland and EnGeneIC, a cancer research company.
"[The Animal Cancer Foundation] allows us to do cancer research into the diseases of animals which can also help us understand the same cancers in people.
"Many canine cancers are almost identical to human cancers and respond similarly."
The AACF is currently running a trial of anti-metastatic drugs (that prevent cancer spread) for bone cancer, and current work includes research into genetic markers for a cancer called hemangiosarcoma.
As finalists in a grant with the Centre for Advanced Imagery, the BSVC has an opportunity, if successful, to do collaborative comparative research with brain tumours, melanoma, sarcomas and prostate cancer.
"We take a compassionate, realistic and optimistic approach striving to preserve quality of life while aiming for a cure. Most human cancers can be cured, and we aim for the same or better results for pets," says Dr Straw.
Successes of the BSVC research include improving survival rates for cats with oral cancer, from almost all dying within two months from diagnosis to living 30 per cent longer (about one year or more.) With equipment provided by the AACF, the hospital also can treat deep-seated cancers like brain and nasal cancer.
Finding ways to prevent cancer in companion animals is another research focus of the BSVC and AACF, and Dr Straw offered general tips to lower the chances of a dog developing cancer.
Pets with poorly pigmented skin should be kept out of the direct sunlight during the worst parts of the day, and should be walked early in the morning or at dusk.
Passive (second-hand) smoking has been linked to an increase risk of certain cancers in dogs and cats and is a known carcinogen for people, so Dr Straw suggests not smoking near pets.
Neutering animals early in life prevents mammary cancer in bitches and testicular cancer in male dogs.
As for the BSVC's search for a cure, Dr Straw remains optimistic.
"A cure could be just around the corner. Chance favours the prepared mind."
10 warning signs of cancer in dogs
If any of the following signs appear, seek advice from your veterinarian or ask for a referral to a veterinary oncologist (cancer specialist). Early detection and appropriate intervention saves lives.
Abnormal swelling that persists to grow
Sores that do not heal
Weight loss
Loss of appetite
Bleeding or discharge from any body opening
Offensive odour
Difficulty eating or swallowing
Hesitation to exercise or loss of stamina
Persistent lameness
Difficulty breathing, urinating or defecating
Love dogs? Why not visit our
DOGSLife Directory