February 21st, 2008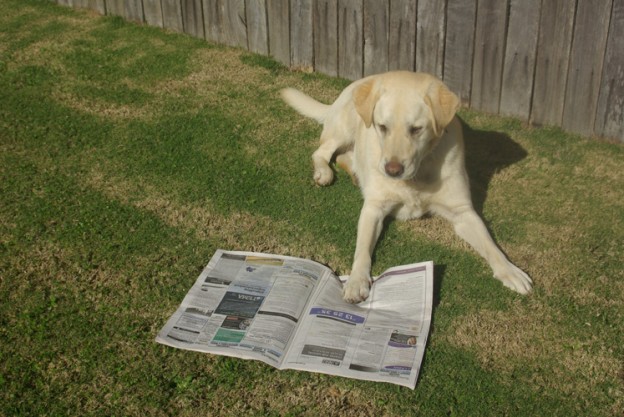 In memory of her beloved childhood dog, Gracie, Allyson Corbett creates fun projects that would make great Christmas gifts for dogs and owners alike.
SHARE your scrapbook creation with us
Check out our GALLERY of other readers creations
Growing up in my family, our dog Gracie was never neglected at Christmas. She probably understood and appreciated her gifts the least out of all of us, but as our one and only Golden Retriever, she was horribly spoiled.
My childhood mind may have distorted the truth, but my memory is that she was accustomed to receiving even more presents than my sister or I did. I can still see her pile under the tree rawhide bones wrapped in shiny plastic, a new tartan doggie bed, a box of beef-flavoured treats. She had a mound as big as mine!
When I was old enough to start buying presents of my own to give out, there was no question that what I got Gracie was just as important as what I got everyone else. I remember searching absolutely everywhere for something special and turning up nothing. I wandered the shopping centre from store to store, trying to find something that wasnt too expensive and was somehow a little bit personal something I knew she would like.
The problem I found was that there just wasn't a huge range of fun gifts available for dogs. It was pretty much limited to bones, collars and chew toys. The solution I devised was to make something a gift with a little bit of Gracies personality infused in it. I went to a craft store and bought paints, cardboard, glue and wire, and decided to make her a funky nametag that matched her red leather collar and spunky personality.
From that year on, I always hand-made presents for Gracie usually with a bought toy or bone on the side. The gifts were always fun to make, inexpensive and personal. Sometimes they were more a gift for the family, like a photo of Gracie in a decorated frame, but I was certain she appreciated each gift as everyone passed it around, showed it to her and patted her on the head.
Preserving memories
When most people hear the term "scrapbooking", no doubt an album filled with photos, mementos and clippings comes to mind. This is the old-fashioned definition of scrapbooking, however. Over the last several years, the craft has grown into a huge phenomenon and has evolved to achieve new meaning.
Modern scrapbooking is simply about preserving memories and celebrating moments through do-it-yourself craft projects. The scrapbooking umbrella extends over all sorts of projects from decorating a cardstock page with photos, stickers and ribbons, to making an artistic wall hanging for your house out of wood and metal.
Scrapbooking is almost like taking a memory, feeling or moment that is preserved in your brain, and expressing it through craft by creating a physical representation of it. Its not surprising that most scrapbooking projects reflect peoples love for their families, celebration of important moments and events, or strong feelings about all sorts of things happening in the world around them.
As you can imagine, lots of scrapbookers devote projects to their pets both for and about them. The projects I made for Gracie during my childhood are perfect examples of the kinds of things that would be considered scrapbooking by today's standards. Even if you are not a self-proclaimed scrapbooker or have never tried a craft project in your life, making something for your dog at Christmas is a great way to express your love.
Even making something for a friend or family member who loves their dog dearly is a wonderful, personal and unique gift that is sure to be appreciated. And the best thing about scrapbooking? Anyone is capable of doing it.
Mini book and albums
In memory of my beautiful, beloved Gracie, I created a few fun projects VIEW MINIBOOK that would make great Christmas gifts both for dogs and owners alike. The process is fun and relatively simple anyone who can use a glue stick and a pair of scissors can do it and the results are absolutely adorable.
Mini books and mini albums are hugely trendy in the world of scrapbooking at the moment. Whether you hook one onto a ring and make it into a key chain, keep one in your car or handbag, or simply keep it on a shelf, this is a simple project that people love. It is also a fabulous, economical Christmas gift for people who love their dog.
With the right materials (available at craft and scrapbooking stores), you can easily make a beautiful little mini book of your very own.
GET CREATIVE!
Dogs Life would love to see your doggy scrapbooking projects! Why not send us pictures of your creative work along with 25 words or less about them. Your photo may be published in the magazine or on the Dogs Life website.
Love dogs? Why not visit our
DOGSLife Directory