March 11th, 2015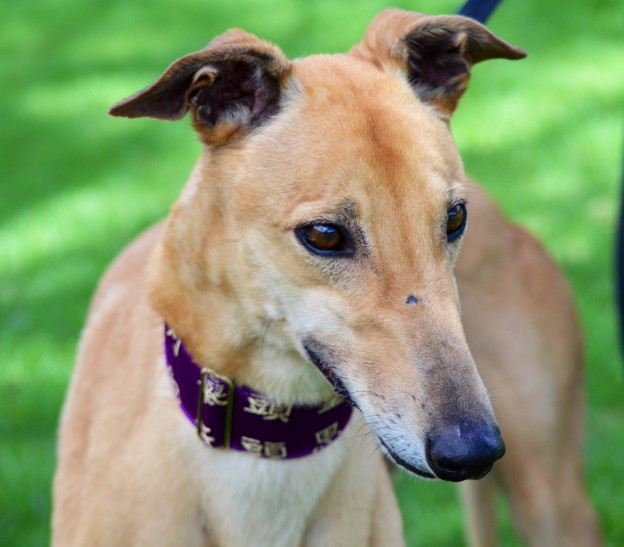 Every year thousands of Greyhounds are euthanised. Thankfully, through adoption programs, these retired racers can now find loving homes. Michele Tydd speaks to two couples who count their adopted Greyhounds as a special part of the family.
When Harry met the Hacketts
Harry the Greyhound earned a few places in his career as a racing Greyhound but his big win in life didn't come until he met Alyssa and Ben Hackett.
When his racing career ended at six years old, the Crows Nest couple, ready to start their style of family, adopted him.
"Harry has changed our lives," says Alyssa, "I knew the minute I saw him, he was the one for us."
Alyssa, who contracted cerebral palsy as an infant, grew up around her grandparents' Greyhounds and always found them to be gentle and considerate of her wheelchair confinement.
"My grandparents named their racing line after me, and Alyssa Belle who I knew as 'Cheeky' was my favourite… Harry has the same colouring and a similar temperament."
When Alyssa, a full-time public servant, and Ben, a professional carer, decided on adopting a Greyhound early this year, they agreed he would be house-husband and she would continue working after Harry arrived.
Ben initially was a little wary about the idea of adopting a Greyhound because he had never previously had direct contact with the breed, but he and Harry are now inseparable.
"By the time Alyssa and I had decided we were ready to look at adopting a dog, the Greenhound legislation* had been passed, and we realised that with some home training, a Greyhound could be a great pet," says Ben.
Ben has been recently diagnosed at 41 with Asperger syndrome.
"I don't present as a typical Aspie. I do feel emotion and empathy, sometimes overwhelmingly, but I have difficulty expressing it, especially verbally," he says. "All I want is a level of predictability, quiet and to not be overwhelmed in social settings."
Over-stimulation from sources such as environmental noise can worsen Ben's anxiety, as well as his underlying depression and other existing problems.
"With Harry in my life, I feel like there is always someone there with me who I don't have to explain myself to," says Ben.
"Harry seems to understand when I'm feeling low, and he comes to me freely, sensing my moods, discomfort, or difficulty, in a way that others would overlook, or simply not notice.
"I couldn't imagine life without Harry now."
Harry has recently passed his Greenhound assessment, does not need a muzzle, and Ben and Alyssa are now considering making him a more official therapy pet through the Delta Dogs program.
*The Greenhound legislation provides an exemption to pet and retired racing Greyhounds that have successfully completed an approved Greyhound re-training program and passed the required assessment. They are then referred to as "Greenhounds" and wear a special green collar.
Last chance Ben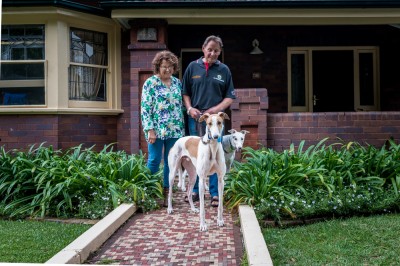 A kindly vet and a 90-minute lifeline combined to give a young Greyhound named Ben a new and exciting life.
Ben, now three, was part of a racing litter, but was taken to the vet early this year to be put down when his racing career did not pan out.
The vet, reluctant to euthanise a healthy young Greyhound, phoned an organisation called the Greyhound Adoption Program (GAP) and gave them 90 minutes to organise a pick-up.
"I can only presume Ben didn't chase, which is essential in racing, but since then he has found a new calling," says Les Westerweller from Sydney's west, who first fostered and then adopted Ben in February.
He and wife Ruth have fostered 41 unwanted Greyhounds but only kept two, who Les uses as therapy dogs for the elderly.
"I knew almost immediately that Ben was a keeper and ticked all the boxes for the work we do at an aged care centre at Concord," says Westerweller.
"He is patient and unflappable in a crowd, takes food nicely, can walk up stairs and is steady on his feet on all surfaces."
Ben and Westerweller work at the centre every Wednesday visiting people from high- to low-care sectors, but they all respond to him and look forward to the visits.
"I might sit down and have a yarn with a few people and Ben will either sit or lie patiently next to me," says Westerweller.
"The patients refer to him as 'our dog' and love him to pieces.
"We are allotted a one-hour visit but with so much attention we normally stay longer."
When not working, Ben shares his life at home in Sydney with Westerweller's first greyhound Leah, who quickly accepted Ben into her life.
Leah was also much loved by the elderly.
"At 13, she is a little too old now to do the work, but in her time she was able to evoke some amazing responses, like the day a dementia fellow who had stopped talking, broke his silence to speak to Leah," says Westerweller.
"She still walks to the door every Wednesday when we leave but I think she has accepted the fact that part of her life is over."
Greyhound Adoption Program
More than 1200 Greyhounds throughout Australia are re-homed annually through breed-specific adoption programs. However, this falls short of the approximately 17,000 dogs that are produced by the racing industry each year.
The Greyhound Adoption Program (GAP), founded in NSW in 1999, is dedicated to finding suitable pet homes for retired racing Greyhounds. Since its creation, a number of different organisations have also arisen around the country with similar aims.
GAP NSW is volunteer-operated and is not-for-profit. The program aims to assess retired Greyhounds for their health and overall suitability as pets. It looks after issues such as de-sexing, micro-chipping, teeth cleaning and vaccinations, and it provides temporary foster care while dogs wait to be matched to a suitable home.
For more information about GAP NSW, visit the website.
DID YOU KNOW?
The first Greyhounds to arrive in Australia came with Sir Joseph Banks on the Endeavour
Greyhounds are the second fastest land animal after the cheetah
Greyhounds, contrary to popular belief, do not need huge expanses of living area. A suburban backyard is fine, and they can live in units as long as they are exercised daily
Greyhounds are low maintenance. Nails should be clipped regularly, and their short coat and lack of body odour means they need less washing than most dogs
A greyhound's lifespan is about 10 to 13 years.
Love dogs? Why not visit our
DOGSLife Directory