April 20th, 2015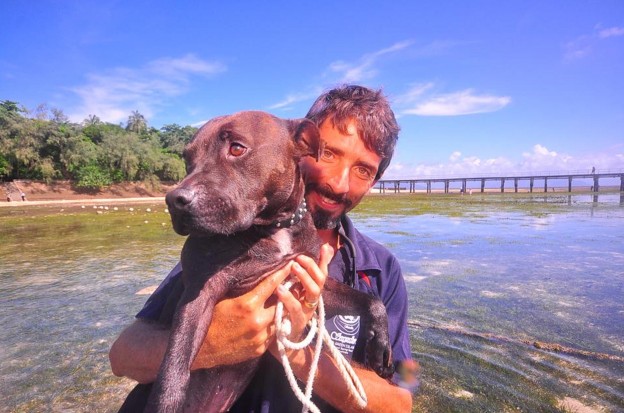 A sweet Staffordshire Terrier had a lucky escape after he was saved by the crew of the Seawalker Green Island, writes Kylie Baracz.
Back in March 2014, the Seawalker crew were carrying out their day–to–day duties 400 metres off the coast of Green Island, before they spotted a little dog struggling to stay afloat in the water.
"We were in the middle of our tour operation — the divers were at the bottom and I was driving our tender to the island to bring the next group of customers to the boat, as usual," says Fabio Bispo, Seawalker Green Island's Marine Operations Manager. "On my way back to the boat, I saw something trying to climb on the mooring line, on the floats. My first impression was that it seemed to be a diver or a person who was snorkelling. As I was on the tender with maximum capacity, I left the customers on our pontoon and I went there to see what was happening."
When little Birtles saw Bispo, he started to swim in his direction, but Fabio found it hard initially to rescue the drowning pup.
"I had to manoeuvre the boat because the current was pushing me in his direction and I wanted to direct the boat in a way where the current pulled him into it," recalls Bispo. "He was so tired, and when he realised I could catch him, he just relaxed.
"I was scared because he could've bitten me, so I wrapped my shirt around my arm so if he did bite me, it would minimise the damage to my arm. But it was unnecessary, because as soon as I pulled him inside the boat he just kissed my face and collapsed on the floor, tired. I took him back to the island to have a shower and drink fresh water and also to inform the ranger what was happening, because as it was a national park it was illegal to bring any animal to the island."
Although Birtles had identification attached, Bispo decided not to call them straight away as he wasn't sure if he was in any danger. He was going to take him back to Cairns with him and call the owners from the local police station.
"[I thought to] call the owners to come get him while the police were with me, just to make sure he would be safe — or take him from them if necessary. As I have two dogs and two cats, he would have been very welcome to stay as long as needed with my family," says Bispo.
As Bispo had to continue operations on the boat, Birtles stayed with him, playing with the staff and customers, until he received a radio call.
"I received a call from the island saying that a sailing boat was looking for a missing dog. So I looked out the starboard side of my boat when I saw a couple heading to the island on a small boat. I moved Birtles to our tender and drove in their direction. When I approached the boat, I asked them if they were looking for a dog and the lady said 'yes', and then I lifted Birtles into my arms. The moment she saw him, she started crying and said that she was very thankful," recalls Bispo.
The owners explained that Birtles had been frightened after they had made a loud noise while repairing the rigging to their yacht and must have jumped overboard.
Thanks to Bispo's quick thinking, Birtles is now safe and sound with his owners – and although he still likes to go on the yacht, his owners always make sure he is wearing a life jacket.
Fabio and Birtles reunite at the reef
In September 2014, Birtle's owners Adam White and his wife, returned to Green Island to reunite Birtles with his rescuer.
Anchoring not far from the Seawalker tour vessel, the little dog, this time with his life jacket on, made the swim over to say hello to Fabio Bispo.
Birtles confidently swam over to the Seawalker tender and with a helping hand, joined Bispo onboard for a very happy reunion.
"I was extremely happy to see Birtles again. He is a wonderful dog", says Bispo.
The Seawalker Green Island
The Seawalker Green Island is one of Cairns' popular tours located on Green Island, only 50 minutes by high speed catamaran from Cairns. The tour provides a helmet dive adventure for people over 12 years of age so they walk amongst the coral and the fish. Divers walk directly on the sea floor, not on a platform.
For more information, visit www.seawalker.com.au
Love dogs? Why not visit our
DOGSLife Directory