July 23rd, 2015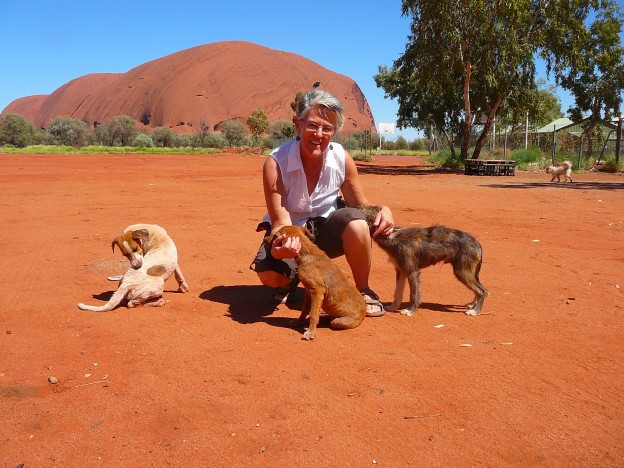 Kylie Baracz speaks to Jan Allen about her involvement with AMRRIC and how she has helped increase the wellbeing of rural dogs in indigenous communities.
How long have you been working with dogs and how did you get started?
I started working with dogs about 46 years ago. My first job with dogs involved Saturday mornings as a rouseabout at a vet clinic on Sydney's Northern Beaches when I was in high school. From here, no one was more surprised than me when I gained a Commonwealth Scholarship and was accepted into a vet science degree. My veterinary life has involved working in small and mixed practice in Hobart, various Sydney clinics, Coffs Harbour and Grafton and my own clinic in Nana Glen. A long-term aspiration came to fruition when I became an Australian volunteer with AVI (Australian Volunteers International) and took up a position in Western Samoa working the only small-animal practice and travelling clinics for the APS (Animal Protection Society Samoa, facebook.com/aps.samoa). The APS provides the only small-animal veterinary service for the whole Samoan population of 75,000 on the two large islands. During my time there, I developed an awareness of the bigger picture and the different aspects involved in dog population management — strategies, policies, education, animal welfare promotion, research etc. Two years later, on return to Australia, I attended an AMRRIC (Animal Management in Rural and Remote Indigenous Communities) conference and was introduced to dog health programs in remote communities at home in Australia.
What does your work involve?
I became a program manager with AMRRIC in 2008. This position involves developing networks and relationships across Australia with key people in communities, regional councils, health and environmental health, federal and state government departments, Aboriginal corporations and veterinarians, veterinary students and vet nurses; the goal being to improve services to remote communities and enable local people to be able to manage their dog populations and health. The domestic dog quickly replaced dingoes as a companion, protector and hunter for Australia's indigenous people. The side–effects being that domestic dogs are better breeders but less equipped to survive; hence the dog population problems in remote indigenous communities today. Dog health programs generally involve desexing and antiparasitic treatments. My work involves facilitating these in communities that AMRRIC has been invited into. I also organise the 100 or more AMRRIC member veterinary volunteers who assist and enhance the outcomes of each program annually.
What inspires you to do your job?
The almost immediate positive outcomes inspire me to do my job. These include keeping dogs in good condition with improved skin, less aggression and fighting, less scrounging for food and fewer starved pups, and owners gaining respect and pride for their animals.
What is the most difficult part of your role?
Staying in a remote community can be difficult and, at night, hearing dog fights — which usually involve male dogs fighting over a bitch in season or an adolescent dog trying to establish its territory.
What is the best thing about your role?
People that have never met before gathering together and working as a team, often in extreme physical circumstances, within a different culture and in a remote location, to create simpler, healthier, calmer lives for dogs. It is a privilege to work with AMRRIC and an even greater one to work "and give back" to remote indigenous communities in Australia.
More about AMRRIC
AMRRIC is a unique organisation that uses an integrated approach to animal management, combining veterinary and community education programs. Desexing programs are the most humane and successful means of controlling dog populations. AMRRIC educators work with communities to share knowledge and skills about animal health and management, and this integrated approach produces healthier companion animals and communities.
How you can help
You can help AMRRIC keep remote indigenous communities healthy for dogs and humans too. Support the organisation's work by donating at their website.
AMRRIC is a DGR (deductible gift recipient) charity.
Love dogs? Why not visit our
DOGSLife Directory