May 21st, 2015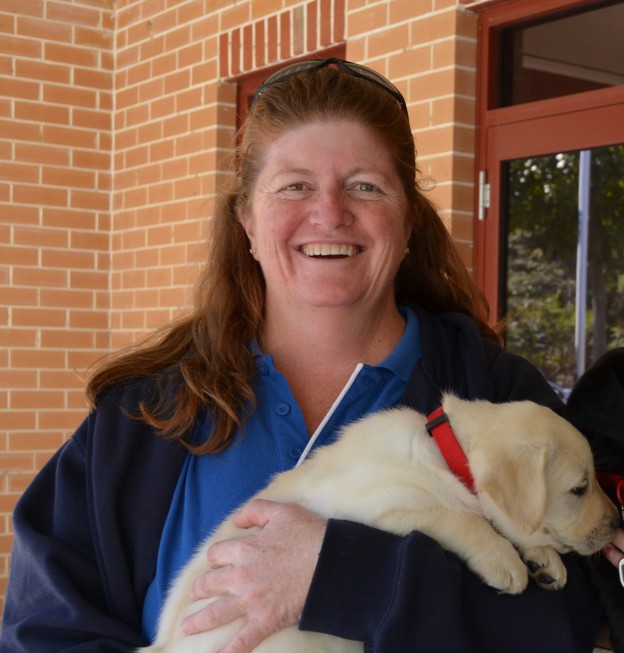 Karen Hayter from Guide Dogs NSW/ACT speaks with Kylie Baracz about what it is like to breed and raise pups for an important job.
How long have you been working with dogs and how did you get started?
I have worked at Guide Dogs NSW/ACT for 27 years. I started volunteering at Guide Dogs when I was in Year 12, and once I finished school I was offered a full-time job as a kennel attendant. I am now the organisation's Puppy Breeding and Raising Manager.
What does your work involve?
I supervise our Puppy Raising Officers and oversee the Puppy Breeding and Raising program, which involves having around 200 Guide Dog puppies being born and raised by volunteer families each year. While they are very cute and lots of fun, it takes almost two years and costs more than $30,000 to transform the pups into Guide Dogs. The work we do in the early stages of their lives is critical in laying the foundations for their future careers. I manage the care of our breeding stock, the breeding of the puppies, and their care and early socialisation from birth through to their placement with their volunteer puppy-raising family when they reach eight weeks of age. The pups are cared for by these wonderful volunteers for their first year, during which time our staff provide much support. I manage this process to ensure all the pups are taught basic obedience, are house trained and given lots of socialisation, so they are as prepared as possible for Guide Dog School when they reach about 14 months of age.
What inspires you to do your job?
I am inspired when I see the pups we have bred become fully-fledged Guide Dogs working with people who are blind or vision-impaired and enabling them to get around safely and independently. Even though my role is focused on puppy breeding and raising, I'm lucky to witness the entire Guide Dog journey and it's a great achievement for all involved when the pups graduate as Guide Dogs and are matched with someone who is vision-impaired.
What is the worst part of your job?
There is no worst part of the job. Saying goodbye to the pups as they begin their new lives as a Guide Dog is sad, but this is outweighed by the reward of knowing they are helping to turn someone's dream of independence into a reality.
What is the best thing about your job?
The best part of my job is seeing the pups being born and watching them grow and develop into beautiful, bouncing puppies. You see all their little habits start to develop and it's great teaching them to use these behaviours so they develop into fantastic pups that could one day go on to safely guide someone who is blind or vision-impaired. Working with a combination of dogs and people would have to be the most rewarding job that you could have. Each day is never the same and this keeps you on your toes at all times.
Did you know?
Every day 28 Australians are diagnosed with un-correctable vision loss, including nine who become blind.
How you can help
To help Guide Dogs breed, raise and train more Guide Dogs to meet growing demand, visit the website.
Love dogs? Why not visit our
DOGSLife Directory