May 13th, 2014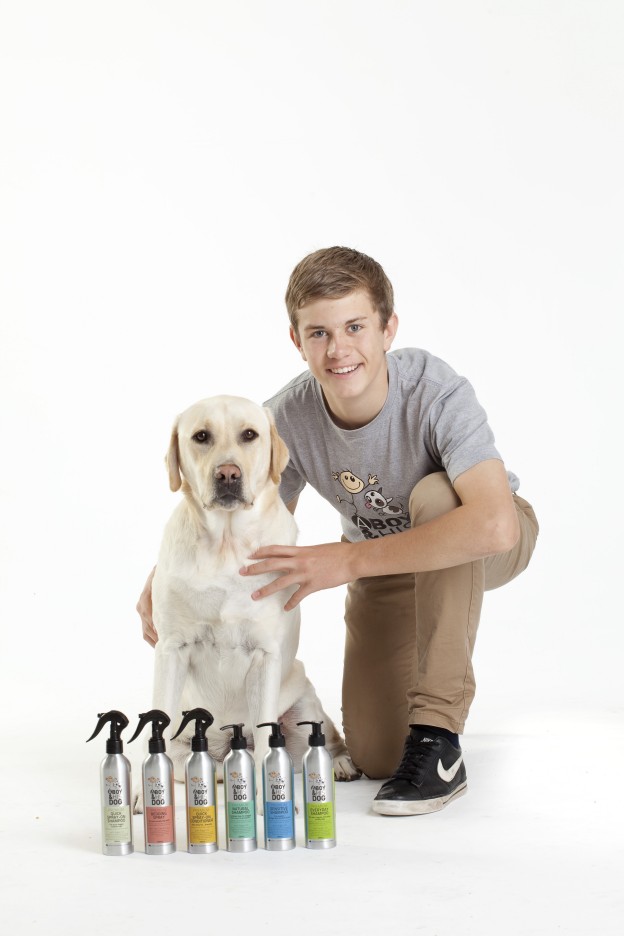 Discover the pet businesses owned by clever kids turning their love of dogs into more than just pocket money, writes Laura Greaves.
A Boy & His Dog
When he's not at school or playing sport, 14-year-old Queenslander Riley Mitchell — with his faithful canine offsider, three-year-old Labrador Hugo — is running his natural dog-shampoo business, A Boy & His Dog (aboyandhisdog.com.au).
"I've always wanted to have my own business. Before A Boy & His Dog, I used to sell plants out the front of my house to try and make some extra pocket money.
"One day, I was washing Hugo and thought to myself 'why can't all the good stuff that mum uses in her hair go into dog shampoo, but still have the same pH level?'(because dogs and humans have different pH levels).
"I started doing some research on the internet. I wanted a dog shampoo that had great ingredients in it, like argan oil, provitamin B5, tea-tree oil and calming essential oils, but not the nasty stuff, such as parabens, phosphates, SLS, glycol and propyl. And I didn't want any added colours or soaps.
"I contacted a local manufacturer and had meetings with their chemist. I told her what main ingredients I wanted in A Boy & His Dog (AB&HD). She made several samples and we made a few changes to get the product just right. I wanted AB&HD to be as natural and organic as possible. Natural shampoo is normally less irritating on dogs' skin and if people care about their dog like I care about Hugo, they should use the best stuff.
"I didn't know what to expect at first — it was all new to me — but, because it's such a good product, I knew people would love it. I have certainly been surprised with AB&HD and how far it has come from the beginning.
"I'm very proud of AB&HD. I think our biggest success so far would definitely be that Guide Dogs Queensland uses our Premium Everyday Shampoo.
"I'm aiming to take the products to all four corners of the world and make AB&HD the best it can be. We have an all-natural ear wash and oral-care products to be released hopefully before Christmas or in early 2014.
"Having a business has helped with skills I can use at school, particularly being more organised and getting things done on time. School work always comes first, then AB&HD and sport. I've always been interested in animals and business. I think I'll keep going with AB&HD and maybe become a vet, study business at university or do farming.
"You can achieve anything if you put your heart and mind to it. It doesn't have to be a huge business; it can be something simple like mowing people's lawns or even just a lemonade stall. Businesses take time, so don't expect to have heaps of customers in the first few weeks. The harder you work, the more you get out of it.
"A Boy & His Dog allows me to work with my great mate, Hugo, and also grow a business. It's the best of both worlds."
Eden's Dog Walking
Yearning for a dog of her own, Eden Freeman, 15, offered to walk a family-friend's pooch. Now she has a thriving after-school business, Eden's Dog Walking, in Mount Nebo, near Brisbane.
"Mount Nebo has a population of about 450 people. It's just outside Brisbane, in the rainforest, and there aren't many places to be employed. We have two cafes, an art gallery, a post office, a real estate agency, a massage therapist and that's it.
"I love dogs and I wanted to make some extra money, so I decided to combine something I love with a business — I wanted to enjoy working. Two years ago, I started walking my mum's friend's dog, Peggy, and then I decided to expand into a dog-walking and- sitting business.
"I started by putting up flyers around Mount Nebo, then I put messages on the Mountain's Yahoo and Facebook community groups. I now also get referrals from my existing clients. I have seven dogs in total and I walk them every afternoon after school and occasionally on weekends. Some days, I walk two dogs at a time.
"Most of my dog-sitting is done at clients' homes, though I have had one dog stay with me lots of times for weekends. Once he stayed for four weeks while his owner was overseas. He got to stay for Christmas and he was great company — very cuddly and lots of fun.
"I've been very surprised by the success of Eden's Dog Walking. I'm booked up every weekday and I sometimes employ my older sister to help out. Soon I'll have to employ some other people so I can help more people with their dogs.
"Running my business means that sometimes I don't get to hang out with my friends, but sometimes they come with me to walk the dogs — and when I do see them I have more money to spend. I love that I get to be with animals, get fit and get paid. I'm my own boss. I really love my work with dogs.
"I'm hoping to keep running the dog business until I finish school, and then I'll have other people walk the dogs for me and I'll run the business while I go to university. I want to do a lot of things. I'm interested in law, teaching and architecture, and even palm reading and candle making.
"My advice to other young people who dream of starting their own business: don't wait for opportunities. Make your own opportunities instead. Start with something simple and grow with it. It's OK to be nervous at first. If it's something you want to do, do it before the opportunity slips away."
Making it happen
Riley and Eden aren't the only teens turning their passions into a business.
Castlemaine's Elise Brown was just 19 when she bought her first business, Fair Dinkum Dog Coats (fairdinkumdogs.com.au), in 2006. Now married with a young daughter, she says the business offers the flexibility she needs for her young family.
American teen Julie Timura always wanted to work with dogs. At 12, she would wash neighbourhood dogs on her front lawn and she took on a six-month, full-time dog grooming internship at just 17. Now 19, she operates a busy mobile grooming service, Fuzzy Hearts Grooming, in Brunswick, Ohio.
Inspired by her newly acquired rescue dog, Skipper, Alaskan teen Chelsey Homan started making dog treats in 2007. The tasty morsels proved a hit with other dog owners and her Doggy Decadents business took off. After graduating from university, Homan sold the business in 2012 and now works in marketing.
Love dogs? Why not visit our
DOGSLife Directory