November 25th, 2013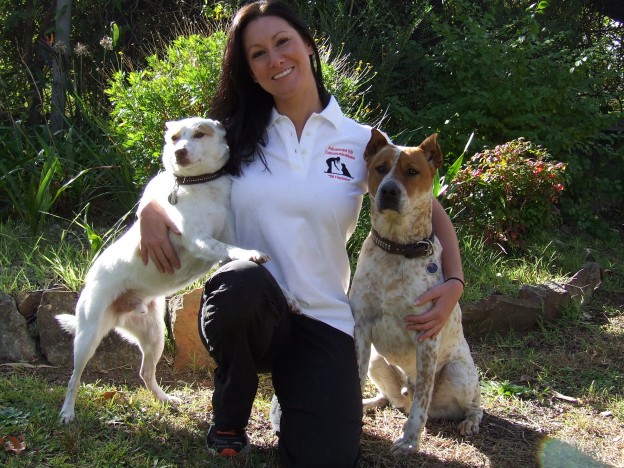 Jodie Sultana is a dog trainer not to be messed with. Her motto is 'Sit Happens' and that is exactly what she teaches her canine charges. Sultana chats to Kylie Baracz about her passion for pooches and how she got into the industry.
How long have you been working with dogs and how did you get started?
I have been working in the industry for over nine years now and training professionally for about six years. I always knew I wanted to work with animals so after finishing Year 12 I picked up the paper and applied for a job as a kennel hand at a local boarding kennel. I got the job and ended up working there for eight years. During this time I was lucky enough to be presented with some amazing opportunities leading me to Professional Dog Training. I was lucky enough to work with some very inspiring people who encouraged and educated me.
What does your work involve?
My work these days mostly involves providing private lessons and home consultations for people who need help with training and understanding their dog's behaviour. People generally want help with things like obedience, barking, walking nicely on lead, aggression or anxiety-related problems, bad behaviours within the home, or training and information on how to raise a puppy. Sometimes it's training a new trick or skill. I will also handle dogs for events or television on occasion. One of my main goals through Advanced K9 Communications is to help as many dogs as possible avoid being neglected, mistreated or placed in a shelter or pound as this is commonly what happens to dogs with severe behavioural issues.
What inspires you to do your job?
I think for me my intense passion for animals and animal behaviour is what drives me. Naturally I have always felt like I need to be out there helping them in some way, and I feel that being in a job where I'm assisting and educating people is a good way to do it.
Domestic pets, such as dogs, rely entirely on us for their quality of life and survival, so as responsible pet owners we need to learn how to provide a stable, safe and healthy environment for our pets. And most people are already trying to do that, they just need a little extra help. Just like someone has taught me, I can now help teach others. I have met people who are in some very tough situations where their lives and their dog's lives have just become so chaotic and stressful. And to know you've helped them find peace and balance and control in their lives again and to know you have improved the everyday life for another dog is an incredibly good and rewarding feeling.
What is the worst part of your job?
I would have to say the worst part of my job is when someone does not want to listen or put in the work that is required to help get their dog on the right track. Sometimes I think people are hoping for a quick, easy fix to their problems and that is very rarely the case. You can't help but feel that you have failed that dog because you could not quite get through to the owner. But you can only do the best that you can do.
During my time in this industry, I have seen many dogs with some very severe behavioural problems that have resulted in that dog suffering a life of neglect, abuse or no life at all. It can be very saddening but it also gives you something to fight for. Most people love their dogs very much and it's a matter of encouraging people to learn more about their dogs and their needs.
What is the best thing about your job?
Where do I start? I will have to mention three things. The first is getting to meet so many new dogs. Every dog is an individual and I really do love that I get to meet so many. They all have their own little quirks and behaviours which I find so interesting. The second thing would be the feeling you get when you have helped someone find balance and peace with their dog by helping them to communicate with one another. It is very rewarding to know you have made even just a small difference to the life of that owner and their dog. And the final thing I love about my job is puppies! You can never get enough of puppies. Even after years of working with dogs I am still amazed at how puppies are like an instant anti-depressant and I just love how capable they are of learning things in a very short amount of time. It still fascinates me.
Love dogs? Why not visit our
DOGSLife Directory