June 13th, 2008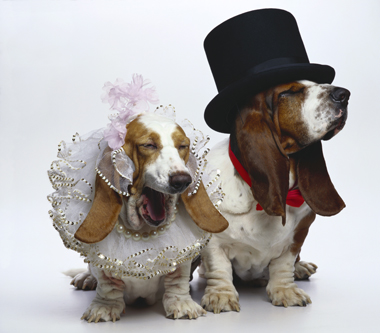 We all know dogs give unconditional love, but did you know they can help us find love too? If you're looking for a little romance, you may discover there is a dating service right there at the end of your leash! Hsin-Yi Cohen reports on online dating with dogs.
Deborah Wood, author of The Dog Lovers Guide to Dating: Using Cold Noses to Find Warm Hearts, told Dogs Life that dogs have been bringing people together in a variety of situations for years.
People can see your gentle, warmer side when you're with your dog, a side they don't necessarily see in other social situations, Wood said. People also perceive you as a kinder, nicer person. If you own a pet, you can't be completely selfish and people know that. Whats more, Wood said you're three times more likely to have someone stop and talk to you if you're with a dog; it gives strangers permission to talk, perhaps inviting them to start a conversation by asking to pet your dog or asking your dogs name.
Guys have certainly been quick to pick up on this phenomenon, with many agreeing that a puppy is a fool-proof way to a girls heart. In fact, a man at Oz Park in Chicago perfected this by training his Australian Shepherd, Magnet, to retrieve a ball that he would throw near a girl he was interested in. Magnet, however, was trained never to bring the ball back to him, but rather to drop it at the girls feet! She, of course, would then pick it up and ask if the ball was his giving him the perfect opportunity to start a conversation.
Internet dating with pets
Many people are discovering their pets can help them find romance in a much more modern setting: internet dating. Online dating websites are nothing new, but dating websites exclusively dedicated to pet lovers are something else. Members can post personal profiles, as well as include mini profiles of their animals, featuring information like their pets favourite things such as long walks on the beach and also include information about the kind of pet owner they would like to meet.
Using a search engine, they can locate and communicate with like-minded animal lovers in their area. Some sites enable members to choose between setting up romantic pet dates or the more platonic pet buddies, which focuses on finding a playmate for their pet and friendship for themselves, which may later lead to romance. Many of these sites work in conjunction with major animal welfare groups so that homeless animals are featured and given a chance of finding a new home. The sites also provide tips for owners on how to keep their pets healthy and happy.
Finding romance online
Connections are made online through instant messaging, email, chat rooms and message boards. A quick look on the internet finds a plethora of online dating websites for pet lovers, many with cute ways of expressing interest. One site allows members to send a virtual kiss while another invites interest through a wag & sniff.
As the newest and some say the most effortless way for pet lovers to find romance, Wood is not surprised by the success of these sites. Not only do they offer a community, which already shares a common interest, but they can also prevent you from wasting time on doomed relationships.
In fact, when you think about it, just the words must love dogs are indicative of a certain kind of personality. Some people do and some don't, and that can be vitally important to an animal lover so much so that pets can actually make or break a relationship. A recent survey by the American Kennel Club found that 60 per cent of American dog owners said they wouldn't consider dating someone who didnt like their pet, while 14 per cent admitted they might continue dating someone they didnt like, just to spend time with that persons dog!
Dogs break down social barriers
The importance of pets in a relationship is something Dan Cohen knows all about. Founder of AnimalAttraction.com, one of Americas most successful dating websites for pet lovers, Cohen first realised the power of dogs at breaking down social barriers when he stumbled across a caf in his Washington neighbourhood with an outdoor area for dogs and their owners, and was amazed by the atmosphere of warmth and friendliness.
He was reminded of this when his friends persuaded him to try an online dating service and he found, to his frustration, that he was unable to make a connection with any of the strangers listed. Comparing this to the easy bonding he had witnessed as people and their dogs mingled happily together at that caf, he decided that with approximately 40 million single pet owners in the US alone and millions more who don't own but who do love pets an online community to help pet lovers connect with each other for companionship and romance would be a winning combination.
And he was right. The website has been a huge success, with thousands of people across the United States and other countries joining the free service to look for love, dates or even just friendship. Its popularity has been such that it has started hosting offline events, such as a Valentines Day Singles Party for pet lovers. With several successful relationships heading down the aisle, it looks like the website is doing a good job.
Power of canine cupids
Jim Borck and Amanda Shimko certainly believe in the power of canine cupids. They are part of a growing breed of couples who are meeting online at pet lovers websites and their story is one that rivals a fairytale romance.
Borck, a divorced father of two, shared his life with five rescue dogs and devoted all his free time to volunteering at the local animal shelter. With his animal-obsessed lifestyle, he was resigned to never finding a woman who would accept him. Then he stumbled across AnimalAttraction.com and although never having tried internet dating before, he decided to give it a go. As soon as he saw Shimkos profile and her description of her seven dogs he knew he had found his dream woman: It was 90 per cent about her dogs and only 10 per cent about herself.
By sending her a wink, Borck expressed his interest and they began communicating and the rest, as they say, is history. The couple were married on April 1st this year, with all 12 dogs in attendance, and Shimko has moved herself, her seven dogs and five cats to live with Borck and his dogs on a large country property in Kentucky.
The dogs Mama, Sugar, Marie, Fluffhead, Buster, Kassie, Noah, Zoe, Kaleb, Stormy, Sierra and Chance all get along wonderfully and Borck is ecstatic at how it has all turned out.
I have never met a woman that was a better match for me. She reads my mind and finishes my thoughts. My dogs love her. Even my mother loves her and that is a nothing short of a miracle! he said.
Doggie dating in Australia
It seems the key to these websites success is their lack of pressure. Unlike the atmosphere of a traditional first date, where you can be left feeling awkward, nervous and under critical scrutiny, a meeting at the dog park feels more like a casual outing, even though, in truth, you're on your first date and the dogs are the chaperones. Furthermore, the fact that you are both dog owners provides you with a ready-made common interest and helps to do away with those awkward silences.
While Australia and New Zealand do not yet seem to have online dating exclusively for pet lovers, the website www.ozdoggy.com.au, an online directory of products and services for Aussie dog owners, does have a section called Ozdoggy Friendships Owner Dating, where members can post profiles of themselves and their dogs.
Doggie cafes
Meanwhile, in Sydney, a special cafe dedicated to dogs and their two-legged pets opened in 2000 in an off-leash dog park. The owners of Cafe Bones wanted to offer a vibrant meeting place for people and dogs a place to relax, enjoy a coffee and exercise their dogs. It is home to the worlds first cafe-style dog beverage, the Pupaccino, and also offers a range of gourmet dog biscuits marketed under the Cafe Bones label.
Not to be outdone, Melbourne also has it own dog cafe, catered by top celebrity chef and dog lover Andrew Blake, no less. My Dog Caf promises to offer a fine dining experience like no other, both for the human and canine patrons, and the menu includes things like Great Danish pastries, Boxer chocolates and braised beef cheeks with vegetables for dogs, while humans can sample everything from poached chicken and coconut with Asian herbs to Border Collie flower soup!
Judging by the success of these establishments, many are embracing the ability of dogs to act as social lubricants. So go on make the most of your bond with your canine friend. And remember, next time you take your dog out for a walk, it could be your chance for romance!
Love dogs? Why not visit our
DOGSLife Directory