February 12th, 2014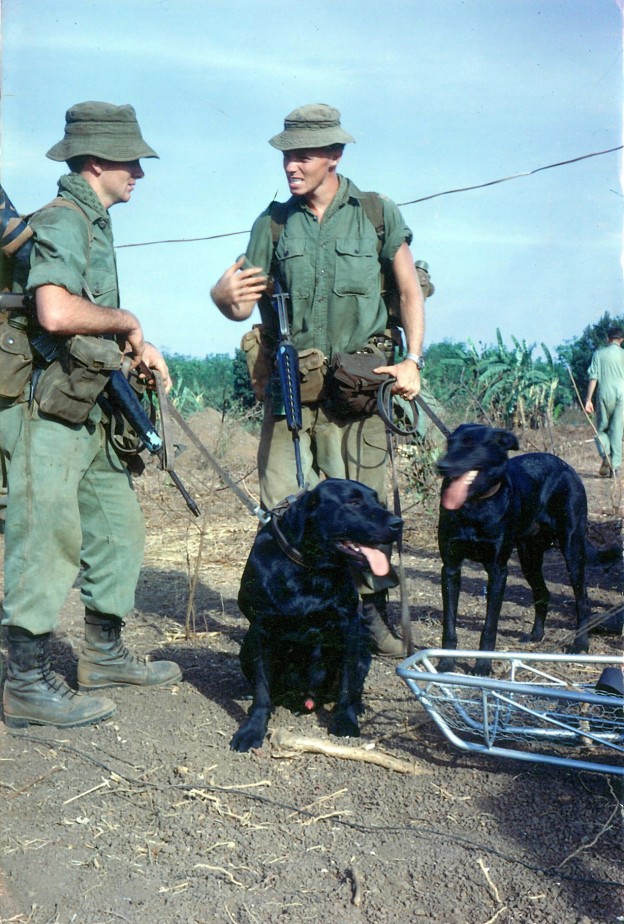 We all know that dogs make life better in myriad ways every single day, but some canine companions are literally lifesavers, writes Laura Greaves.
"My dog saved me from a landmine"
Vietnam veteran and former journalist Peter Haran, from Adelaide, says he owes his life to a valiant Labrador cross Kelpie called Caesar.
"In 1966, the Australian Army began 'recruiting' dogs to train as trackers to work with Diggers in the Vietnam War," says Haran.
"The dogs were all Labradors or Labrador crosses, and they had to be black. They trained with very young Australian soldiers for 12 months and were then sent to serve with infantry battalions in Vietnam.
As an 18 year old, I volunteered to be a tracking dog handler and was eventually hitched up with a dog that was to become the closest friend I would probably ever come to know. His name was Caesar and he was a Labrador cross Kelpie with astonishing personal characteristics: he was tough, fit, highly intelligent and had an uncanny ability to follow scent trails of humans for up to five miles.
Caesar also was a typical Aussie larrikin who loved riding in helicopters, giving me a hard time and playing the fool with his kennel mate, Marcus, a pedigree Labrador tracking dog.
For the 12 months I spent with Caesar in Vietnam, we became as close as two soldiers could. We slept, tracked, fought and suffered together in the jungle war. Caesar relied on me for his welfare, his food and his comfort. I relied on him not to lead me into ambushes when chasing the Viet Cong and to constantly be able to work as soon we were lifted out to the firefights.
But for all his abilities, Caesar was trained only as a tracking dog. He was not trained to detect landmines buried in the ground – and in Vietnam they were the silent killer, responsible for scores of deaths and hundreds of serious injuries.
In August 1967, Caesar set off at the end of a 20-foot tracking leash to pursue a group of enemy, with me behind him and 20 other Diggers behind me. I trusted him to alert me to the presence of the enemy soldiers before we ran into them, so I was dumbstruck when he suddenly stopped tracking, returned to me and sat on my foot.
At that very second a mine behind me detonated, seriously wounding five men and almost knocking me out.
Thirty minutes later, after we had recovered from the shock and the casualties were evacuated, trained engineers walked ahead of me and found a huge, unexploded bomb wired to other mines. Caesar had detected it.
Something within the dog's psyche knew this was dangerous and he would not track on. He wanted to stop me and others, I believe, from walking into a massive landmine. That August day was the day Caesar saved me — and prevented many other Australians from dying – through devotion to duty and love for me.
Today, Aussie soldiers in Afghanistan have trained Explosive Detection Dogs (EDDs), who are trained to specifically seek out and alert the handler to the presence of a mine or improvised explosive device (IED). Many lives have been saved thanks to these dogs, but dogs have also been killed and one dog handler died with his dog.
Dogs go with men to war because they have no choice. They ask for nothing and give everything.
Appropriately, dogs are today recognised for war service; they are given medals through the Australian Army War Dogs and Trackers Association. Caesar and the other 10 dogs that served in Vietnam from 1967 to 1972 were awarded theirs posthumously.
Years later, in 2008, I went back to Vietnam and stood on that patch of ground where a four-legged Digger saved my life. Dogs know things we will never know – they detect and understand things we humans don't because of a sense they have that we don't understand. But they express love, devotion and duty. That's what dogs in war certainly do."
More heroic hounds
Riley's rescuers
In October 2012, four-year-old Riley Martin became lost in dense bushland near his home at Nambucca Heads, on the NSW mid-north coast. An extensive police search failed to find any trace of little Riley, who has Down syndrome. After an anxious night, volunteer searchers found Riley asleep in the bush the next day, with his three beloved dogs, Missy, Nitro and Bruno, by his side. It is believed the dogs kept the inquisitive youngster safe and warm overnight, saving his life.
Jim's best friend
When Queenslander Jim Touzeau suffered a heart attack and collapsed at work in 2007, his Australian Cattle Dog, Teka, leapt into action. The three-year-old pooch climbed into Touzeau's chest and jumped repeatedly with all four paws, barking until Touzeau regained consciousness and was able to call for help. Teka then ran outside and barked to attract attention. Touzeau recovered and, in 2009, Teka received an RSPCA Animal Achievement Award for her efforts.
Tenacious Titan
Plucky Pit Bull Titan, from Lawrenceville in the US state of Georgia, has saved his owner's life not just once, but twice. In 2011, six-year-old Titan alerted his owner, John Benton, that John's wife, Gloria, had collapsed in the couple's bedroom. Gloria had suffered an aneurysm and fractured her skull, and doctors said she would not have survived without Titan's quick action. Then, in early 2012, Titan woke John after Gloria fell in the bathroom and broke her hip. Gloria recovered, and devoted Titan was honoured with a national valour award.
Courageous Kabang
In 2011, a two-year-old crossbreed called Kabang became a heroine in the Philippines when she ran in front of a motorcycle in what appeared to be a deliberate attempt to save two little girls in its path. Sadly, Kabang lost her snout, eyelid and part of her jaw in the accident and it was feared she would not survive. But thanks to a team of vets at the University of California's Davis Veterinary Hospital, who spent eight months reconstructing Kabang's face and treating her for cancer and heartworm, she was able to return to her grateful family.
Love dogs? Why not visit our
DOGSLife Directory