August 19th, 2008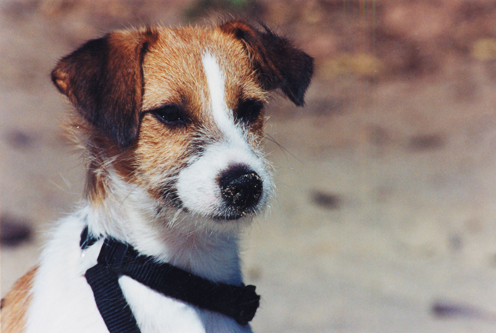 Single? Looking for love? Want someone who shares your love of animals? Why not try an online doggy dating site? Must love dogs! Tim Falk reports.
Dogs are great at bringing people together. Whether its making new friends at the dog park or simply attracting plenty of attention from the opposite sex when you're out for a walk, our canine companions have a knack for breaking down social barriers and acting as conversation starters.
They also play more important roles in our lives than ever before, with some 91 per cent of pet owners reporting that they feel very close to their pet. Over the years, dogs have gone from being working animals that serve us to being the central focus of our lives they sleep in our beds, eat only the best in canine cuisine and are generally waited on hand and foot. For serious dog lovers, our canine companions are our best friends, the most important members of the family.
So it is no great surprise that there are now online dating sites that aim to match up Aussie pet lovers with other like-minded singles. After creating your own profile with information and pictures of you and your pet, you can connect with other dog owners via email and message boards to try and find your perfect match.
Dogs Life speaks to the couples behind Australias two premier doggy dating sites Tom and Jodie OBrien from Love Me Love My Pet, and Paul and Violetta Muccitelli from Meet A Pet Lover to find out how these sites work.
Love Me Love My Pet
Jodie OBrien says that Love Me Love My Pet was set up in late 2009 and has a rapidly growing membership. We decided to set the site up after noticing our animal-loving (particularly dog-loving) friends were having trouble meeting the right partner for them. Sometimes a relationship would come down to a prospective partner not understanding or having the same love for their dogs/animals as our friends, she explains.
Jodie gives the example of a friend who owns two dogs and was willing to compromise with her boyfriend about whether the dogs slept on the couch or the bed. However, when she wouldn't agree to make them completely outdoor dogs, the boyfriend ended the relationship.
Many people cannot be with someone who does not also love animals or treat animals right, she says. Were not saying they have to dress dogs up in little outfits or paint cats to match their outfits or anything to the extreme although many people enjoy doing that. We are talking about people who simply love their animals and freely accept the unconditional love they have to offer.
Similar dating sites for pet lovers have been established in places like the US and UK for years, so it was only a matter of time before Australia got its very own sites.
It is another avenue for pet lovers to try to meet their Mr or Miss Right instead of wading through other dating sites to try to find pet lovers, you already know anyone on our site loves animals. You can call it a timesaver in this busy world of ours, Jodie explains.
We like to try to help people in any way we can. Im a hopeless romantic who just wants everyone else to be as happy as Tom and I are together. This is one small way we are trying to help people find happiness with one another. It is simply another option to help meet new friends or a potential partner, for both you and your pets, she says.
Meet A Pet Lover
Paul and Violetta Muccitelli from Meet A Pet Lover launched their site in May of 2009; in less than eight months it had over 1100 profiles. Paul points out that the acceptance of online dating sites has been growing for some time, but mainstream sites place little importance on the role that pets play in peoples lives.
Successful relationships are about compatibility. Meet A Pet Lover is about finding someone who shares the same lifestyle. The more common interests you have with someone, the better the chance of hitting it off. Our wish is for all singles to find that compatible someone they can spend the rest of their lives with and to also connect people with pets together to improve the quality of life for themselves and the pets that they have, Paul explains.
He says that dating can be a frustrating experience at the best of times, but its even harder for pet owners to find a compatible partner that shares their attitude towards animals. What better way is there in getting people with similar interests together than a website designed for pet lovers? There is a common interest from the very beginning so there certainly wont be a lack of conversation on that first date. It can also make a first date more informal and less confronting, like a walk in the park, he says.
Our advice is to also remember that it may take kissing a lot of frogs before you find your prince or princess charming, so look at every date as an exciting adventure and opportunity to learn something new about another person and their pet living in this world, or you may just have made a new friend and broadened your social network, Paul says.
When you look at the facts, pet lovers have plenty of other characteristics apart from their love of animals that makes them pretty good relationship candidates. Paul points out that they tend to spend more time outdoors, have a nurturing and caring nature required to own and look after a pet, and value companionship.
But both these sites are not just for those searching for romance; you can also use them to look for friendship. This is perfect for stay-at-home parents, singles, retirees or anyone in need of company. You can make friends with fellow pet lovers in your local area or just pen pals from further afield. Members can even use the sites to set up playdates for their dogs and look for potential pet-sitters.
You also don't have to actually own a pet to join; you simply need to have a love of animals. These sites offer an online community for people wanting to share their common interest a love of animals.
How does it work?
The first step is to set up your free profile. You can upload pics of you and your pets and provide as much or as little information about yourself as you wish. Of course, its recommended that you provide plenty of details to help in your search for the perfect match.
You can also post all sorts of details about your pet personality, favourite activities (eg, long walks on the beach) and why they're so important to you.
Then you can search for other compatible members based on a range of criteria. Its free to make a connection with another member by sending them a lead (Meet A Pet Lover) or a paw (Love Me Love My Pet) a greeting to let them know that you're interested.
Once you want to send an email to someone, you have to become a full member, which is where there is some cost involved. This differs for each site. After that, who knows what will happen? You could be well on your way to finding that special someone!
Jodie says that animal lovers have nothing to lose by signing up to online doggy dating sites. There is no stigma associated with online dating anymore, and both sites are big on safety for members and their pets.
We hope and want members to have a positive experience on our site. That new friend or partner could be right around the corner; maybe they just need that little help finding their way home, she says.
Love dogs? Why not visit our
DOGSLife Directory