July 1st, 2015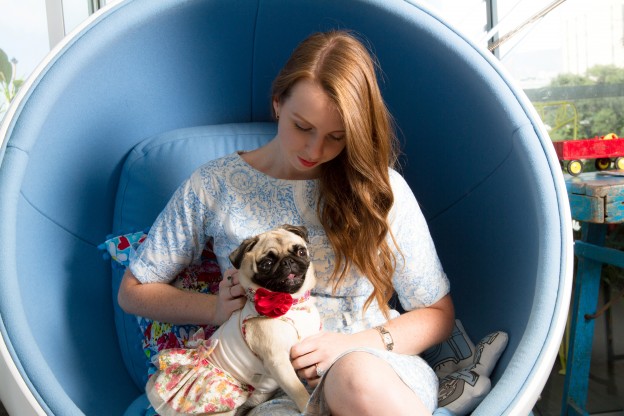 Ben Nour talks to Miranda Bryce, the woman behind Just Another Dog Blog, featuring Mochi, the pug that dog lovers worldwide have fallen in love with.
Meet Mochi. Chances are, this little pug from Surry Hills has more Instagram followers than you do.
For those of you not familiar with Mochi, she is the star of Just Another Dog Blog, an Instagram account that has attracted more than 8000 followers since its inception in July, 2013.
Run by Mochi's owner, Miranda Bryce, the blog documents this little pooch's everyday life and features photos of the adorable pug recreating memorable scenes from dozens of blockbuster movies such as Good Will Hunting, Casablanca, Star Wars and, most suitably, 101 Dalmatians.
Pictures and pugs
Just Another Dog Blog was created for the same reason most social media accounts are — to share with family and friends what's going on in one's life. In Bryce's case, however, it was created to share details of her dog's life rather than her own.
"I'm from Adelaide originally and when I moved interstate, I had a lot of friends and family back home begging for photos of Mochi … so I started an Instagram account for them," says Bryce.
Be it Mochi at the beach, Mochi trying out jelly for the first time or Mochi on a walk, Just Another Dog Blog is littered with candid shots of this little Pug's everyday life. However, the account is arguably most popular for Mochi's Movie Moments.
"I really like movies and going to the cinema and I used to run these movie trivia nights every now and then, so I started taking photos of Mochi in scenes from famous films. I put them on the Instagram account so friends and family could have a bit of a chuckle and it just went crazy. I think we're up to 8000 followers now," says Bryce.
Some of the earliest movie recreations include scenes from ET (blanket-wrapped Mochi in a bike basket), American Beauty (Mochi lying in a bed of red petals) and Jaws (Mochi staring not-so-menacingly up at a toy doll). Originally, it was Bryce's favourite films that were recreated but she now urges fans to suggest their own much-loved movies.
"When I started running low on ideas, I put a call out asking if anybody had any suggestions. There were loads of proposals straight away so now if you've got a suggestion, post an image with the hashtag #mochismoviemoments and [we] might recreate it."
A pug of the people
With her wide eyes, pink tongue and perplexed expression, it's not hard to understand why Mochi is so popular.
Mochi is cute and her fans regularly let her know, leaving comments on her Instagram photos such as "How can you not love that face — gorgeous!" and "Mochi you are so adorable".
Bryce attributes Mochi's popularity to her personality and looks, together with the movie scenes she recreates. "I think Pugs have terrific personalities and the facial expressions of Mochi in conjunction with the silly scenarios make it so hilarious."
Mochi's popularity extends even beyond the virtual world, with the pooch sometimes approached by fans in public. "A couple of times Mochi has been recognised. One time in the dog park, some people came up and said, 'Oh my god, that dog looks exactly like Mochi from Instagram.' Another time someone in the street told me, 'I think I've seen your Instagram account'."
So what does the future of Just Another Dog Blog look like? Bryce says she plans to continue recreating movie scenes, as well as possibly other pop culture references. "People have suggested that I could do album covers, famous musicians or TV moments and I think it could be fun to do another medium. I'm open to suggestions. I think Mochi and Breaking Bad would be great!"
Mochi in a yellow hazmat suit — now that's something we'd certainly like to see!
Have a suggestion on what movie moment Mochi should recreate next? Post an image of the film to Instagram with the hashtags #mochismoviemoments and #dogslifemag and your movie might be picked!
Love dogs? Why not visit our
DOGSLife Directory