December 10th, 2014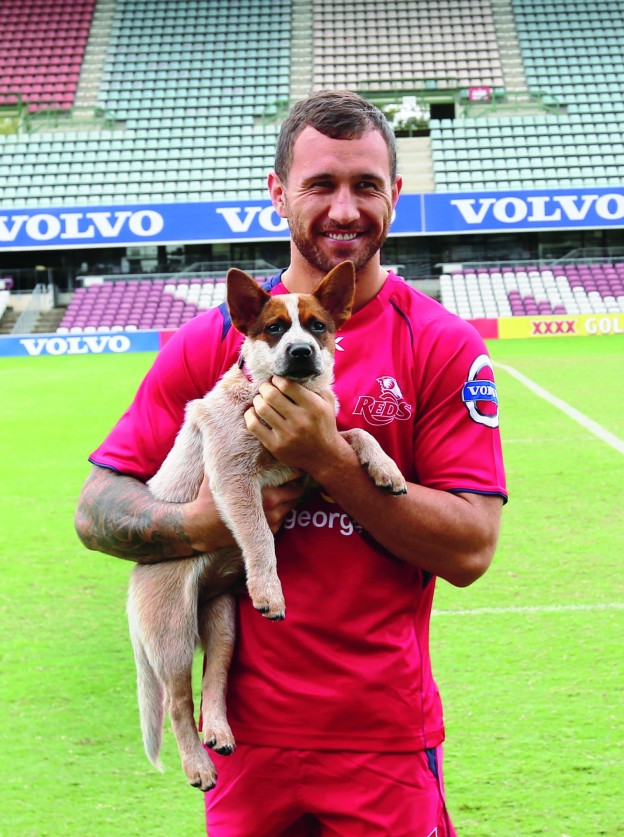 Meet Red Dog, the junior mascot for the Queensland Rugby Union and one very talented pooch, writes Tim Falk.
Any sporting team worth its salt needs a great mascot to entertain the crowd and put on a show on the sidelines that complements the action on the field. For 2014, the Queensland Rugby Union decided to rely on puppy power when choosing their junior mascot, handing this all-important job to an adorable Cattle Dog pup named Red Dog.
If you've been to a Queensland Reds home game this year, chances are you will have seen Red Dog performing a range of impressive tricks on the sidelines to the delight of the crowd. This calm, outgoing pup simply loves all the attention and he doesn't mind putting on a show for an audience.
"He is a confident little puppy and not easily spooked," says Red Dog's trainer Justin Jordan, from Jordan Dog Training. "He loves interacting with the players and just adores pats from the fans."
Red Dog is owned by the Queensland Rugby Union and lives with rugby-mad veterinarian Bernie Bredhauer from Northgate Veterinary Surgery on Brisbane's north side. Red Dog's training and development are Jordan's responsibility, so this playful pup spends several days a week living with his trainer and two other dogs where his skills are finely tuned.
It takes a special dog to perform such an important job, and Red Dog was chosen for the junior mascot role from an early age. "When selecting a dog for such an important and public role, it was important to find a dog with the sort of temperament suitable for friendly interactions with the public, especially kids," Jordan explains.
Red Dog was chosen from a litter of Cattle Dog pups bred by a reputable breeder. "We watched the litter closely over the first eight weeks and then chose him due to his character and temperament. He showed early signs of being a calm and relaxed puppy with the right attitude. He was not concerned by sudden or unusual noises, and he also had the prey drive necessary for the work he will be doing," Jordan says.
Since then, Red Dog has been undergoing regular, focused training to help him perform his duties as the Queensland Rugby Union junior mascot. His role incorporates media events, public appearances and game day attendances, all of which he is taking to with quite some maturity, considering his age.
"He is a very calm dog and is so eager to learn and please," Jordan says. "He is a quick learner and is very keen to work. Being a working breed, Red Dog requires a high level of stimulation, both in terms of physical exercise and mental challenges."
Despite the big responsibility this little pup has taken on, Red Dog is just as much a pet dog as he is the junior mascot for the Queensland Rugby Union. While spending time with Jordan, Red Dog has also had the opportunity to attend multiple Jordan Dog Training puppy preschool courses across Brisbane. This gives him plenty of time to socialise with other puppies and to simply enjoy the time making friends.
Happily, although it's only early days in his development, Red Dog has so far been a quick learner and taken to his mascot role with aplomb. "So far, we have him understanding and responding to 35 different commands, including Roll, Spin, Stay, Mat, Heel, Come, Sleep, Beg, High Five and Wave. We are currently teaching him to speak on command and also fine-tuning his Fetch," Jordan says.
There's also been a careful approach towards exposing Red Dog to the big crowds at Queensland Reds home games. As well as restrictions because of Red Dog's vaccinations, Jordan also wanted to make sure his young charge was completely comfortable and happy with the attention he would receive.
Unsurprisingly, the reaction from players and fans to Red Dog's arrival has been overwhelmingly positive. "The players all love him. Every time we attend a meeting or game with Red Dog, the players want a demonstration of any new tricks he has learnt. They are amazed at how much he has learnt already," Jordan says.
"The fans absolutely adore him, and we generally have a queue of fans wanting a pat or a photo with the famous Red Dog. He has also been attending some of our in-home training sessions where we go out to people's homes and help clients with problem dogs, where he has been the perfect demo dog. Some avid fans have spotted him out and about around Brisbane as well — he has become quite the canine celebrity."
At the time of writing, Red Dog was scheduled to attend all of the Queensland Reds home games and to be on the sideline with Jordan, cheering the team on and showing off his tricks for the fans. He also has a very full calendar of media events, public appearances and attendances at the St.George Rookies2Reds Rugby clinics, but that is just his day job.
"He also has a loving family that adores him like any other cherished pet," Jordan explains. "He has a lot of down time playing with other dogs, frequenting dog parks, Sunday outings with the family to coffee shops etc, not to mention his ongoing daily training sessions and attending our dog obedience classes to make sure he stays tuned in to the important job at hand: being a cute, well-behaved Red Cattle Dog."
In Jordan's words, Red Dog has the best of everything: "Professional training, his own personal physician, and a job that keeps him utterly content for a working dog in the city."
More about Red Dog
For more photos of Red Dog, to follow his story or for useful tips and tricks to help you and your pooch, visit www.jordandogtraining.com.au and select 'Red Dog'. For up-to-date information on Queensland Reds game days visit the Queensland Reds on Facebook, or to ask doggy-related questions visit Jordan Dog Training on Facebook.
Australian Cattle Dog
For more information about the beautiful Australian Cattle Dog breed, check out our breed feature.
Love dogs? Why not visit our
DOGSLife Directory