July 21st, 2015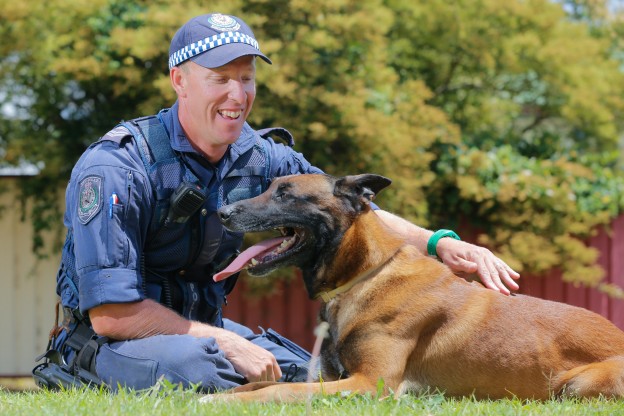 Agile, fierce and always up for a challenge, Bob is a legend in the force. Not just your everyday police officer, Bob's a Belgian Shepherd and one of NSW's finest police dogs, writes Michele Tydd.
On a hot spring day in 2014, a Central Coast man in his 30s pulled off an armed robbery at a service club with a blood-filled syringe. It was one of about a dozen outlets he had robbed over time, and he was heading home by train believing he had eluded police. But when the lift door opened onto the platform, it was game over.
Waiting was leading senior constable Ben Hammant with Bob, who is fast earning the reputation as one of NSW Police's finest crime fighters with his rattle-snake speed, agility and fierce appearance.
"Bob's black face makes it looks as if he's wearing a balaclava, which we say is our revenge on the crims who use them," joked one of the officers at Bob's station. But life hasn't always been this good for the Belgian Shepherd.
Less than two years ago, he was like a bag of bones, living on scraps on the streets in Sydney's west. He was eventually taken to the pound where his emaciated frame attracted no takers, and efforts to find his owner led nowhere.
The day before he was to be put down, the pound phoned NSW Police as a last resort in the hope he would be a good fit for the dog squad. "A lot of people ring us with donations, but often it's to get rid of dogs who have developed bad manners through lack of training," says sergeant Hammant, who estimates less than five per cent of those dogs ever make the grade.
Police dogs need three prerequisites: a love of play, because that is the reward for service; an alert disposition; and the ability to learn quickly.
"Bob was in poor shape when he came off the street but he still went nuts when it came to play — there were six officers including me on that first day and his energy was boundless," says Hammant.
Bob may have been through the door, but there was still a way to go. He quickly proved he was manically focused and was far more agile than most police dogs with the ability to jump and scale ridiculous heights. But at the training level, he struggled to master tracking, a crucial skill for the job.
"In the end, I sat him down in the training field and whispered in his ear, 'Mate, you've got to do it today or it's all over'," says Hammant.
Bob not only did it, but he has become one of the best trackers among the 44 police dogs in NSW. Just recently, this skill saved a man's life after a car accident in the Hunter region.
"It was a bad smash but nobody could find the driver," says Hammant. "We didn't arrive until three hours after the accident but Bob led me a kilometre down the road where the driver had collapsed unconscious in the bush well away from the road.
"The guy wouldn't have lasted through the night if left in that condition," says the sergeant.
Bob, at five years old, has probably two more years in the job because police dogs must be retired while they are at the top of their game as many lives depend on their performance. But Bob's happy ending doesn't finish there.
His off-duty charm has won him a special place in the Hammant family, especially with the two young children. "They were wary at first but gradually it was 'Dad, can Bob have a blanket because it's cold?' or 'Dad, can Bob come inside because it's raining?'" recalls Hammant.
They have learned to love Bob partly because they are well aware that when Dad goes to work, it is Bob who has his back.
"Sometimes you can't help but think what an amazing transformation for a dog to go through," says Hammant. "To put it bluntly, Bob went from the dog house to the penthouse, and I can't think of any dog more deserving."
NSW Police dogs that have died in the line of duty
Carts — stabbed during a police operation at Corrimal in 2007.
Titan — stabbed during a siege at Seven Hills on December 23, 2004. His death prompted new laws for higher prison sentences for crimes involving police service animals.
Boss – died January 10, 2003
Sam – died February 7, 1996
A history of the NSW Police Dog Unit
NSW Police formed the dog squad in 1932 after an extensive hunt for double-murder suspect William Cyril Moxley in April of that year. It was decided the use of a tracking dog would have dramatically shortened the two-week manhunt across Sydney.
The site for the first kennels was in Alexandria, Sydney, which, at the time, was a swampy wasteland. The kennels doubled as a holding yard for court exhibits and the dogs were expected to work even in their downtime by guarding those exhibits.
In 1954, the dog squad was disbanded but reformed in 1979.
The Dog Unit, as it is now known, has become a highly trained extension of the force, diversifying into areas including firearm/explosive and drug detection work.
The four breeds used for police work are German and Belgian Shepherds, Rottweilers and Labradors.
Does your dog have what it takes?
The NSW Police hears from lots of owners who would like their pup to become part of the police force. They often think their dog's ability to sniff or be a tug-o-war tiger is enough to get them across the line. However, a successful police dog candidate goes beyond any one single ability.
Must-haves for a potential police dog include:
High desire to play tug-o-war and fetch an article;
Physically sound and fit to carry out strenuous duties;
Intelligent, bold and keen to please;
No older than 18 months;
A German Shepherd, Rottweiler or Belgian German Shepherd (Malinois) is preferred, with a certificate of pedigree or the ability to obtain such certificate;
In good health and up to date with all vaccinations, intestinal worming and heart worm preventatives;
Must be of sound temperament.
If you believe your dog has what the NSW Police Force requires in a potential police dog and would like to have your dog assessed by the NSW Police, contact the NSW Police Dog unit on (02) 9541 9744 for more information.
Love dogs? Why not visit our
DOGSLife Directory