May 20th, 2015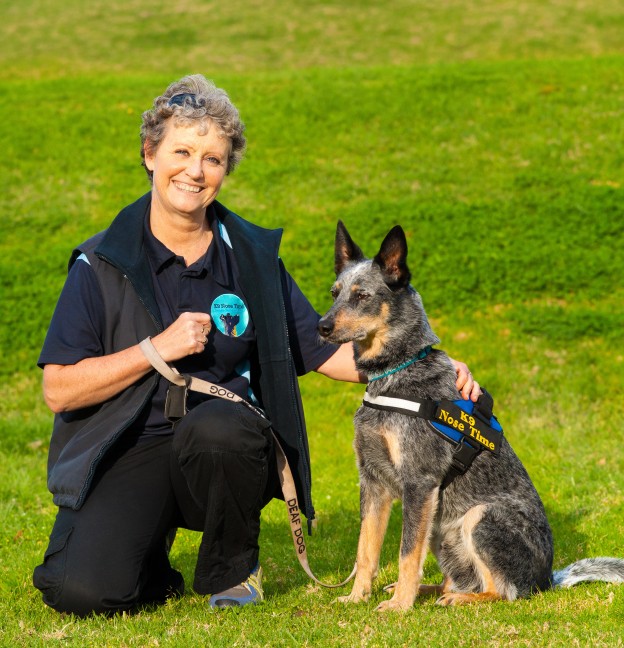 Kristie Bradfield discovers how K9 Nose Work has helped ease the mind of a cancer fighter and given a once-anxious pup more pep in his step.
The last thing Joanne Campbell thought she'd be dealing with over the 2005 Christmas break was a diagnosis of breast cancer. On the 23rd of December that year, she got the news that would change everything, and over the course of five years she fought the battle of her life.
It was after this treatment that Morgan, a deaf Australian cattle dog, came into her life. "We got Morgan in 2010 when he was two years old," says Campbell. "He was born on a farm in Uralla and was going to be euthanised because of his deafness at the age of seven weeks." Thankfully, Morgan was rescued and was placed in foster care for two years, and there he was nurtured and given obedience training.
"When we got Morgan, I wanted to continue with his obedience training," says Campbell. "I was doing agility with my other Australian cattle dog, Tira, but I wanted to continue with Morgan so I could learn how to communicate with him." Obedience training with Morgan was problematic because he had leash aggression. It was while seeking advice for Morgan's reactivity that Campbell stumbled onto an activity that would fix it: K9 Nose Work.
What is K9 Nose Work?
K9 Nose Work is all about finding the source of a scent. It is a positive trained, search-and-alert activity that involves dogs learning to search for and find the source of a specific odour or odours. Dogs hunt out food to begin with and over time move on to the three target odours: birch, anise and clove. After being introduced to the scent, the dog will find its source and receive a reward. As a dog progresses through each scenario, the challenges and target scents get harder. Over time the dog will build broad, foundational scent-detection skills.
Unlike obedience training, in K9 Nose Work there are no commands or tasks, and a dog progresses through each scented scenario thanks to its independent problem-solving skills and its brain, which is made for smelling. "Every dog has a nose far more amazing than any human's, and every dog has the natural instinct to use its nose," says Marion Brand, who is the only qualified K9 Nose Work Instructor in Australia. "Humans have about five million cells devoted to smelling; dogs have up to 220 million. Dogs also have up to four times the brain power devoted to processing scents. All dogs are built to sniff and they love doing it!"
How K9 Nose Work helps dogs like Morgan
"I think any sport you do with your dog is going to bring you closer together and build a stronger bond; they just love being with you," Campbell says. "Due to Morgan's leash aggression, I stopped doing obedience with him. But I needed something for him to do."
Leash reactivity is a common problem for fearful dogs and finding an activity that both owner and dog can enjoy can be a challenge. That's where K9 Nose Work comes in. "K9 Nose Work is excellent for shy, fearful or reactive dogs because all training and trials are designed to keep interactions at an absolute minimum," says Brand. "Only one dog is worked at a time and all others must be safely crated away from the search areas."
It is in this completely safe environment that dogs like Morgan can benefit the most. "It's excellent for elderly, convalescing, blind, deaf or otherwise handicapped dogs. It's mentally stimulating yet impact-free and allows them to solve scent puzzles at their own pace," says Brand.
Another tool in the cancer-fighting toolbox
Despite living cancer-free for three years, Joanne was diagnosed with secondary cancer in her bones in June 2013. Its return hasn't stopped her using K9 Nose Work as another tool to battle her illness. "While I concentrate on Nose Work with Morgan, I don't think about my treatment or the disease," she says. And six-year-old Morgan continues to go from strength to strength thanks to the reawakening of his hunter spirit. "Morgan has realised that strange people aren't a bad thing and he now actively greets people at our front door with a wagging tail and his head held high."
Get involved
K9 Nose Work is currently being offered by K9 Nose Time in Castle Hill, East Kurrajong, St Ives and Kellyville in New South Wales. If you'd like to learn more, head to the website.
Love dogs? Why not visit our
DOGSLife Directory