August 22nd, 2008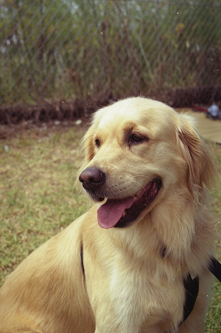 This Rob Dunlop tells of his journey through the streets of Santorini in Greece, where he discovered the plight of stray dogs. He speaks to animal-welfare groups who are working to change the culture of irresponsible pet ownership and help the homeless dogs in Greece.
Although my wife and I had only just begun our holiday on the beautiful island of Santorini in Greece, something was already missing. Sure, wed have plenty to fill our days lounging around clifftop pools, drinking in breathtaking views, sunsets and cocktails, and feasting on fresh seafood. But who was going to give us licks and cuddles? We missed our dogs, Noodle and Keesha.
Pulling ourselves together, we set off early the next morning to sample the sublime Mediterranean offerings. We walked the cobbled laneways of Oia, a white-washed village perched precariously high above the sea. Every step along its winding paths revealed another picture-postcard scene, but a string of local dogs that had begun following us had us more enthralled than the setting. They were warm and friendly. And they liked cuddles.
When we paused to soak up the views, they climbed over the roofs of the barrel-shaped homes to bask in the morning glow. It was a glorious day and we were thankful for such an unexpected delight.
Sitting in the village square with its eerie windswept trees, one of the dogs moved in for another cuddle. It was only then that we begun to wonder about their homes. Had their trusting owners let them out for early morning walks? Or were they strays?
History of strays in Santorini
We found out about the dogs plight when we met Santorinis only veterinarian, Dr Margarita Valvis, who arrived in 1991 to set up the islands first surgery. So disturbed by the local conditions, particularly the stray-dog problem, Valvis also established the Santorini Animal Welfare Association (SAWA).
The dogs joined together in packs searching for food, which brought fear and terror to the local people. But unable to find a solution to the problem, the locals shot the dogs or poisoned them with bait left in rubbish piles. A painful death and an abominable sight, Valvis recalled.
But how did the problem begin? Over the past 20 years, as tourism further developed, more people moved to the island to open up restaurants, shops and other tourism-based businesses. And many of these people brought dogs with them. Coupled with a culture that shuns neutering as anti-nature, the local dog population exploded. Further exacerbating the problem is the fact that many of the tourism operators only live on the island during the tourist season, abandoning their shops and sadly, their dogs, for winter.
Irresponsible pet ownership is mostly to blame for the strays, Valvis told us. She has been attempting to change the culture on the island since. Yet sadly, its still not unusual to find litters of puppies tossed out onto the street. She conducts regular education classes in local schools and runs neutering and vaccination programs. Over 80 people are now involved in SAWA and it is thanks to their compassionate efforts that the dogs of Santorini get a chance at survival.
Fortunately, a pervasive, caring culture does exist within the communities, and local residents and shopkeepers do feed the stray dogs. The SAWA also conducts regular feeding programs during winter.
Little did we know that those happy and healthy looking dogs we befriended that morning continually rely on tourists to feed them. And when the tourist season is over, closing the restaurants and tavernas, there is very little food available. The dogs struggle and many die.
Shelter-concept does not work
Although stray dogs are a major animal-welfare concern throughout Greece, the concept of shelters does not work, said Carol McBeth, director of Greek Animal Welfare Fund (GAWF), based in Athens. Shelters are overcrowded and the Greeks tend not to adopt dogs from them, she said. It basically ends up being a prison for life for the dogs. Also, shelters regularly find abandoned dogs and boxes of puppies outside their gates, adding to the overcrowding problem.
But what works surprisingly well in Greece is the concept of the street dog. As opposed to the stray dogs that have to fend for themselves, street dogs are routinely cared for. All of them are vaccinated, wormed, wear anti-parasite collars during the summer, have collars with their name on them, and are neutered, McBeth explained. The dogs all have their own areas where local people care for them. Although they live on the street, they have a quality of life, she said. But it all really depends on where the animals live.
If there is an active animal-welfare group working in the area, the conditions of the street dogs are usually good to excellent. However, in areas where no-one is interested, the conditions are appalling. Things are much better in the cities, such as Athens, Thessaloniki, Patras, and Larissa, where many Greeks do care and help the animals, McBeth said.
However, one major problem everywhere is poisoning. You can imagine how heartbreaking it is for groups that have vaccinated, neutered and fed dogs to have them poisoned by some sick person. Of course, it is difficult to find the perpetrators, as they carry out their foul deeds when no-one is around, McBeth said.
Instilled with our new knowledge, we asked for a doggie bag at dinner, which felt more poignant than ever. In the morning, we returned to our new friends and fed them, knowing only too well that the tourist season would soon be coming to a close and life would undoubtedly become much tougher.
If you're ever visiting Santorini or any other part of Greece, spare a thought, or even a feed, for these joyous dogs. They're worth it.
Tips for Holiday-makers in Greece
Feel free to pat the dogs in Greece, as there is no rabies present there. Many of the dogs crave human companionship and enjoy being fussed over.
It's OK to feed the street dogs, but away from hotels, studios, restaurants and tavernas, where dogs are generally not encouraged. They rely on visitors for food and water. Organisations, such as the Greek Animal Welfare Fund, organise routine feeding programs outside of the tourist season.
Visit a local welfare group in the area to see firsthand the wonderful work being carried out. While there, you can help by donating money or tins of food.
Greek Animal Welfare Fund
GAWF is a charity that provides Greek animal-protection societies with project funding, expert assistance, training and practical help, including assistance with neutering campaigns.
GAWF is currently helping around 80 animal-protection groups throughout Greece and its islands, including SAWA on Santorini. Unfortunately, these organisations do not receive any government funding and rely on donations and memberships to carry on important and vital work. Australias Rolf Harris is a generous patron of GAWF.
How can you help? You can either join GAWF or make a donation. For more information, visit their website at www.gawf.org.uk
Love dogs? Why not visit our
DOGSLife Directory