July 24th, 2014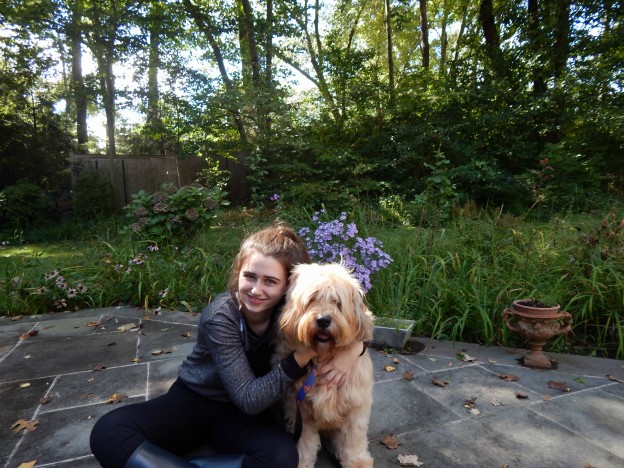 Tim Falk shares the heartwarming story of a critically ill pooch, his remarkable owner, the inspirational campaign to save the lives of other sick dogs and who else around the world is fighting heartworm disease.
When Annie Blumenfeld's family began the search for a loving pet, they spent three years scouring pet stores, rescue shelters, newspaper ads and dog breeders to find a loyal companion. The Connecticut-based family's exhaustive search eventually led them to Teddy, a lovable shaggy dog who had been rescued from a high-kill shelter in Houston, Texas. They knew this happy little pooch was the perfect dog for them, but there was a problem: Teddy had heartworm disease. "Teddy was in a crate, inactive," says Annie, 15. "He was on many vaccinations and had to have many X-rays to see his progress. He couldn't play with any of his other furry friends and it broke my heart to hear this."
So the Blumenfelds adopted Teddy and, after two long months of treatment and care, this happy-go-lucky dog made a full recovery. But the little dog's ordeal left a lasting impression on Annie. "I researched heartworm disease further and found that it is present in all 50 [North American] states and more than one million dogs have it right now in the US. Furthermore, it is found in Europe, South America and Australia. I was determined to bring attention to this issue to all pet owners and [spread awareness of] how easily they can protect their pet," she says.
Inspired into action, 15-year-old Annie founded Wags 4 Hope, a non-profit organisation that aims to spread heartworm disease awareness across the United States. "I work to increase heartworm disease awareness and education through speaking engagements, educational outreach programs, special events and all forms of social media," Annie says. Her campaign has generated airplay and column inches across a number of media outlets and even seen her and Teddy named "Heartworm Heroes" by the American Heartworm Society. "I created Teddy's Tales, a blog where I remind pet owners about giving their furry friend their monthly heartworm disease preventative, while sharing all of Teddy's fun adventures each month," Annie says.
"In light of April being National Heartworm Disease Awareness month [in the United States], I created and designed an educational flyer which I had spread to all 50 states, parts of the UK, Australia, and recently I am so happy to announce West Africa. I did this by contacting animal welfare organisations, animal-friendly corporations, and universities." Annie has met with state government officials to educate them about the importance of heartworm prevention and even started a Wags 4 Hope club at her school to get more people involved in the effort and to spread awareness.
"I recently spearheaded a very successful fundraiser at my high school called '1 in 45', where many students each raised $45, since 45 per cent of dogs in America are not protected from heartworm disease," she explains. Throw in Annie's efforts to raise further money to help pay for other shelter pets' medical expenses and it's clear this is one very impressive young woman who is determined to make a difference in the lives of pets in need.
"It can be very costly, and physically and mentally exhausting, watching your poor animal go through the painful, long treatment," Annie says. "Teddy was in a crate, inactive for two months, with many vaccinations and X-rays. At the same time of your pet going through the treatment there is a risk of death. If your dog is not on preventatives and encounters heartworm disease, it can lead to a shorter lifespan or even death in some extreme cases."
Yet, despite the fact that heartworm is entirely preventable, dogs in Australia, the US and around the world still suffer from the disease. "I think it can be many factors of why people don't protect their pet," Annie says. "Most people don't think it is around during the winter-time when it is still present. Money could be another factor, but the biggest factor I have encountered is the lack of education." So education is what Wags 4 Hope focuses on. And if Annie can prevent even one dog going through an ordeal like the one Teddy did, all the hard work will be worth it.
An Australian perspective
The prevalence of heartworm — and hence how much of a problem it poses for dogs — varies greatly from almost nothing to being a huge issue, depending on what part of the country you live in. "Heartworm is particularly found in tropical areas. So much so that in Darwin most dogs will get heartworm unless they are on some form of prevention," says Dr Elise Vogt, Animal Aid's senior veterinarian. "The prevalence is less but heartworm is still common in other northern states such as Queensland and can occur in NSW. Heartworm is much less of a problem in southern states, but cases are still occasionally recorded in cities such as Adelaide and Melbourne, particularly in recent years, with more and more dogs travelling around the country and taking the parasite with them."
Heartworm is spread via mosquitoes, so any dog may be at risk, whether they come into direct contact with other dogs or not. Mosquitoes spread tiny heartworm larvae in the blood from dog to dog as they feed. "Once a dog is infected, these larvae develop over a period of six months into adult worms, which live inside the chambers of the heart and in the large blood vessels around the heart and lungs," Dr Vogt says. "Enough of these large worms together can cause physical blockage of the heart and vessels, clogging the circulation and leading to congestive heart failure."
In the early stages of heartworm disease, or where there are only a low number of worms present, there may be few or no symptoms. Where the disease is more advanced, symptoms include lethargy, weight loss, breathlessness, inability to tolerate exercise, and coughing. Treatment of heartworm disease can be very difficult, and potentially quite dangerous to the dog affected. "There are drugs which will kill the adult worms but these worms can still cause physical obstruction of the circulation and can move through the body, effectively acting like clots and causing severe blockages of circulation (thromboembolism), particularly in the lungs. Common complications include breathing problems, coughing, fever and even sudden death," Dr Vogt says.
Given the difficulties, prevention is by far the best strategy. "Regardless of what part of the country you are in, we recommend that all dogs should be on heartworm prevention from 12 weeks of age throughout their lives. There are various forms of heartworm prevention available, including monthly chews and spot-on treatments, and there is also an annual heartworm injection which is available from vets. "Owners should be aware that if their dog has never been on heartworm prevention, or has had a gap of more than a few months, it is very likely that their dog will require one or more blood tests to ensure that they are not infected already."
Love dogs? Why not visit our
DOGSLife Directory