August 30th, 2016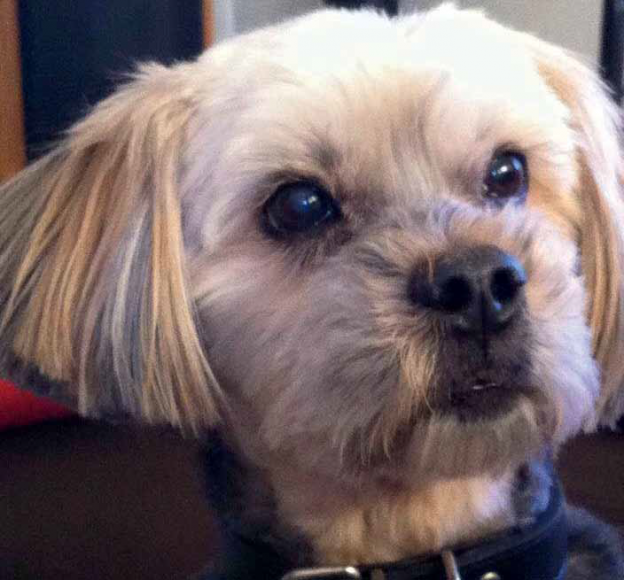 Eddie
Brisbane's Taylor O'Conner fell in love with Lhasa Apso puppy Eddie at first sight, but her elation turned to heartbreak when vets declared he was unlikely to live beyond five years of age. Eddie, however, had other ideas.
"One Saturday morning in 2002, I was at swimming club and had taken a break hen my little sister came down the side of the pool and said, 'We're getting a dog!' We'd been looking for our first family dog for a little while and had decided on a Lhasa Apso as my mum has allergies to particular types of dog hair.
"When we arrived at the breeder's house to pick him up, he seemed perfect. He had a loud bark for a fluffy dog of his size, but was very gentle with the breeder's small children and even put up with them pulling his tail.
"Unfortunately, while Eddie could certainly walk, one bone in each of his front legs was longer than the other, which caused his paws to point outwards like a ballerina. He was technically lame, and he was purebred, which raised some concerns for our veterinarian, who said he wouldn't live past five years of age. "I was very sad when I first heard, but to be honest, it quickly left my mind. Five years flew by; he was very healthy and happy, and it didn't even register that he had reached his predicted age. He was still active and enjoying life as always.
"Before we knew it, Eddie was turning 10. It never seemed like his health was declining, or that he was in pain. He will turn 14 this year and we know he is getting older, but we still treat him like our little fur baby. His legs seem to be fine, though he does stretch a lot when he leaves his bed. "Don't ignore what vets say, but believe in your dog and it will be your best friend. Cherish the time you have together. Your dog may not be your whole life, but you are theirs."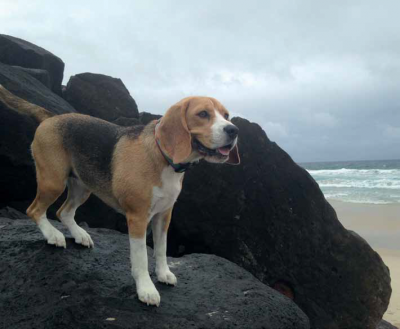 Sushi
Gai O'Dwyer's Beagle, Sushi, has survived meningitis, anaphylactic shock and kennel cough, all before the age of two. Gai, from the Gold Coast, was warned to prepare for the worst a number of times, but Sushi surprised everyone.
"My husband and I decided to get a puppy for our daughter, Freya. We weren't able to have any more children and we thought having a puppy would provide love and company for her. We decided on a Beagle because of their loving nature — we wanted a dog that could handle a five-year-old showering it with hugs and kisses! Sushi is so tolerant of Freya lying all over her.
"One morning in October 2015, I woke up around 4am and found Sushi acting strangely. She was hiding from me and looked very sad. Within minutes she started to drool and her back legs went. I offered her food and treats, which she refused — this was so unusual for a Beagle that I knew it was serious. "I rang the emergency vet and they got her straight in. The first thing the vet said was, 'She looks like a 12-year-old dog, not a puppy.' She was limp and quiet, and when the vet tested her neck and jaw movement she yelped in agony.
"I was standing there with Freya and I asked if Sushi would be okay. The vet diagnosed viral meningitis and said, 'She may not survive and if she does it's possible she may have changes in her behaviour.' I was stunned. How does a  healthy happy active puppy become so sick overnight? I got in my car and burst into tears. I wanted to reassure Freya, but I just couldn't. That day was one of the longest of my life.
"The first few weeks of treatment were worrying. Sushi was being treated with cortisone and became bloated, inactive and obsessed with food. Then, three weeks after the meningitis diagnosis, Sushi started rushing from one end of the house to the other at midnight, scratching and shaking her head uncontrollably. I rang the vet as she started to seizure, and they said she was in anaphylactic shock.
"I never truly felt confident she would recover. She had lost her 'spark' and I wondered if she would ever be the same puppy, but the vet kept reassuring me that once the medication was finished she would be okay. Five months on, the old Sushi is back — she's her curious, mischievous self who loves walks and plays on the beach. The vet is delighted at her progress and how well she recovered. My advice to other pet owners is to find a vet you love. I felt incredibly fortunate and grateful that Sushi had the best specialist veterinary care."
Did you want more pawsome dog stories? You should subscribed to DogsLife Magazine!
Love dogs? Why not visit our
DOGSLife Directory