August 10th, 2008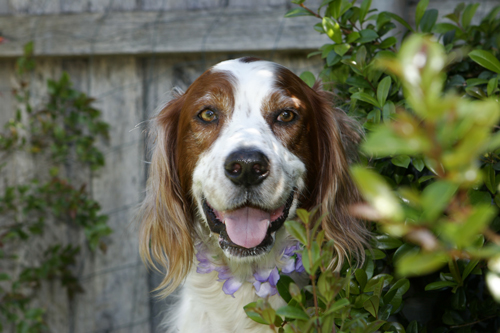 Caroline Zambrano takes a look at dogs in indigenous communities. Arnhem Land in the Northern Territory is one of the largest Aboriginal reserves in Australia, perhaps best-known for its remoteness, art, music and strong, continuing traditions. In the heart of this region is Maningrida, a self-governing Indigenous community, located 500km east of Darwin, with a population of around 2500, including those who live in many surrounding homeland centres or outstations. In per-capita terms, this community is considered the most multilingual and culturally diverse in the world, boasting about 15 indigenous languages.
But in the midst of this cultural wealth is a silent suffering of people and dogs alike. The town is home to an overpopulation of 700 dogs in mostly terrible conditions. Sadly, this is true for many other indigenous communities around Australia.Visitors are often quick to blame the Aboriginal people, but as AMRRIC (Animal Management in Rural and Remote Indigenous Communities) Executive Officer Julia Hardaker explains to Dogs Life, the story is quite different when you take a closer look into these communities.
People get distressed when they see their animals in poor health, she says. Often, people drive into a remote community and go, Oh my God, look at the state of the dogs, its shocking! But, in fact, indigenous people feel very overburdened about the welfare of their dogs and often do not have any resources or knowledge about where to go and what to do. And when you have a lot of sick dogs in a community, their community feels." sick.
Improving human and dog health
But thanks to a growing independent group of veterinarians, academics, health workers and Aboriginal and Torres Strait Islander people in Australia, AMRRIC has been able to facilitate sustainable dog programs in remote indigenous communities to improve the health and wellbeing of the entire community.
AMRRIC members tackle many problems associated with the dogs overpopulation, disease, nuisance, animal abuse, dangerous dogs, littering, stress and also deal with broader issues linked to remote communities, such as lack of funding, co-ordination, information and training, community poverty, unavailability of vets, limited job opportunities and more.
Considering the evidential link between human domestic abuse and abuse of animals, AMRRIC also provides an opportunity to help children develop positive, caring attitudes through active animal care. When you undertake veterinary and dog programs that are done in a right way, and the dog starts to become healthy, people start to feel healthy and they do become healthy.
There is a natural improvement in human health when there is an improvement in dog health, Hardaker says.The majority of dog programs aim to control numbers, improve animal health and welfare through basic veterinary services, provide education about animal health to environmental health workers and individual households, and provide feral-animal control. Since it was founded about three years ago, AMRRIC has made a positive difference in many indigenous communities, with carefully set-up dog programs, but the process isnt easy and lack of funding makes accomplishing the organisations goals more challenging.
The Australian government needs to fully recognise and embrace the connection between animal and human health. If that was embraced, more funding would come, says Hardaker, who comes from a working background in primary health care for Indigenous communities.
Founded on a deep respect for the culture and traditional ways of the Aboriginal and Torres Strait Islander people in these remote communities, AMRRIC promotes a model developed over years of dialogue and interaction with remote indigenous communities, in which the dogs are recognised as an intrinsic part of the fabric of the community.Its very much about working with the community and the people from that community, Hardaker explains.
We go in upon invitation (by community or council) and develop a strategic plan with that community so that all those people who have authority to speak about dogs, actually form and drive the program.AMRRIC then identifies an animal management officer, environmental health worker or someone else currently in the community with an interest in animal welfare. Together, they develop a framework for the community's dog program and then bring in the vet.Any vet can run a dog program, but they must come [to work] for the right reasons, Hardaker says.
They must have experience working in indigenous communities and, if not, be open to learning. Letting go of the Western paradigm was a challenge for me, too. If vets go in there with a gung-ho manner and undertake veterinary programs without community consultation obviously next time the vets turn up, people will take their dogs away.
A veterinary manual
That's why in March 2007, AMRRIC, in partnership with the International Fund for Animal Welfare (IFAW), launched Conducting Dog Health Programs in Indigenous Communities: A Veterinary Guide, a comprehensive, technical manual designed for veterinarians interested in getting involved in indigenous community work.
The guide also helps to reduce the risk of vets making mistakes already made and regretted by earlier vets on the scene, author Dr Sam Phelan tells Dogs Life. Phelan has been a vet for more than 10 years and moved from a mixed practice in NSW to the Northern Territory to satisfy a desire to be involved in public health. Having also run dog health programs and previously acted as AMRRIC executive officer during a change in leadership, Phelan understands the troubles of the indigenous people.
She explains that many children living in community settings suffer from chronic diarrhoea and malnutrition; furthermore, communities lack housing that meets World Health Organisation (WHO) standards in terms of overcrowding, sanitation and water supply, directly causing the transmission of many gastrointestinal illnesses. Communities also face canine problems of overpopulation, parasite infections (heartworm, hookworm, roundworm, scabies etc) and various other diseases that affect human health (eg, Salmonella).
An overwhelming amount of scientific evidence shows dogs harbour and transmit common human protozoan, bacterial and viral intestinal infections.In communities that have been without a dog health program for a period of time, large, sickly puppy populations and adult dog ill-thrift are obvious, she says. You can make an amazing difference to the overall health of a dog population through a relatively inexpensive program. Animal and public health experts agree that dog health programs have a positive effect on human health. The health and wellbeing of the dogs is inseparable from that of the humans, Phelan says.
Dog People Conference
To raise awareness on how companion-animal management in remote indigenous communities is an effective public health strategy, AMRRIC hosted the Dog People Conference in July 2006 in Darwin. It featured international expert speakers on subjects that link dogs and humans from animal abuse and family violence to dog-welfare education and animal management.
The Honourable Senator Amanda Vanstone had made the opening address, sharing her pride in the governments significant work towards improving health in indigenous communities, such as reducing infant mortality and death rates from respiratory illness and infectious parasitic diseases. For thousands of years, the dog has been revered as a friend, guardian and protector of humans, she said in her speech. The [indigenous] people love their dogs; its always a sign to me that they're good people. Unfortunately, in some communities there are major problems, like alcohol abuse and domestic violence.
Vanstone said the children of Indigenous Australia hold the key to a better future and that the key may lie in their relationship with their dog. A dog can be one constant friend and confidant to a child during the most difficult times in their life, she continued. By fostering the natural bonds between a child and a dog and encouraging compassion, humanity and responsibility, dog people and other groups at the front line can inspire indigenous children to take special care of their dogs. In doing so, childrens eyes will be opened to the needs of others, animal and human.
Local inspiration
One vet who has become somewhat of a dog hero to the people of Maningrida is Melbourne veterinarian Dr Ted Donelan, who has been running the Healthy Dogs, Healthy Communities program there for the past six years. Maningrida had an overpopulation of dogs 650 in a population of 2500 people. Many of the dogs were starving and in need of veterinary attention to treat parasites, skin conditions and life-threatening diseases. Very few were desexed and, as houses did not have fences, people also had limited control over their dogs. Dog fights, uncontrolled breeding and public nuisance from dog attacks and barking were common.
For Donelan, killing the dogs to solve the problem of overpopulation is not a solution. All it does is create anger and pain in the community, he tells Dogs Life, adding that it does not even result in fewer dogs. If action is not taken to control reproduction, then in six to 10 months time, hundreds more puppies will be born to take the place of those killed for roaming the streets.The first time I went to Maningrida [six years ago] was to talk to the people. They were saying, We have too many dogs, can you help us? But don't kill our dogs. Unfortunately, the reality is that these people, like many indigenous communities, have experienced white people coming in and shooting their dogs.
Donelan, who has been in practice for 35 years and is a senior academic associate at Melbourne University, visits Arnhem Land twice a year for about a month at a time. Working with the support of the community, he focuses on parasite treatment and population control (surgical desexing, hormonal control and euthanasia of dogs when requested), but also provides pet-care education and general medical and surgical services, such as stitch-ups, tumour removal and the odd amputation, as car accidents are quite common.
The people have no access to veterinary hospitals, medication or information about pet care, Donelan says.The reality of getting treatment for a sick dog is to have to fly the dog 550km on a chartered plane to Darwin and back. The community has limited resources to care for themselves, let alone their canine companions. If you don't know what veterinary science can do, how can you possibly look after your animal? Donelan asks.
Donelan says he feels angry and ashamed at the approach of successive governments to indigenous people and their dogs. He had given up on them and decided to do something himself. Its a huge privilege to go out there. They are wonderful people to work with. In six years, I have never had anything but positive response [from the indigenous community]. To me, it is a way to use my veterinary background and make a difference, to do something practical towards reconciliation and animal welfare, he says.
Donelan felt he had to develop a dog program that was practically and culturally doable. It took him a long while to work it out, but eventually started the Healthy Dogs, Healthy Communities program, which, following a similar philosophy to AMRRIC (he is currently vice president), aims to provide parasite and reproduction control and animal-management advice, as well as change community attitudes to animal welfare.
The average dog in town had more than 50 per cent of its skin involved in scabies (mange) [when the program started]. Many dogs didnt have a hair on their body. They got itchy and then infected from chewing themselves, causing a huge animal-welfare issue. This is easily treatable, but requires ongoing treatment. Part of what I do is train the locals so they can do parasite treatments between visits, he says. Donelan is proud of the people he leaves behind who are then able to take on some of these roles when he is not there.
People love and care for their dogs. They were not aware of what modern veterinary medicine could do. While they would be very distressed if their animals were crying, they wouldn't feel the responsibility to do something about it. That's what practical animal welfare is all about.The program has helped to change peoples attitudes towards the welfare of their dogs. People now ring him up and talk about their dog. A large part of this work is what you leave behind; its not just how many dogs you spay, its how many lights you turn on in terms of changing attitudes to responsible ownership and animal welfare, he says.
Contact AMRRIC
To find out how you can help AMRRIC or to purchase a copy of the Conducting Dog Health Programs in Indigenous Communities: A Veterinary Guide, please visit www.amrric.org, phone (08) 8941 8813 or email info@amrric.org
For more information check out Dogs Life issue #88 March/April 2008 edition.
Love dogs? Why not visit our
DOGSLife Directory