April 28th, 2016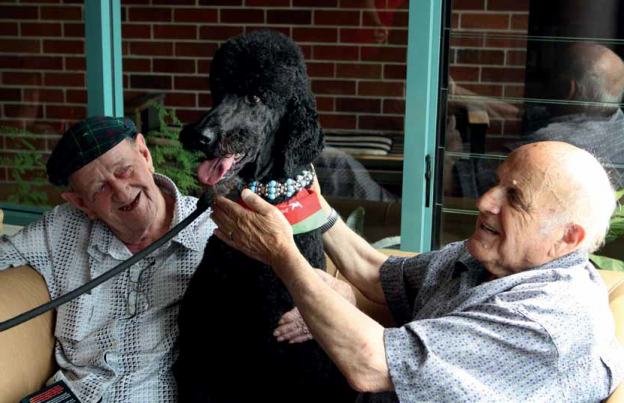 It's the kind of medicine only a canine can deliver, yet it works wonders. Lauren McKellar speaks with Hollee Curran, general manager of the Delta Society, about their therapy dogs program.
What is the Delta Society?
The Delta Society is all about the belief that the human-animal bond improves our way of life. With the line "Helping dogs, helping people" stated in bold font at the top of its website, this organisation strives to promote and facilitate interaction between people and companion animals", according to its website.
About therapy dogs
The Delta Society's therapy dogs program exists to help those in need of assistance in the form of a four-legged friend. Volunteers visit 20,000 Australians in hospital, care or schools every week, letting those who need it most have access to their own little slice of "puppy love".
DL: How did this fabulous program start?
HC: Delta Society started in 1997. At the time we had eight volunteer teams in Sydney and today we have more than 1000 Australia-wide.
DL: What sort of benefits do these dogs bring to those in need?
HC: Hospital patients benefit both physiologically, with decreased stress levels and an increase range of motions when they pat the dog, and psychologically, with reduced anxiety and depression and increased feelings of self-worth. Children benefit from the presence of a dog both in the hospital settings and in the classroom. In hospital, dogs can help with distraction from pain and relaxation, and in schools dogs can aid in reading ability and in helping the children become more focused. In aged-care facilities the elderly benefit with increased independence and health benefits such as reduced heart rates, increased pain management and increased muscle strength and motion. Other benefits include increased patient-therapist interaction, greater social interaction and self-esteem.
DL: What attributes do therapy dogs require?
HC: We are looking for dogs with good temperament. They don't necessarily have to have strict obedience training. They just have to be well behaved with an interest in people.
DL: Are there any particular breeds you've found that are best for this environment?
HC: Of course Labs and Retrievers are always good for visiting due to their temperament, but we take any breed of dog as long as it can pass the testing. Here are some of the dog breeds that are part of our program: Griffons and Pugs, a range of oodles (like Cavoodles, Moodles etc) and Border Collies, all the way up to Great Danes, Greyhounds and Bernese Mountain Dogs.
Want to read the rest of the interview? This story was originally published in the March/April 2016 issue of Dogs Life, order your copy online at universalshop.com.au.
For more information on the Delta Society, visit deltasociety.com.au.
Love dogs? Why not visit our
DOGSLife Directory