May 15th, 2014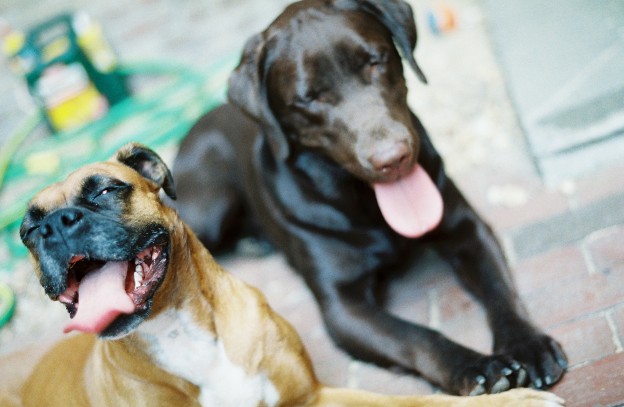 How far would you go to commemorate your pet? Laura Greaves meets three dog owners who are determined to honour their canine companions.
"I climbed Mount Kilimanjaro in memory of my guide dog"
Melbourne-based law student Henry Macphillamy, 27, was devastated when his guide dog, Bill, passed away in 2012, aged just six. He decided to honour the canine companion who helped him move mountains by climbing one.
"Bill was my first guide dog. We were matched through Guide Dogs NSW/ACT in mid-2007 and underwent an intensive, four-week training period before we qualified as a working team.
"Bill was a typical Labrador in all respects. He was exceptionally sociable and curious. He loved chewing whatever he could find lying around on the floor and lived for walks. He also loved his food! But anything naughty that he did was offset by the fact that he was such an exceptional guide dog. I could always rely on him at crucial moments like negotiating major intersections and finding my way through the busy city in peak hour.
"His loss was devastating. He passed away very suddenly and it was not only the loss of a best mate, but also much of my independence. I had to carry on with university and generally get on with life, but it was extremely tough.
"I had written a tribute to Bill in the days after his passing and, in it, I expressed the wish to do something positive in his memory. I did my best to capture the incredible impact he had on my life in the time that we cruised the mean streets together.
"When I heard that Guide Dogs NSW/ACT was organising a charity climb of Mount Kilimanjaro, I jumped at the opportunity. I knew it would be a big mental and physical challenge, but I'd be raising money for an organisation and cause that I have a very strong association with and belief in. I had just over 10 weeks to train, so I put everything into preparing myself. I successfully completed training with my new guide dog, Quade, four months after Bill's passing.
"There was a bit of apprehension initially from close family, but everyone was extremely supportive in the end. I received donations from a huge number of friends and many others from people I didn't know. I think it captured people's imagination. Guide dogs play such a crucial role in the lives of their owners.
"The climb was challenging but the guides we had were phenomenal. The trickiest part was working out what terrain was immediately in front of me. I used trek poles to test the ground, then stepped onto or around the rocks and up the path.
"I was thinking of Bill a lot, especially during the last ascent at night. In the final hours, when I realised I was actually going to make it to the top, he was foremost in my thoughts. When we summited, there was a point of closure. It was an emotional experience, and also one that helped me move on.
For me, as a guide dog owner, the best way I can possibly honour Bill is to keep getting out and about and enjoying the independence and sense of freedom that having a guide dog brings."
"I'm scattering my dogs' ashes around the world"
Friends have helped American marketing specialist Michele Martin, 38, scatter the ashes of her beloved dogs, Bella and Lucky, from Paris and England to Brisbane and even Nepal.
"One rainy morning in Denver, Colorado, a homeless man approached me on the street and asked me to take his beloved dog, a German Shepherd mix called Lucky, saying he couldn't take care of her any longer. I gave him my number and told him that, if he could get on his feet, he could have her back. But, when I ran into him again a couple of weeks later, he had given up.
"I decided to try and rehome Lucky and found her a great place on a 200+-acre farm. But as the day approached for her to go to her new home, I realised I couldn't part with her. Lucky lived with me for more than 10 years, in three states, and saw me through an engagement and relationship break-ups. She helped me to grow up and was always loving and forgiving. Lucky was an old soul. She was 11 when she died of a tumour in her heart.
"A year and a half after Lucky passed away, I wasn't ready to be a 'dog mum' again quite yet — but no one told Bella! My neighbours knew me as 'the dog lady', so when an emaciated Boxer showed up in the back of a pick-up truck in the parking lot of a local pharmacy headed for the pound, I was the person the owners of the coffee shop next door called.
"My plan was to nurse Bella back to health and then find her a good family. I cooked for her and trained her and, just as I was about to find her a home three months later, she was stolen. I had tied her outside that same pharmacy for, quite literally, three minutes. When I returned, she was gone.
"I began screaming, over and over, that my fawn-coloured Boxer was gone. I called the police and a nearby taxi driver had his dispatcher broadcast it over their radio network. As a police car drove me around the streets, I said in my mind, 'If I get her back, she's staying with me.'
"Just then, a man waved down the car and said he had seen a woman taking Bella into an apartment building. The police went into the building, heard a dog whining and went to that unit, only to have a drunk woman state that she was merely 'taking the dog for a walk.' When the police walked out with Bella, she nearly leapt into my arms. We were a team from there on out.
"Bella was the exact opposite of Lucky. She was a spitfire, a child: ever curious, bratty, challenging, but incredibly loving. Bella was very much looking to me to guide her. She also reminded me to not take everything so seriously.
"Bella passed away in 2011, when she was just five and a half. Her death was the hardest on me because she didn't know, until a few minutes before she died, what was going on. She was terribly ill and, when I finally realised what I needed to do and she saw it in my eyes, she let out a scream that to this day brings tears to my eyes. She wanted to know why, and I couldn't answer her.
"The day after Bella died, I walked 'our' walk and delivered her photo, with a note thanking people personally, to every coffee shop, store and neighbour that was a part of our routine. Her picture is still up in some of those places — she was a little bit like the 'mayor' of our neighbourhood.
"Because Lucky had travelled so many places with me, and because we were separated for eight months when I moved from Colorado to New York and looked for an apartment, I promised her a visit to Cape Cod, Massachusetts. The weekend after her tumour was diagnosed, we went to Cape Cod and I promised her I would sprinkle her ashes in all of the beautiful places in the world.
"The only locations for scattering that I personally chose were related to bringing Lucky back to Denver and Brooklyn. On the first anniversary of her death, I stood in a blizzard at the end of the Cape and sprinkled her into the ocean. The rest of the locations were subject to friends' travels. I would ask people, and if they said yes, Lucky and Bella would go along.
"Lucky is spread all across the US — from a lovely, quiet backyard in Seattle, to the dog beach in Del Mar, California, a lake in Vermont and Cheesman Park in Denver, where she used to play fetch.
"Globally, she has been spread on the beaches of Melbourne and Brisbane, around the streets of Paris, off the Eiffel Tower, in a small town outside of Kent, England, and on a mountaintop in Nepal.
"Bella has not travelled as extensively, mostly to local areas but also to the dog beach in Del Mar and to Cape Cod.
"I think some people think I'm nuts, but I've always had a deep bond with dogs and I've had intense relationships with the dogs in my life. I think it's better to be considered a fool for loving a dog too deeply than to miss out on that type of unconditional love."
"I'm thanking my dog for changing my life!"
Charley the Red Cattle Dog has been a tremendous source of inspiration for her owner, 41-year-old Sydney pet retreat owner Rachel Turner. So much so that Turner chose to honour her canine companion while they're still together.
"I found Charley when she was around six weeks old. I was running my own homewares business and one of my suppliers had a warehouse in Goulburn, south of Sydney. When I popped in to visit, Charley was there — she'd been dumped. I brought her home with every intention of finding a good home for her, as I lived in a unit. Luckily for me, my landlord let me install a fence and I was able to keep her.
"Charley has a big personality — she doesn't do anything by halves and that's exactly what I love about her. She is exuberant, happy, caring and trusting. I wouldn't change one thing about her.
"About a year after I found her, the unit block I was living in was being demolished so I had to find us a new home. To subsidise the rent on a house, I started dog-sitting. Six years later, Boutique Pet Retreat is a successful, council-approved facility and it's all due to Charley. If it weren't for her, I'd still be stuck in an unsatisfying job.
"It seemed only right to create my company logo around her, so I commissioned a 2m x 2.5m painting from a client, artist Georgina Hart. The piece is such a special creation and takes pride of place in my home. When it came to kitting out the Boutique Pet Retreat four-wheel drive, I could have just put a couple of stickers on it, but that wouldn't have felt right. I try to follow in Charley's footsteps, so I 'wrapped' the whole car with Georgina's portrait of her. It not only looks amazing, it really does bring me comfort having her by my side every day.
"After two years, the car still stops traffic. Kids stop and look in wonder and I even get 'woofed' at. The best thing is it makes everyone smile. To see the reaction when people see it for the first time is priceless.
The relationship we have with dogs has changed a lot over the years. Yes, we supply a loving home but they give us back much more than we'll ever really understand. Don't think twice about enriching their lives or honouring their memories — they deserve it."
Love dogs? Why not visit our
DOGSLife Directory