October 24th, 2015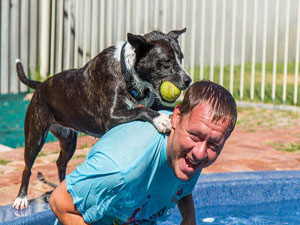 All rescue dog Jasmin wanted was a new home. All Luke Thompson wanted was a new mate. After a rocky start, they found forever in each other. Kristie Bradfield learns more about their story.
In the world of dog rescue, you often hear about close calls and near misses. You hear about dogs escaping death by a whisker and then there are the heartbreaking tales of those that just couldn't be saved in time. Working in this field is definitely not for the faint of heart.
The success of a rescue operation relies on the coordinated effort of a network of people – each of them playing a crucial part in saving an animal's life. From the volunteers who actively search and stay in contact with pounds to the foster carers who nurse dogs back to health, each rescue is a tale of many hands and hearts coming together to support animals that have been exposed to things most of us can't fathom.
Greener Pastures Sanctuary is located in Waroona, a town at the foot of the Darling Range south of Perth. It is the home to almost 100 rescued farm animals including cows, pigs, horses, goats and sheep, that live out their days in a safe, nurturing environment. In September 2014, the group began rescuing dogs and this is how a beautiful brindle Staffy cross called Jasmin became one of their most hard-won success stories.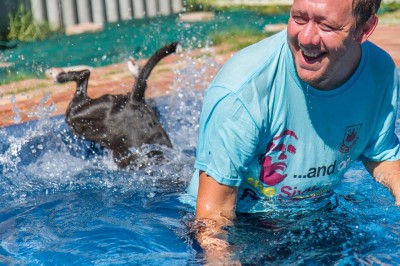 A rocky road
"Jasmin was a last-minute save from a rural pound," says Greener Pastures Sanctuary Foster Coordinator, Edith Balatonyi. "We literally had hours to get to her before she was put to sleep, so getting her into care was a huge relief for us all."
However, while Jasmin's rescue was textbook perfect, it was her re-homing that proved to be more difficult.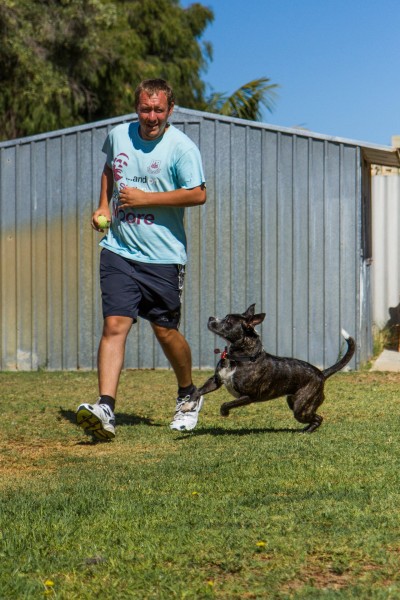 Mending a broken heart
For Jackie Thompson and her son, Luke, the decision to adopt a rescue dog was bittersweet. "Sadly we lost our faithful companion Bowie last year at 14 years of age," says Jackie. "We knew we could never replace Bowie but we missed not having a dog around. We just missed the patter of his feet on our wooden floor; he left behind an emptiness and quietness that we couldn't get used to."
While the loss of Bowie had devastated them both, providing a home for a new rescue dog felt like the right decision. "We heard about Jasmin and of course had to go and visit her, as the thought of her being in kennels so long just broke our hearts," says Jackie. "We went to visit her on a Saturday, and I must say how surprised we were that no one to date had snapped her up. Jasmin was beautiful, really friendly and clever."
Finding forever
While Greener Pastures offered Jackie the opportunity to foster Jasmin for four weeks, she knew that her new furry family member wasn't going anywhere. "We brought her a bed to sleep on – this lasted 10 minutes because she insisted on sleeping alongside Luke. She didn't move until he got up the next morning," Jackie says. "Jasmin follows Luke around like a little sheep. She is his constant companion and friend."
It's overwhelmingly positive outcomes like this one that keep rescue groups doing what they do, despite seemingly insurmountable odds. "Rescuing a dog is never a one-person adventure," says Balatonyi. "There will be people spreading awareness through social media – an incredibly important job – and the ones organising the on-ground rescue from transport, to foster care, to food and donations, as well as liaising with all the different interested parties. I got my first grey hairs trying to coordinate Jasmin's rescue and then re-homing, but it's all worth it, of course. I'd do it all again in a heartbeat."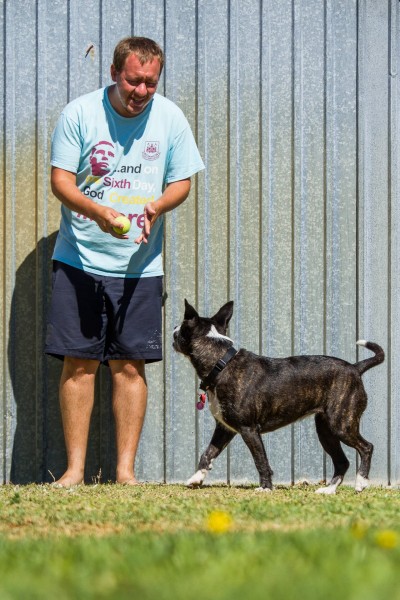 Now, almost a year after Jasmin joined the Thompson family, she and Luke are inseparable. The best mates share a bond that is evident to all who see them. While the path they took to find each other was a little rocky, they made it in the end.
Stay connected
Find more details on their website: greenerpasturessanctuary.org.au. Like Greener Pastures Sanctuary, many animal rescue groups use social media to spread awareness about rescue cases. Jump on Facebook or Twitter and find out how you can help dogs in need in your area.
Want more articles like this? Subscribe to Dogs Life Magazine
Love dogs? Why not visit our
DOGSLife Directory