February 17th, 2014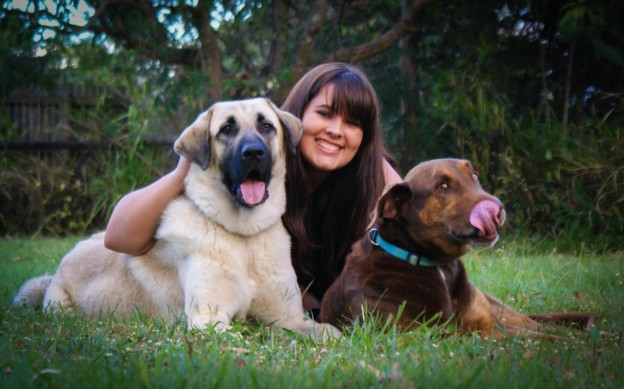 Danielle Leslie embarked on a journey towards her dream career after losing her best friend, her first dog. Leslie talks with Kylie Baracz about how she followed her dream of becoming a pet photographer.
How long have you been working with dogs and how did you get started?
I grew up in the rural area of Townsville and dogs have always been a big part of my life. I think I spent more time sleeping with my Shepherd on his bed then my own. My family has bred and raced champion greyhounds for generations, so I was raised understanding, respecting and honouring the animal kingdom. I have been working with dogs for years in different areas. I have been an animal attendant, groomer and now pet photographer.
What does your work involve?
I professionally photograph pets, dogs being my main clients. My work involves on-location photo shoots, consultations, editing and, of course, playing and building a fun relationship with every dog I work with. My journey as a pet photographer began after I lost my best friend when I was 12. He was my first dog. He was murdered just before his first birthday and it broke my heart. I was there when he was born and I raised him. It was the first time I felt the most unbelievable connection between myself and a dog, so from then on I knew I would always have to surround myself with dogs. I also realised that I only had one photo of him and it shattered me, so that's why I do what I do: I capture dogs' true nature and highlight their spirit, giving their owner a photo that will last forever, immortalising and celebrating their life.
What inspires you to do your job?
I have always known that I wanted to work with dogs and that somehow I would make it happen! I have also been very talented at art and photography; I had admired many professional pet photographers over the years and seen that there were none in my town. That hole in the market gave me the jump to become Townsville's leading pet photographer today. Combining my greatest loves and talents, it's my dream job.
What is the worst part of your job?
The only worst part of my job is the unpredictability of nature. Because we do on-location photo shoots sometimes, a bit of rain or clouds can cause us to have to reschedule a whole day of shoots.
What is the best thing about your job?
The best thing is on the shoot, playing and exploring a dog's personality and understanding their little quirks. It is heaps of fun and the dogs love all the attention they get, which shows in the photos. I don't do what I do for money; I do it because of a hunger. I can't not work with dogs, it's my goal to always work with them. I have gone off with a bang, already receiving invitations from the RSPCA and the city council to attend pet related events, and my clients are always amazed with their photos.
Love dogs? Why not visit our
DOGSLife Directory