May 16th, 2014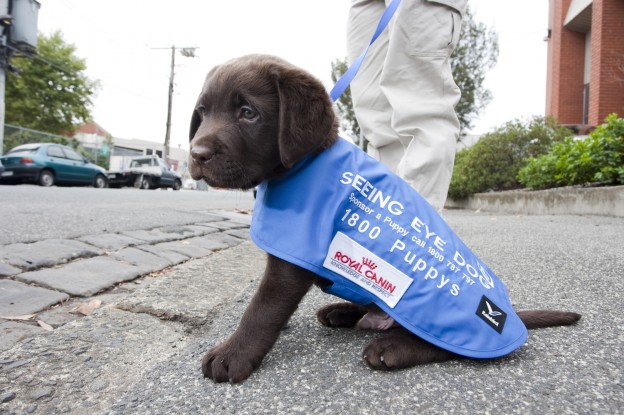 Carers for puppies destined to assist people with disabilities are always in demand. Kylie Baracz speaks to first-time SEDA puppy carers and discovers how you can become part of the program.
At Seeing Eye Dogs Australia (SEDA), there is always an urgent need for puppy carers. As a charity that provides dogs to assist the blind, finding someone suitable for the role as a puppy carer can be like finding gold.
Each Seeing Eye Dog costs around $30,000 to train and, currently, there is a year-long waiting list for people in need of a dog to assist them, which is why the duty of these special carers is so important. They foster a puppy from the age of eight weeks and work with a trainer to prepare them for their special responsibility.
Many of us may have seen these dogs assisting blind people with going about their daily chores, but it can be understandable that there are only a small percentage of us willing to take on a puppy knowing that it will be leaving for a new family when it reaches a year old.
However, in a time where people's budgets are stretched to the limit, it can be a wonderful opportunity to support an organisation without having to contribute financially (SEDA provides all costs for the puppy's stay, including food and vet bills) and, as Sandee Facy and Pam Hooper can attest, is definitely worth the time and energy spent.
Sandee and Nathan
Sandee Facy and her family had a dog for 17 years. Gordie, the white German Shepherd cross Chow Chow, was so much part of their family that they even flew him from America when they relocated to Australia.
Sadly, on Australia Day, Gordie was ill and had to be put down. This left a huge void in the family (Facy's two teenage daughters had never been without a dog) but they weren't ready to adopt again. Along came SEDA puppy Nathan.
Facy went online, found the SEDA website and knew fostering a puppy would not only help her family, but also help a much-needed cause. "I wanted to do something bigger than us. Caring for a SEDA puppy has helped fill the void that Gordie left and has been great for my girls," says Facy. "At six months of age, Nathan has passed everything so far with flying colours."
Although Nathan can be cheeky at times, he is highly intelligent and willing to learn. At seven weeks of age, Nathan was taught how to "do his business" on command and didn't take long to learn how to sit, lie down and stay.
"Nathan is a cheeky, typical Labrador. He chews on socks, but he is also very intelligent. We don't teach him tricks, as it is too dangerous, but he is quite obedient," says Facy.
When Facy started out as a puppy carer, she knew she was not alone. SEDA provided her with a puppy carer's manual and a trainer.
"The manual is easy to read and understand. If I get another dog of my own, I will train it like a SEDA pup. You also get assigned a trainer for fortnightly visits and after six months, monthly visits. It is such an enriching experience. I can't wait for my next dog!" says Facy.
While Facy knows the time will come when she will need to hand Nathan over to his new owner, she knows it is for the best as he will have an important job to do.
"I'm sure we will be sad but it will be like watching a child accomplishing something amazing. He is going to have such a huge job and we are all so tied to SEDA now that we will welcome another pup in the future," she says.
Pam and Pippa
Pam Hooper found out about the puppy caring program in a different way. She happened to meet the owner of a dog bred for SEDA pups.
"I found out about SEDA through Pippa's dad's owner. SEDA has purchased puppies from her in the past. I loved the whelping process and in talking to Bev from SEDA, I became really excited about being part of what SEDA and the dogs do for people in the community," she says.
As Hooper has four kids and works as a teacher, it would seem that caring for a puppy wouldn't suit her busy schedule, but SEDA puppy Pippa fit right in.
"Puppy caring has just slotted into my busy life. Pippa has been to dance eisteddfods, volleyball, AFL and soccer games, triathlons, school, the zoo, movies, cafes, on all forms of transportation, the hairdressers, the blood bank, the doctors and even grocery shopping. There are, I'm sure, so many places I've forgotten. They just go where you go and learn to fit in as they will with their client one day," says Hooper.
Although Pippa is very clever, calm and sweet in temperament, she can also be cheeky like fellow SEDA pup Nathan.
"As a one-week-old pup, Pippa nuzzled into my friend's lap and pushed her nose between the buttons on her shirt. She then latched onto my friend's tummy and we had a really hard time getting her off (I'm sure our uncontrollable laughter didn't help). She ended up leaving a 'puppy hickey' on my friend's stomach!" says Hooper.
As with Facy, Hooper will miss her SEDA pup but knows she is going to do an important job — one that will last her lifetime.
"It will be sad as you naturally get a bit attached because you go everywhere together. But, what I have worked out is, I love her and I want her but I don't NEED her. Someone else out there will be able to live an independent life because of her and that feels great." she says.
Think you've got what it takes?
What do you need to be a puppy carer? Facy believes it is all about being passionate and willing to provide lots of time for them.
"Puppy carers have to be passionate about animals, especially dogs. The pups require a lot of time and, as I run my own business, we go everywhere together, including on public transport. You may find people stop and ask questions. However, what many people don't know is that you can even go on holidays when you are a SEDA pup carer," she says.
Hooper agrees, but also mentions that being a puppy carer helps you slow down and become part of educating the public.
"Some patience and a sense of humour are needed to be a carer, but you learn as you go. It's been an amazing and rewarding experience. It's also forced me to slow down a bit, which I probably needed in my life. When taking a puppy out, everyone wants a chat so things take a bit longer. I see that as part of the experience, though. It's about helping to educate the community," she says.
If you are interested in becoming a puppy carer or would like to find out more about Seeing Eye Dogs Australia, visit seda.org.au or call 1800 037 773.
Love dogs? Why not visit our
DOGSLife Directory