July 29th, 2014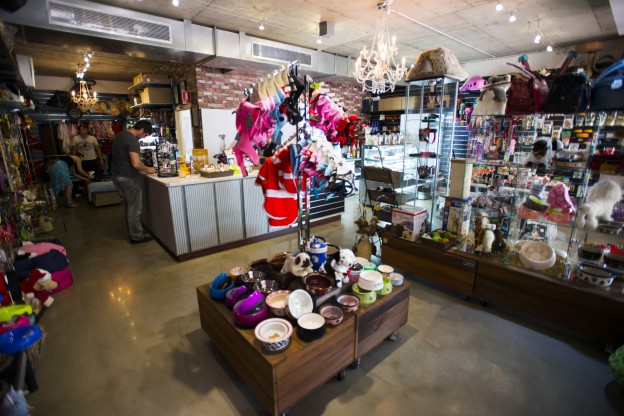 Mel Hearse talks to the owners of Pet Lovers Cafe which, as the name suggests, is a cafe for pets — and the first of such sort in Western Australia.
While I've heard about pooch-friendly countries that consider canines welcome in restaurants, cafes, hotels and retail stores, it's not something I've ever experienced first hand. So when I recently dropped in to visit the Pet Lovers Cafe, I confess I hovered at the door asking co-owners (and husband and wife team), Natalie and Garry Goodall, several times if it was really alright to bring my Cocker Spaniel puppy, Finnigan, in with me.
It's not an uncommon reaction. Natalie says many first-time customers come in to buy pet goodies or a coffee and realise they can bring their dogs with them next time they pop in — and not just to sit out the front with a bowl of water. Pets are encouraged to come in and browse, be fitted for a harness or even try on some of the many outfits designed for doggies.
Pet-friendly pioneers
Pet Lovers Cafe was launched by Natalie and Garry a little more than a year ago, after the pet enthusiasts and their children spent many years travelling to pet stores on the weekends, minus their own furry friends (they have three dogs, three cats, 13 chooks, five ducks and about 15 weiros). They realised they wanted to create an experience where responsible pet owners could shop and snack, socialise with their pets and experience old fashioned customer service — especially the pets.
"We wanted to create something beyond the dog-friendly cafes that are happy to supply water for dogs at the outdoor tables, we wanted to take it to the European and American level where the dogs are our guests, with a menu and treats designed for them and full run of the store," Natalie says.
So, did they have to jump through council hoops to get started? Natalie says they were approved within 24 hours and the council has been supportive of their venture. They have been also well received by the locals and people dropping in having heard about them on social media. "Guildford is a great place to run a business like this. There are a lot of rescue dog owners and it's generally a very dog-friendly area — the river is nearby, so we get a lot of people bringing their dogs from other suburbs to swim."
The Pet Lovers Cafe storefront features comfortable chairs and tables, where dogs are welcome to sit with their owners, and indoors, the space has polished concrete floors, easily kept clean by a Robovac that does an automatic sweep during quiet times or in the evenings. They offer breakfast, coffees, snacks and lunches for humans, as well as a comprehensive range of snacks for pets. There is a cake display unit displaying fresh cafe-style pet treats, including healthy cupcakes and cookie-style dog biscuits, sourced from local baker, Waggy Dog Bakehouse.
Service with a 'woof'
The back corner of the store features a large comfortable bench that enables Garry to easily and expertly fit pooches for a new harness or for owners to try on the clothes they are interested in. "It's quite handy. We, of course, have a returns policy but we actually find we have few returns as people can try before they buy to be sure they fit properly," Natalie says.
Specialty items are a big part of the Goodalls' store, many imported from overseas to provide customers with items they can't get elsewhere. "We do stock local products where we can, but we also appreciate we can't generally compete on price with the big pet supply stores, so we made a decision to seek out products that aren't widely available but are great quality as our point of difference," Natalie says.
Pet Lovers Cafe stocks a lot of specialty items that help owners and their pets. They carry dog rehabilitation gear, travel systems, buoyancy vests for dogs, a huge range of dog bag carrier systems (think It-Girl handbag style carriers); as well as doggie bling and designer leads, collars and harnesses. "When we are having a busy week and feel tired, we look back over our Facebook page at the positive feedback and the pleasure these items have given our customers or comments about how a product has made their life easier. It reminds us why we are doing this and why we enjoy it."
Part of this passion has translated into plans to promote adopting a more pet-friendly culture in Australia in general. "At the moment, we are actively chasing as many opportunities as we can to talk about the topic. We really believe it is just a question of awareness. We all know people that will choose a cafe solely because they can take their pooch and sit outside with them and it's handy to have your dog with you when choosing products for them — especially things like harnesses or carriers. So we just want to businesses to be open to the possibilities — it's so commonplace and embraced in other countries," Natalie says.
Love dogs? Why not visit our
DOGSLife Directory