September 19th, 2008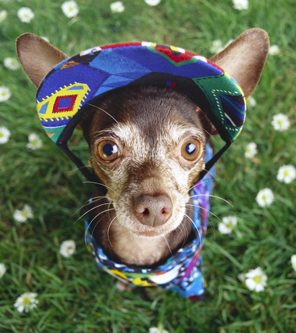 This article first appeared in the July/August 2006 issue of Dogs Life.
With hundreds of veterinary and natural pet products on the market, pet owners rely on labels to decide which product is suitable for their pet. Dogs Life editor Caroline Zambrano investigates how the Australian Pesticides and Veterinary Medicines Authority (APVMA) works to ensure pet products are safe and effective when used as directed
Before pesticides and veterinary medicines can be sold, they must be registered by the APVMA in Canberra. But APVMA public affairs manager Dr Simon Cubit says there are some pet products on the market that should be registered by the APVMA, but are not. Consequently, their claims and their safety have not been evaluated.
Dogs Life spoke with Dr Cubit about the importance of product registration and what type of products must be registered before being sold, supplied, distributed or used in Australia.
Supply and use of unregistered products is an offence under Commonwealth legislation, Cubit said. There needs to be greater public awareness about product registration, he said. There are a number of animal care products out there which we believe are not registered. As a pet owner, one of the risks with unregistered products is that there's been no product evaluation to ensure that the product works or does not cause you, your dog or the environment harm.
Many people think just because a product is portrayed as being natural that its good and safe to use, Cubit said. This may be true, but not necessarily so.
APVMA Legislation
A suite of commonwealth, state and territory complementary legislation governs APVMA activities. Two of the most important pieces of legislation governing APVMA operations are the Agricultural and Veterinary Chemicals (Administration) Act 1992 (the Administration Act) and Agricultural and Veterinary Chemicals Code Act 1994 (the Agvet Code).
The Administration Act established the National Registration Scheme in June 1993 and sets out the APVMAs role as an independent statutory authority to undertake the Australian governments responsibilities under the Scheme. The Agvet Code details operational provisions for registering chemical products and provides the APVMA with its full range of powers.
What is a veterinary chemical product?
Section 5(2) of the Agvet Code defines a veterinary medicine or veterinary chemical product as any substance administered or applied to an animal to:
prevent, diagnose, cure or alleviate a disease, condition or pest infestation;
cure or alleviate an injury; or modify the animals physiology in a number of ways.
The definition also includes any substance that modifies the effect of another veterinary chemical product; vitamins, minerals and additives if they are used for any of the purposes mentioned above; allergenic substances, medicated blocks and licks, enzymes for animals, direct-fed microbial products and sheep branding substances, and stock food non-active constituents unless listed in Agvet Code Stockfood and non-active constituent order.
It does not include a substance or mixture of substances prepared by a veterinary surgeon under veterinary prescribing rights. Non-medicated licks and blocks, stock foods and stock food additives must be registered if they carry claims about therapeutic effect, performance or productivity enhancement.
Variations to the formulation of a currently registered product must also be approved, as must proposed new patterns of use and new labels. This includes changes to the current use pattern or the products claims.
The APVMA does not register industrial chemicals or human drugs and pharmaceuticals. Industrial chemicals are assessed under the National Industrial Chemicals Notification & Assessment Scheme. Human drugs and pharmaceutical products are registered by the Therapeutic Goods Administration.
What is registration?
Registration of a product involves rigorous scientific assessment aimed at ensuring that, when used in accordance with the label, the product works, is safe and has been manufactured to high quality standards, Dr Cubit said. Registration also provides assurance that products on the market are safe and effective when used as directed and do not have adverse effects on the environment, he added.
A product requires registration if it makes a claim that fits the definition of a veterinary chemical product or it contains ingredients that are used for a purpose that fits the definition of a veterinary chemical product, or both.
Any claim that the product is intended to modify the health, production, performance or behaviour of animals, whether made on a label, advertisement, website or any other representation, will render the product liable for registration, Cubit said.
These claims apply whether the product achieves its effect by absorption, injection, ingestion, inhalation or application to any part of an animals body.
Registration of natural products
Complementary, alternative and herbal products have become very popular for use in animals in recent years. However, any product that claims to treat or cure a disease or condition, regardless of its contents, must be registered by the APVMA, Cubit said.
Products that contain natural ingredients, such as plant material, are still considered veterinary medicines if they claim to treat or cure a disease or condition. These products must be registered, he said.
In general, nutritional claims to supplement inadequate diets will not result in a requirement for registration, but this depends on the type of claim being made. Inclusion of some nutrients at or above a certain level may be considered to have therapeutic rather than nutritional purposes. These products are referred to as nutraceuticals and such products require registration.
APVMA programs
The APVMA has four programs dedicated to maintaining the high standards of registration:
Chemical Review Program: involves reviewing currently registered products in the marketplace where potential risks to safety and performance have been identified.
Compliance: involves promoting awareness of registration and compliance requirements and maintaining an active surveillance and enforcement program.
Adverse Experience Reporting Programs one each for pesticides and veterinary medicines are designed to provide the APVMA with feedback about the performance of registered pesticides and veterinary medicines when used as directed on the approved label.
Manufacturers Licensing Scheme: aims to ensure the consistent quality of veterinary products manufactured and supplied in Australia as stated in the Code of Good Manufacturing Practice (GMP). The APVMA also considers GMP compliance of overseas manufactured products as part of the registration process.
Members of the general public, farmers, vets, agronomists and health workers are invited to report any adverse experiences that may be linked to the use of registered products through the Adverse Experience Reporting Program (AERP), Cubit said, adding that vets are often assiduous about reporting any problems with products.
We encourage members of the public to file AERP reports where they have identified a potential problem with a registered product, he said. We investigate these reports and, if the problem can be substantiated and is of significant concern, take regulatory action which might mean a recall, tightening up of product labels or otherwise restricting its use.
The Chemical Review Program reviews currently registered products, some of which were registered as along ago as the 1970s. The APVMA makes sure these old products meet current standards. If the product doesn't meet standards, the APVMA may fix the problem by changing the label information (claims, instructions), restrict some uses of the product or remove the product from the market completely, Cubit said.
In looking at review outcomes in recent years, we have used a mixture of all these regulatory measures, he said about the reassessment of products.
Labels
All APVMA-registered products have an approved label that includes important instructions for correct use and relevant safety information. Approval of the product label is a key element of the registration process, Cubit said.
The APVMA examines how the product will be used, the application rate, method of application and concentration levels to ensure optimal efficacy. Preparation, storage, disposal and first aid statements are also carefully considered to safeguard workers, the general community and the environment.
All registered product labels have a unique distinguishing number: APVMA Approval No XXXX/ or NRA Approval No XXXX/.
Permits
The APVMA also issues permits, which authorise the use of a pesticide or veterinary medicine where no registered product exists and the use would otherwise be illegal. Permits allow the use of products for research purposes, in genuine emergencies where no registered suitable alternative exists or for minor use situations. As with product registration, the APVMA must be satisfied that the product will be safe and effective for the intended use.
Registration costs and timeframes
Cubit said costs and timeframes for registration vary considerably, based on the category in which products fall. For instance, if someone comes up with a brand new molecule never before used, the evaluation time is considerable (up to 15 months) as are the costs (up to $50,000), he said.
If, on the other hand, someone simply wants to register a chemical product containing a previously approved active constituent and (a) the chemical product is closely similar to a registered chemical product, (b) efficacy and safety data are not required to demonstrate the similarity of the chemical product to the registered chemical product and (c) chemistry and manufacture data are not required, the time can be as little as three months and cost $600.
These categories with their costs and timeframes are listed on the APVMA website under the Manual of Requirements and Guidelines (MORAG).
Penalties
The legislation outlines penalties for organisations and individuals that breach the law. These vary dependent upon the situation. If someone seeks to sell a product that should be, but is not registered, for example, this may attract a fine of up to $33,000 for an individual or $165,000 for a company, Cubit said.
Love dogs? Why not visit our
DOGSLife Directory