September 12th, 2008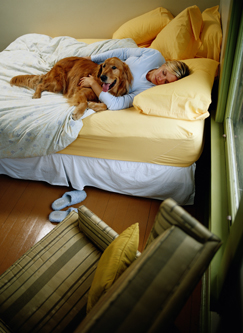 Ten-year-old Daniel Michel of Heathcote, NSW, was born with a physical disability called Spinal Muscular Atrophy that has restricted him to a wheelchair all his young life. But two years ago he received a birthday present that changed his life completely. It was Oakley, a Golden Retriever, specially trained to enhance Daniels quality of life while providing companionship and love.
"The unconditional love that dogs give does a lot to someones psyche," said Daniels mother, Susan. "They give so much comfort. Oakley is a patient, nice dog. Its in his nature."
Single mother of two other children Ben, 8, and Jesse, 4 Susan got Oakley from Assistance Dogs Australia (ADA), a non-profit organisation established in 1996 to help enhance the quality of life and improve the level of independence of people with physical disabilities. She said Daniel was on an 18-month waiting list to receive a companion dog, but luckily got a call two weeks later with news of Oakley. She found out Daniel could have a companion dog when she volunteered for ADA as a foster puppy raiser.
"I didnt know if getting a dog was the right thing to do so we decided to try it out," she said.
An exercise therapist at Sylvan Val School, a school for handicapped children in Kirrawee, Susan soon realised that dogs can be wonderful therapy for children with physical and intellectual disabilities.
"Communication can be difficult with handicapped children. Dogs don't talk so its easy. There's no pressure," she said.
For Daniel, four-year-old Oakley has given him more confidence when answering questions in public about why he is in a wheelchair.
"Daniel is used to it," said Susan, "but since Oakley came, he takes away the questions. People admire Oakley and want to pat him and Daniel shows off by showing tricks. He is now trying to train Oakley to press traffic lights."
She said Oakley has helped Daniel to become an outgoing and confident boy as Oakley gives him security, not only because he is a big dog but because he has a big heart as well.
"Hes made a big difference in all our lives," she said. "I can leave Daniel alone with Oakley. He listens to commands, keeps Daniel company, cuddles him and barks on command."
Daniel agreed, saying Oakley even barks at him when he is supposed to be studying! Oakley also accompanies Daniel to and from school. "Hes the most popular dog at school," he said.
The canines
Canines that have passed the ADA program have a positive impact on many people young and old, giving them greater mobility, more confidence and higher self-esteem, said ADA Chief Executive Richard Lord.
"Dogs are an ice-breaker," said Richard. "People come over and talk with those in a wheelchair. And dogs encourage people with disabilities to communicate with the public. Its good for their self-esteem."
ADA dogs are trained to serve in three capacities: service, companion and facility. To date, 52 dogs have graduated from the ADAs intensive program, which includes 18 months of general training during their foster care followed by six months of intensive training at a training centre in Heathcote, NSW. Richard said half of the dogs that are trained wont pass the stringent testing to become an Assistance Dog and end up joining the police force or the Australian Quarantine and Inspection Service.
While the Australian Bureau of Statistics reveals the need for thousands of people who would benefit greatly from a trained canine helper, Richard said the ADA operates without government funding and relies heavily on volunteers and sponsorship to meet its goal of placing at least 30 dogs per year with disabled recipients all over Australia. Each Assistance Dog costs ADA about $20,000 and goes to recipients free of charge.
"One hundred people are waiting to get a dog (50 percent are adults)," he said.
In March 2005, ADA became the first assistance dog organisation in the country to receive accreditation by Assistance Dogs International and currently has 38 dogs in training.
Foster carers
ADA has 48 foster carers with one dog in each home. Although ADA offers 100 per cent financial support to foster carers, they are hard to find.
"Its hard for them to give the dogs back, which is the main reason why people don't want to become foster carers," he said.
Kindergarten teacher Gabrielle Carolan of Yarrawarrah, NSW, became a foster puppy raiser more than a year ago and said it is heartbreaking to say goodbye to their canine friend, but she and her family feel proud they give back to society in such a unique way.
"Its our way of doing charity work and helping society," said Gabrielle. "The ADA dog trainers give you assistance every step of the way."
According to Gabrielle, becoming a foster carer is an excellent opportunity for people who have not had a dog before or are afraid of the long-term commitment of having a dog as was the case for her and her three children Emma, 15, Jack, 10 and Amy-Annabelle, 12.
Izzy came to the Carolans at eight weeks of age and quickly won everyones heart with his placid and friendly personality. Children at Wyralla Road Kindergarden in Miranda also embraced Izzy when Gabrielle brought him with her to work.
At home, the whole family is involved with Izzys training and wellbeing. When Izzy is not barking for Jack at his soccer games, he enjoys Emma and Amy-Annabelles company at home. Gabrielle said her daughters are old enough to help with Izzys training.
"Its a good learning curve for children. It gives kids self esteem and accomplishment," she said. "Amy is only 12 and she can control her dog."
The Carolans try to give Izzy the best chance to graduate from the program. "When graduation day comes, the whole family gets to hand over Izzy (to the recipient). It will be a sad day but we will know that we have played a key role in his success. It will be a very proud day," she said.
The recipient will also receive a special gift from Izzys family.
"I love taking photos of him," said Gabrielle. "We are doing a scrapbook of Izzys life with us to give to the recipient so they know where he comes from, what he is like, and how much he was loved by us. I said to the kids, What is the naughtiest thing that Izzy does?" and they said, He brings rocks into the house and chews them. If that is the naughtiest thing he does, life is good, isnt it?"
New lease on life
Before city-raised Bronte came to Matthew Michael of Melrose, SA, as a service dog, it would take the 27-year-old computer technician 15 minutes to open and close the door behind him. He has limited use of his arms and legs due to a water skiing accident that left him tetraplegic five years ago. But now, this quiet-natured
Labrador does it more quickly for him, leaving Matthew a lot more time to do other things.
"She is like my buddy. She follows me everywhere. Since she came, she has not been more than 20 metres away from me," said Matthew.
Matthew is dependent on people but lives alone with his four-legged companion. He said the most special thing about having Bronte is the bond that formed between them since she arrived just a few months ago.
"She reads my every mood," he said. "She is so placid, so docile. When farmers dogs pass by on a truck barking, she doesn't lift an eyebrow."
Besides being a trusted friend, Bronte helps with picking up things from the floor as well as following about 50 other commands. She is currently learning how to ring the outside bell to warn neighbours if Matthew falls off his wheelchair and fetch a wrapped sandwich from the fridge without eating it!
Matthew has had other dogs before, but having an assistance dog "is so cool" he said as he can take Bronte everywhere with him.
ADA also placed an assistance dog at a facility in Manly, NSW, which offers
respite and palliative care to children and young people with life-limiting illnesses and their families.
ADA has been branching out to help people trying to get back into the workforce. The Work for the Dole program started in 2003 as a federal government initiative and currently runs in New South Wales as "Sutherland Helping Paws" operated by the Shire Community Initiatives and as "Righteous Pups" at the Vineyard Christian Fellowship in Bendigo, Vic. They are both proving to be very successful, said Richard Lord.
The program first started in conjunction with the Salvation Army in Bendigo. Righteous Pups Coordinator Joanne Baker said they train a litter of ADA pups four days a week until 15 to 18 months of age in preparation for intensive training to become an assistance dog.
"We teach participants how to train dogs and they in turn train the pups," said Joanne.
It seems the participants enjoy the training so much that many return
as volunteers.
"(Participants) are very much impacted through working with the pups. One guy never spoke when he joined and now we can't shut him up. He is very proud of the work he has done with the pups," she said. "Many young people involved soon discover that they have skills and abilities no matter how low their self esteem from being unemployed."
This year, Vineyard Christian Fellowship has extended the program to work with troubled teens from a local high school.
"Being involved with the program has had a dramatic impact on the high school kids. One girl has not been in a fight since she joined the program," Ms Baker said.
The four-legged Righteous Pups trainees also visit a local nursing home to meet and greet the residents and even join in on a game of Bingo!
"The pups love it and so do the residents," said Joanne.
Righteous Pups has now become a non-profit organisation and will take over the project in September 2005.
Australia Assistance Dogs Day
30 November 2005
ADA operates without government funding and relies heavily on volunteers and sponsorship. It costs $20,000 and takes two years to train each puppy, which goes to a recipient at no charge. To find out how you can get involved and support the ADA, phone 1800 688 364 or check out www.assistancedogs.org.au.
Love dogs? Why not visit our
DOGSLife Directory