October 7th, 2008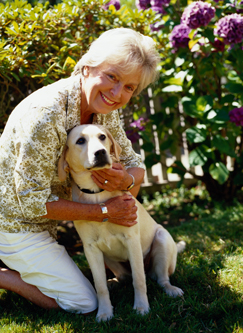 This article first appeared in the March/April 2010 issue of Dogs Life.
Rachel Belshaw finds out how things have changed in the world of dog ownership and what we should expect for the future.
In 1946, we lived in a street of 28 houses and, out of all those houses, I remember only three had dogs, says Judy Small, reflecting on dog ownership more than 50 years ago. Dogs were rarely purchased; usually someone knew someone whose dogs were having pups and we never owned a female dog for fear this would happen to us. A stark difference to the high interest we see today in dog breeders, in particular pedigree champion breeding.
In the not-so-distant past, dogs were viewed as very practical, working members of the family, who doubled as companions for many families. Dogs were seen herding sheep in country Australia while their city counterparts were few and far between.
While the Petcare Information and Advisory Service concedes that the number of cats and dogs per head of population is decreasing in Australia, dogs are showing the decline slower than their feline friends. The Australian Canine Animal Council (ACAC) states that almost 40 per cent of Australian households currently own dogs, which is one of the highest rates of dog ownership in the world. Australias current canine population is 3.7 million.
The role that dogs play in our lives has changed substantially over the past 50 years and cannot be attributed to one cause. Social, cultural, economic, political and even technological changes have shaped and shifted the values and mind-set of Australian society.
Here and now
Dr Joanne Sillince, CEO of the Pet Industry Association, says that todays dog owners are more committed. The bell-curve of ownership seems to have skewed to the right, towards responsible pet ownership, she explains.
Recent research looking at pet ownership in medium to high-density dwellings has found that almost one-third of dogs spend virtually all their time indoors. This can be credited to the shift in Australian attitudes toward dogs being fantastic companions. As more research is presented on the therapeutic benefits of dogs as companions, more are being accepted to live part or all of their lives indoors with owners.
Its been well-researched now that pets are good for your health both emotionally and physically, says Susie Willis from the Petcare Information and Advisory Service. When people are asked why they love their pet they answer with companionship and unconditional love. They also help with social isolation. Walking a dog or getting involved in dog-related activities leads the owner to meet new people and form new relationships.
People are also more reluctant to leave their pets indoors or in small backyards on their own, and dogs are more socialised to deal with travelling around with their owners and experiencing new environments. The bond that people have with their dogs means that they can go everywhere, says Willis.
Its this strong bond, says Kersti Seksel from ACAC, that makes some pet owners unable to bring a new dog into the home shortly after one has passed away. The grieving process for most dog owners is very emotional. People who lost pets ages ago would just get another one, but now they aren't as replaceable, she says.
Another reason that pets are more commonly accepted as living indoors is the changing face of accommodation. As housing becomes more high-density and backyards become smaller, people are seeing the need to work out ways to keep pets close to them in their living environment. This shift is noticeable, as many people who would have kept their pets outdoors when they were children now keep them indoors as adults.
Willis notes that more people today are actively seeking to enrol their puppies in puppy pre-school. Research shows that more than 20 per cent of people take their dogs to pre-school, she says. Also, there's more positive-reinforcement training these days. Check-chain training is becoming a thing of the past.
Products and services
Today, people want to spend money on their animals and so the industry has noted a distinct spike in expenditure.
Note the emergence of dog bling, dog clothing, dog car restraints, doggy day care, agility training and the improvement and higher standards for obedience training, says Sillince.
Willis agrees and notes that there are more services available aimed at the dog and the owner, such as pet-friendly holiday accommodation and grooming while local governments provide better facilities for dog owners than in the past, for example off-leash parks and education. Dog owners today are also able to purchase pet insurance for their pet, which means difficult financial decisions regarding their pets life are less stressful than in the past.
Health care
Technology is a marvellous thing, and has greatly improved veterinary care in the past few decades. While some technology is still relatively expensive and rare to use, much is now readily accessible, especially in diagnostics.
MRIs, imaging units and CT scans have been around for awhile but were often hard for vets to get access to, says Dr Graham Swinney, a specialist in canine medicine at the University Veterinary Teaching Hospital Sydney. Now vets have their own CT scanner, which gives us a lot more detail when looking for masses, nasal disease, spinal disease and joint problems.
Oncology (cancer) therapeutics is one area where movement forward is huge and where progress is ongoing. Other areas of growth include radiotherapy, which 50 years ago, vets would never have dreamt of doing. We have better X-ray equipment than 50 years ago, and a lot of people are using digital radiography, which means the image comes up on the screen and we simply adjust contrast, says Swinney. He notes that heart disease is now being treated by a host of new drugs that can more effectively treat the problem. Pacemakers are now being used, too, to stop dogs from collapsing, and new antibiotics for infections.
These advances in technology and treatment now mean that vets and owners can manage the dogs illness and improve quality of life.
There have also been advances in diets. Management of infirmities through nutrition is easier; for example, kidney disease managed with the right diet is now showing higher survival rates. People used to spend hours cooking up special meals that may not have been complete, but now there are special diets available, says Swinney. As well, breed-specific diets for puppies have now been formulated to combat the different nutritional levels required to prevent certain diseases.
A shift in the change of attitudes toward natural therapies for human health has seen the industry grow considerably in the past 50 years, with about 50 per cent of people seeking complementary treatment for their own health. This has made them far more open to alternatives for their animals, particularly for difficult conditions or where animals have side-effects to their medications.
Dr Barbara Fougere, a practising animal natural therapist in Sydney, believes this area will carry on maturing. The trend will continue to grow as the evidence base for safety and efficacy in natural medicine grow and veterinarians become more open to alternate therapies, she says.
Fougere says the most notable impact that natural therapies have had on dogs is the relationship they have with their owners. We see more and more owners coming to us with puppies, starting puppies off on the right paw. We offer a minimal approach to vaccination and chemical use and more natural ways for optimum nutrition. In this way, we see more people connected to their dogs and taking care of them, sometimes better than they take care of themselves, with fresh foods and exercise, Fougere explains.
In the later years of a dogs life, natural therapies are seeing an increase in their role. With the availability of alternate options, we can frequently extend quality of life, which provides more time for owners to spend with their loved ones, especially patients with cancer or conditions of old age, says Fougere.
The future of dog ownership
Both Seksel and Willis agree that housing will play a big part in our future relationship with dogs and, indeed, other pets.
Human demographics particularly the older population and more single-person households will have an impact. These people are less likely to have pets and therefore the number of pets may decrease, says Willis.
In this way, she says, we are going to have to get used to the idea of having pets indoors and new developments need to cater for pets. At the moment, many rental and strata properties do not permit pets, so accommodation in new designs would be ideal to create a more pet-friendly nation.
Restrictions and regulations are having a large impact on dog owners. In the past decade, we have seen more restrictions and legislation, says Willis. Were told how many pets we can have, what breeds were not allowed to have, where to take them and given on-leash laws and microchip laws. I foresee that this could continue and maybe even end up with the possibility of licences for dog ownership ultimately leading to higher costs for owners.
Seksel believes education is key to dog owners and those who don't own dogs living in harmony. She says that educating the people on how to behave around the dog, basic manners training for dogs and puppy pre-school are important.
Dogs are more accepted overseas and can be taken on public transport, to hotels etc, she says. The dog needs to behave to get Australian society to the same point.
Willis also believes that Australian society is less tolerant than it used to be. I think there's a higher expectation that people will be more responsible and research says that people are becoming more responsible, she says.
Will our furry friends be accepted more wholly into society? Only time will tell.
Love dogs? Why not visit our
DOGSLife Directory