December 11th, 2014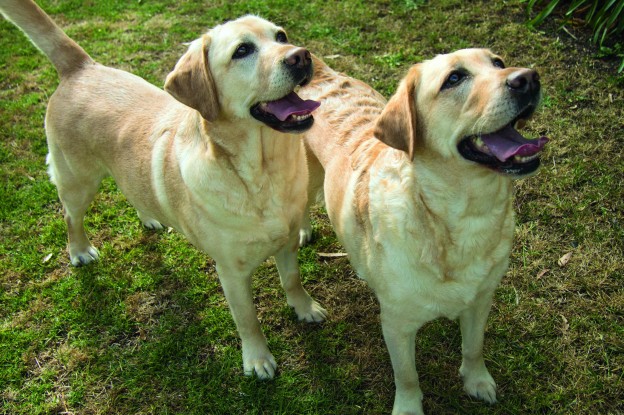 Chloe and Jazz were just little pups when they were the cover stars of Dogs Life magazine back in 2008. Kylie Baracz catches up with the stars and discovers what they've been up to.
In 2008, three gorgeous Labrador puppies came in to the Dogs Life studio destined for fame. Two of the three made it as cover stars and their owner Heather Brook couldn't have been happier.
"I had a phone call from Dogs Life magazine's assistant editor enquiring if I had a litter of Labrador puppies that might be available for a photo shoot.
"The then editor Caroline Zambrano and her assistant Liza were so welcoming on the day. I remember how Chloe and Jazz insisted on running everywhere while the photographer was trying to get that perfect shot. Holly, their black Labrador sister, just quietly laid there watching the fun."
Cover stars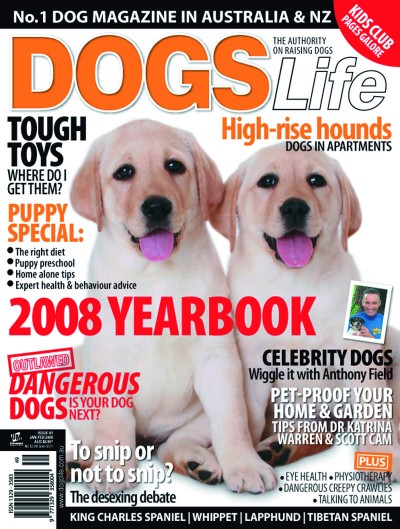 Brook received a copy of the 2008 Puppy Yearbook a few months later, and she still couldn't believe her pups made the cover.
"When we first saw the issue with our puppies on the front cover, we were so excited and proud. Some weeks after the photo shoot, we received a parcel from Dogs Life magazine. Inside was a large reprint of the front cover with our girls on it. This still hangs very proudly in my office for all to see," says Brook.
Many years have passed, and these stunning cover girls will be turning seven years old this year. Not only have they been on the cover, they also have starred in other Dogs Life features and even in our sister magazine PETS!
Magazines aren't the only ones vying for these pooches' attention; they are also in an annual calendar.
"They, along with their relatives, appear in a calendar each year with all their photography done by my daughter Kate. Many people including their vets look forward to it each year," says the proud mum.
Life since the photo shoot
Since the Dogs Life photo shoot, many other things have happened to the pair.
"Both Chloe and Jazz started being shown [in dog shows], but unfortunately this never went very far due to both these girls being diagnosed with hip and elbow dysplasia," says Brook.
"They both went on to have orthopaedic surgeries, and because of these issues, have been desexed so that these problems would not be passed on. At 18 months old, Chloe became sick with a bowel obstruction that almost killed her. Thankfully, our wonderful vet managed to save her life. Three years ago, Jazz was diagnosed with Diabetes Insipidus. She is more or less stable now but has to be watched at all times."
Their sister Holly has also had a bit of a rough time.
"Holly was born with an ectopic ureter and had to have a kidney removed at six months old. Her remaining kidney only functions at 85 per cent plus she also had hip dysplasia surgery at 10 months old. She is my soul mate," says Brook.
Helping the family
Brook's daughter suffers from Scoliosis, and Jazz and Chloe, along with their sister Holly, have been much needed emotional support to her and the family.
"On days when Kate is suffering from severe pain, the dogs seem to sense that she is not well and are a great comfort to her. They do this either by acting mischievously to brighten her day or by quietly being right by her side," says Brook.
"They have always been an inspiration for her photography and through the caring love the dogs give, Kate has been inspired to create a photography project which she is launching soon, telling the stories of special pets that assist owners with disabilities."
Not only have the dogs inspired Kate to pursue her dreams, Brook has also joined the canine industry.
"Through Chloe and Jazz's health issues, and especially their orthopaedic problems, it has inspired me to study and become a qualified Canine Myofunctional Therapist (more commonly known as canine massage therapy). Both these girls feel like Queens as they receive a massage every day to relieve their joint problems. But isn't that what it's all about? Loving and caring for our dogs as they are very special family members."
Want to know more?
For more information on Kate Brook's photography, visit http://khbphotos.wordpress.com and for more information on Heather Brook's canine myofunctional therapy, visit http://massage4dogs.blogspot.com.au
Love dogs? Why not visit our
DOGSLife Directory