April 20th, 2016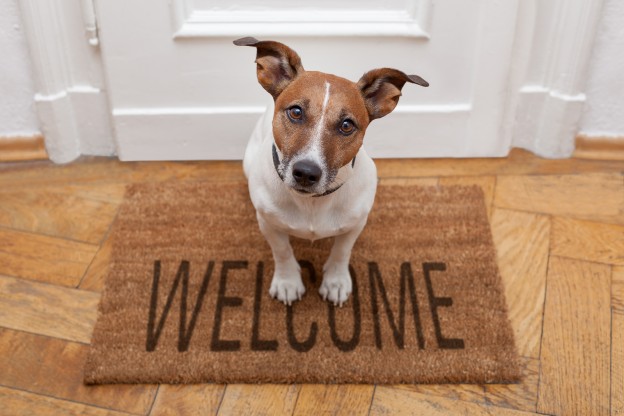 Can your apartment be home to a dog? Ashley Diterlizzi looks at some changes you can make to make your apartment dog-friendly. 
Not all dogs will adapt to living in an apartment.It's always important to research the breed and their needs before committing to a lifetime relationship with your pooch.
Once you have found your dog (or your dog has found you), you'll need to make a few adjustments to your living arrangements so both dog and human can live comfortably.
Pet-proof the dangerous areas of your home
The best way to identify the dangers your dog will be exposed to is to explore the parts of your apartment your dog will have access to. Identify the dangers within their reach and remove them. This might involve moving food and cleaning products from a low cabinet to a higher cabinet.
Create a designated pet space
Make sure your dog has its own space to retreat to, somewhere they can feel safe. Make it comfortable and inviting so your dog will want to keep their space for themselves. Keep their food and water bowls in the same spot so they know where they can get a drink, even when you're not around.
Keep your apartment clean
Sometimes it might seem like dogs prefer living in a messy home, but the reality is that it's safer for both you and Fido to keep it clean. Prepare for the wrath of pet fur with robotic vacuums, dustpans at the ready and a very consistent sweeping schedule. Don't forget to groom your dog regularly to contain their shedding.
Leave windows open when you can to air out your apartment naturally and rid your home of the unpleasant smells your pooch can create.
Use durable fabrics, hard flooring and lots of blankets
Make it easier to keep your apartment clean with hardwood or tiled flooring. Pet fur is much easier to deal with when it's not threaded into carpet. Blankets and throws are a great way to protect your furniture from scratch marks and also work to contain pet fur. Just remember to shake them out and clean them regularly.
Everyone loves a walk
Apartment-living isn't possible for dogs unless they're treated to regular exercise so be prepared to walk. Our dogs need to be walked daily to prevent health problems and restless behaviour indoors. Most importantly, walking your dog daily keeps them happy, and who doesn't love a happy dog?
Residents should always check with their landlord before bringing home a pet!
Here are just a few things that can make life with your dog a bit easier - see them now on our
DOGSLife Directory