January 24th, 2017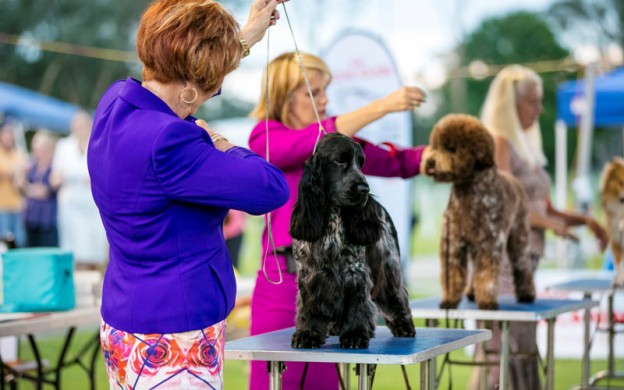 Saturday January 28
5pm
Labradors, French Bulldogs, German Shepherds, Golden Retrievers and more!
Close to 200 award-winning pedigree canines will gather at Orchard Hills on Saturday, January 28 to compete for Dogs NSW Show Dog, Puppy and Neuter of the Year, promising a night of great excitement and atmosphere!
Hosted by the Dogs NSW Complex Fundraising Committee in partnership with major sponsor Royal Canin, the premier event showcases top show dogs and puppies in their breed for 2016.
"The dogs on show are the crème de la crème of the dog world," said Lyn Brown, President of Dogs NSW, the controlling body of purebred dog breeding and exhibiting in NSW and a member body of the Australian National Kennel Council (ANKC).
"These top dogs will compete for the ultimate award which celebrates the best overall appearance, construction, unique breed features, health and temperament."
For the Dog of the Year, an entrant must have won a Best in Show at an All Breeds Championship Show in order to qualify to participate. For Puppy/ Neuter of the Year, the entrant must have won a Puppy/ Neuter Class in Show at an All Breeds Championship Show.
Canine winners and runners-up will be determined by nine mystery judges to be revealed on the night. Dogs won't be the only winners – there will also be a 'Best Dressed Lady & Gentleman Handler' award with a cash prize!
Prizes include cash, rosettes and an array of trophies from sponsors, including Royal Canin (major sponsor), Bowral Vet Hospital, Ozentries, Dogs NSW Journal, Marellan Show Ribbons, Love'em, Cabal Canine Candids, It Suits Me, the Fox Terrier Club of NSW, Dog News Australia, Alpha Dog Beds, Woofer Wares, Ffire Photography, Showaquipment and Delete™.
"Dogs NSW thanks each one of our sponsors for their support and generosity," said Mrs Brown.
The Dogs NSW Show Dog, Puppy and Neuter of the Year event is proudly sponsored by Royal Canin. For more information, visit www.dogsnsw.org.au.
Address:
Bill Spilstead Complex for Canine Affairs,
Orchard Hills, NSW
Make sure your furry friend is always looked after at our
DOGSLife Directory