October 28th, 2015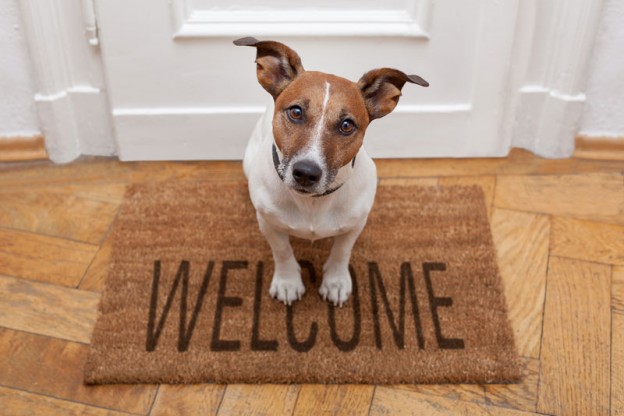 Bringing home a new member of the family is always exciting but exclamations of joy can soon turn to cries of horror when your new puppy tramps mud over the cream carpet or your gorgeous fluffy kitten tears down the kitchen blinds.
Fortunately, there are some practical things you can do to avoid domestic disasters and make your home a pet-friendly palace. Follow these 5 simple tips to ensure your new dog or cat fast becomes a much-loved (not loathed!) resident at your household.
Doggy Doors and Cat Runs
In order to feel secure and independent at home, your new pooch needs to be in charge of himself – a doggy door is just the ticket. Being able to come and go freely helps your dog to become adjusted to his new home environment and ensures he has an escape route (if ever he feels overwhelmed from so many kisses and cuddles!)
Your cat will love you for installing a cat run outdoors – meaning she can keep herself entertained but you don't have to worry about her escaping. If your cat does need to stay indoors when you're not around consider installing cat shelves – they'll keep your kitty occupied for hours and can be designed to match the decor of your home.
Clean Play
Dogs love pigs' ears and cats love scratch trees – but finding soggy treats in between the cushions of the lounge and constantly trying to get tiny bits of nylon out of the carpet is hardly domestic bliss. Toys, games and play environments are essential for the long term physical and emotional well being of your pet but keeping the toys hygienic is a must.
When buying toys, choose nylon and plastic toys over edible or soft toys, as they can be easily cleaned with soap and water. Wherever possible, avoid buying toys with dangly bits which can break off the toy or even become a choking hazard for your pet. It can also be a good idea to have a toy box or a toy drawer in the main area of the home, so that toys can be rotated and cleaned regularly.
Hard Floors
When welcoming a new pet to your household it's a great idea to think about your flooring options. Carpets breed germs and stain easily, and are easily destroyed by enthusiastic claws.
Hard wearing floors such as vinyl are durable and resistant to scratching and staining. If choosing wood a hardwood kind is fine so long as you make sure you keep your pets' nails clipped regularly. Securing your pet in a hard floor surfaced area while you're not home is also a good idea, saving you the stress of worrying about little accidents.
Resistant Fabrics
The battle with dog and cat hair never ends when you have a shedding pet but there are certainly simple steps you can take to make your life in this regard a little easier.
Choosing a leather or faux-leather couch is the best pet-friendly option as it is easy to clean and doesn't breed odours. The only problem with leather is that it is generally more prone to tears if your dog feels inclined to 'dog' before curling up for a snooze.
Get around this issue by allocating a spot for your dog on the lounge and covering this space with a rug of towel. Slipcovers for seating furniture are also a good option as they can be cleaned on a whim. Don't forget to, wherever possible, colour-code your furniture in keeping with your pets coat. Even with a shedding pet camouflage will always do wonders for the aesthetic appearance of your home.
Author Bio:
Jamie Ashton is Community Manager at Sydney Blinds & Screens, which provides competitive, affordable and top quality blinds, shutters, and security & screen Doors, including custom pet doors.
Want more articles like this? Subscribe to Dogs Life Magazine
Here are just a few things that can make life with your dog a bit easier - see them now on our
DOGSLife Directory