December 3rd, 2016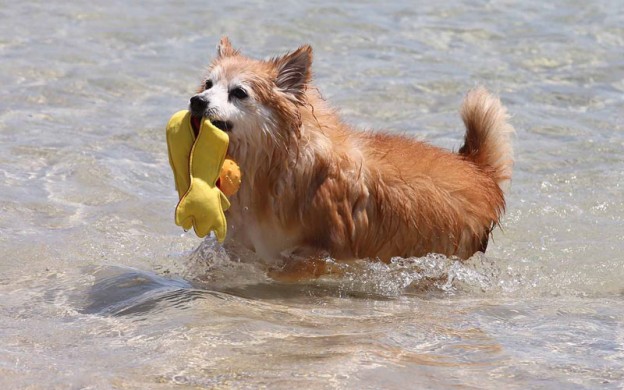 Summer is heating up! When the sun beams down and the weather warms up, there's no better place to be than the beach. So grab the leash and plenty of fresh drinking water, here are some of our top picks for dog-friendly beaches in and around Perth.
Peasholm Street Dog Beach
Arguably the most popular dog beach in the state, Peasholm street dog beach is located in the suburb of Scarborough. Often called Floreat dog beach, the boundaries can be a little unclear, but officially it starts 200m North of Peasholm Street and extends all the way south to the Floreat drain. That's approximately 2km of white sand, sun and surf, so you probably aren't going to be at risk of leaving the boundaries. Peasholm is a very busy place for people and their furry pals, so popular that there is very occasionally a dog washing service set up. There are plenty of facilities to get clean and de-sanded after a day of fun, as well as a number of freshwater drinking fountains the perfect size for dogs. The surf is relatively calm most days, the water is clear, and there are no rocks. If your dog has never been to th beach before, this is a good starting point.
South Freemantle Dog Beach
For those south of the river, South Freemantle is a popular spot. Just south of Freemantle sailing club, the beach boasts not only a great calm surf and sand but it also backs on to a grassy park, where dogs are also welcome, as well as being very close to several dog-friendly cafes. At less than 500m long this beach is not as large as some other dog beaches. It is very popular so it might be crowd easily, but if your dog loves meeting new friends it's the perfect spot for the whole family.
CY O'Conner Beach
O'conner is possibly the most visually intriguing dog beach you will ever visit, and will suit the more curious owners and dogs. Firstly, there's the slightly abstract statue of engineer CY O'Conner himself, which sounds reasonable until you learn it's out in the water, watching back at the beach. Then, behind the beach you'll see the more than a little creepy abandoned Freemantle Power Station, which has sat empty since 1985, and will be there for at least another ten years before a long-planned estate development gets off the ground. Perhaps these slightly sinister factors are why this beach is never crowded, but with safe, calm conditions, this is a great choice for you and your pet. If you're not bothered by the strange, definitely check it out.
Quinns Rocks Dog Beach
This is a bit further north of the river, located on Ocean drive in Quinns. The crystal clear water is great for swimming, both for people and dogs. It's a beautiful lesser-known dog beach, but it still gets popular on weekends. If you enjoy walks on the rocks, this is the best beach on this list for that.
South City Dog Beach
Just a bit further south from the Peasholm dog beach is a similar beach for those put off by potential crowds.  The surf here can be a little rougher, and there is no shade available so make sure you stock up on water and sunscreen for both you and your dog, and maybe avoid going on a day that is just too hot.  The beach is perfect for more introverted dog owners who just want some time with their pet alone, and not be expected to socialise or interact with other dog owners.
Here are just a few things that can make life with your dog a bit easier - see them now on our
DOGSLife Directory