October 15th, 2021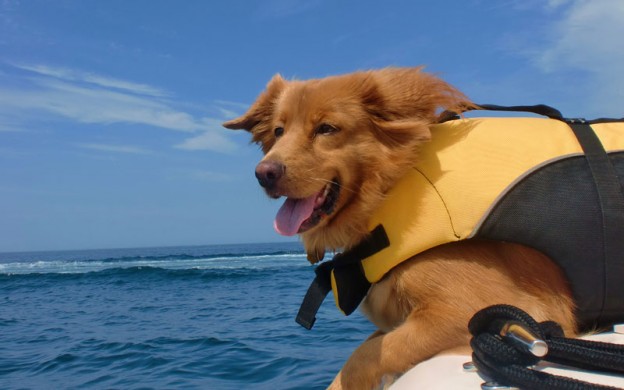 The weather is warming up which means more of us are taking to the water to cool down. A day on the water in a boat is a great way to spend the day with family. Whether you're heading out fishing or just for a swim in the refreshing blue, there's no reason why your four-legged friend can't join in.
Here are some tips to help your pooch have a safe and day on the water:
Fresh drinking water
Don't forget to pack enough fresh drinking water and a drinking bowl for your dog. Being out in the sun all day is a really easy way to get dehydrated fast so they're going to need a bit more than normal. Don't allow your dog to drink the salty ocean water either.
Life jackets
You might be surprised to learn that not all dogs can swim and that even those that can swim, still require a life jacket. Bright coloured life jackets come in doggy makes and models to ensure your pooch can still enjoy a swim while making safety a priority. Make sure your dog is comfortable with the life jacket before you take to the water.
Shade
Make sure there is enough shade on the boat for your dog. Fiberglass also heats up really quickly so make sure there's a cool spot for your pooch to sit and stand. Bring some towels so you can wet them and cool down your dog.
Toilet breaks
Ah yes, toilet breaks. We all need them! Make sure you stop go ashore frequently so your dog can relieve itself. Don't forget to pick up after them!
Get familiar with the boat
Let your dog get familiar with the boat before it takes to the water. They'll need time to sniff and work out where the most comfortable spot is.
Watch out for fishing hooks
Dangerous to humans and dogs alike, make sure there are no hooks at the bottom of the boat where your dog will be able to walk over them. Also make sure your dog isn't swimming near any hooks in the water.
Here are just a few things that can make life with your dog a bit easier - see them now on our
DOGSLife Directory