August 22nd, 2014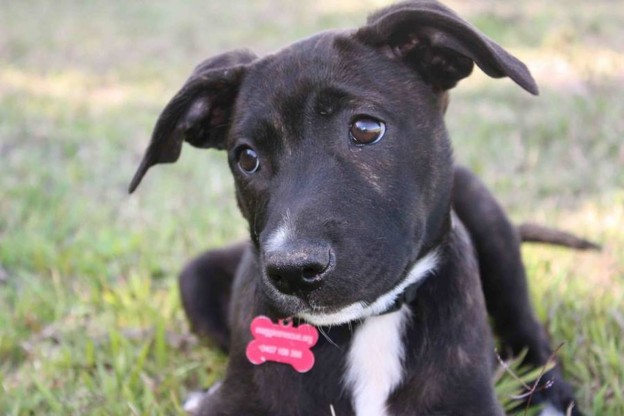 Many dog breeds available today have a long history, so it was a rare and unique chance that Maggie's Rescue was able to meet a new breed, originating right here in Australia. Kylie Baracz reports on the The Australian Great Shepford
The Australian Great Shepford is so new, that finding a Google reference on them might not be easy. Described as loyal, friendly and well socialised; these dogs, originating from Central Queensland, are traditionally from big litters so they are great with other dogs and make great family pets.
"Shepfords love people," says Lisa Wright, founder of Maggie's Rescue. "They are not a high-energy dog, love to go on a walk, be part of the family and are happy to relax with their people."
Welcome to the family
Wright first met this loveable breed when she was contacted by a woman who had 17 puppies from two of her dogs and wasn't able to rehome them.
Maggie's Rescue decided to take them in and offered to desex them at the property, and it was at this point that the new breed was born.
"Maggie's foster carer, Roanne Spark came up with the name 'Australian Great Shepford' as we felt it was a combination of what we were told about the dogs' breed background. They are of course, Aussies through and through," says Wright.
Is the AGS the breed for you?
Wright believes the Australian Great Shepford (or AGS) is friendly, relaxed, likes to be around people and looks to their owner for direction. She says they are not wilful dogs, but are mostly just happy to be part of the family.
"I think Shepfords are great for most people, but of course the people have to be ready to own a dog too. Dog ownership requires time, patience and a commitment to basic training and socialising. Some of the Shepfords that have done puppy preschool have been stellar students too," says Wright.
The AGS's hallmark feature is that they are exceptionally easy to train and don't require much exercise.
"A Shepford would love two 30-minute walks a day, but you will get by with a game of ball in the backyard and one walk if you're short on time. Walking gives them peace of mind and sets them up for the day ahead," says Wright.
Since speaking publicly about the breed, Wright has been surprised at how people "know" or have owned a Shepford before now. "Our foster carers get together in an online forum and we talk about how we have seen mini-Shepfords, Wire-Coated Shepfords, Long-Haired Shepfords etc. One trait that Shepfords seem to share is a great love of the lounge, so we think they have a streak of 'Lounge Lizard' in them too," she says.
Although they might be lovers of the couch, they make good travelling companions. "I drove six of them from Brisbane to Sydney over two days and we had them in crates stacked into my car," says Wright. "They were perfect travellers, and on arrival to Sydney, we had them in my yard in St Peters. It was like a Shepford party. Six brindle Shepfords went crazy, just playing and having a ball. It is hard not to love the outlook on life that a Shepford has."
Brief rundown of the AGS
Lifespan
12–15 years
Size and weight
They are all expected to be 28 to 35kg and they are a medium to large breed.
Grooming/care
Shepfords are short-coated, they are easy to care for and most of them, to date, love water.
Family dog
Shepfords are perfect for families. All of our Shepfords adore people and are great with children. We always recommend that children are educated in how to behave around dogs. No dog likes being sat on or having his ears pulled and they can't tell you "no" easily either.
Good watchdog?
Not really, unless wagging their tail at the gate would scare a burglar off!
Hereditary diseases
There are large dog breeds in the Shepford line, so they are going to need good nutrition and joint care, but nothing stands out as a problem.
Where can you adopt an Australian Great Shepford?
Maggie's Rescue only have a limited number of AGSs left for adoption, from the original 17 dogs they took in. "The families who have adopted them just love them!" says Wright.
Make sure your furry friend is always looked after at our
DOGSLife Directory