June 21st, 2016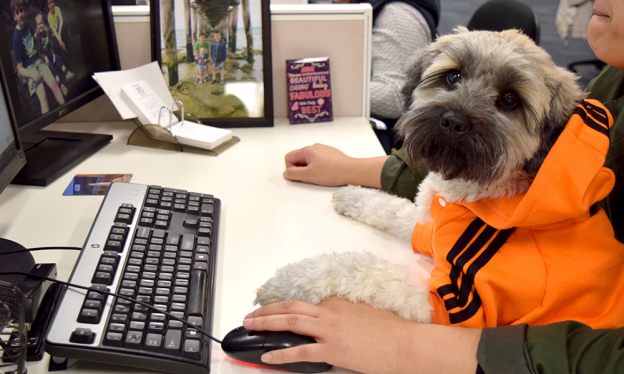 Mark your calendar! Friday June 24 is Take Your Dog To Work Day, a day where businesses encourage employees to bring their favourite furry friend into work.
The day celebrates the benefits of companion animals and helps to inspire those without pets to adopt.
Take Your Dog To Work Day began back in 1999 and has grown over the past few years to include countries like America, Australia, New Zealand and Canada.
Animals in the workplace are great for acting as social catalysts, bringing people together who wouldn't normally interact and creating teamwork and conversation. Studies have shown that co-workers who bring their pets to the office have a greater connection with their colleagues and it helps to increase trust, teamwork and friendship.
Taking your dog to work also encourages employees to take a break at lunch and to head outside to walk their furry friend which in turn helps to refresh the mind and get the body moving. Having pets at work can also reduce overall stress and anxiety within the office.
Jetpets, an Australian animal transport company, started allowing their employees to bring their pets into the office every Friday (they've even named it Furbaby Friday). Furbaby Friday isn't limited to dogs so it's not uncommon to see all creatures great and small in the Jetpets office on a Friday, from cats to rabbits and even reptiles.Having furry friends around the Jetpets office has increased happiness, productivity, creativity and work-life balance among their employees!
So embrace the benefits of having dogs at work and bring Fido with you on June 24!
Make sure your furry friend is always looked after at our
DOGSLife Directory