October 31st, 2013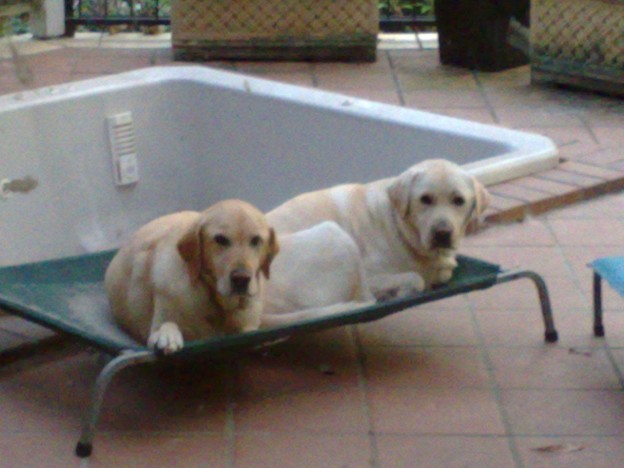 Saying goodbye to our well-loved pets is probably one of the toughest things for owners to do. Adrienne Kotz writes about how she overcame grief and started anew, without losing the memory of her best furry friends.
It is always hard, yet inevitable, that our pets leave us to head over Rainbow Bridge. Whether they are put to sleep after an injury or illness or taken suddenly, the grief that overcomes us can be overwhelming.
The time needed to grieve is personal to everyone. Moving through the steps has to be taken gently and slowly so emotions can be fully released.
We've had a particularly hard time of it lately in our home. I am conscious of the clock ticking for all of us and our wonderful companions, too. I write this short article as therapy, not just for myself but for all of us who love our dogs and who have to eventually cope with losing them.
This is my second attempt at writing this. When I originally started to write, I was so bereaved I couldn't read the type through the tears that were flowing from my eyes. Now eight weeks later, am I any better? Well I think I am a little.
Our journey
Our family has had dogs, or more precisely Labrador/Retrievers, for almost 24 years. It was part of the growing up period for us and our children, like a rite of passage.
Just before Universal Magazines acquired Dogs Life, we had one of those horrific storms that tend to blow through Sydney, blowing down trees and fences, flooding streets and shopping centres, leaving people without power or means to go back and forth to work.
We woke up one Sunday morning after just such a storm and my husband opened the gate to go get a newspaper and there laying across the gate was a German Shepherd. After anxious calls to our neighbours, nobody claimed him.
It was a public holiday so we took this very docile dog in, tied him on an extremely long rope in the garden, fed and watered him, and waited for the pound to open the next morning. Our littlies came out to pat and talk to him, and with childish love gave him a name and a home to live in.
The next day, once the pound was open, his very anxious owners came forward to claim him and we were all left heartbroken that he was gone — so we started our search for an ideal family dog.
Sammy
We found it in Sammy, a Labrador puppy (whose life was amply recorded within these pages from time to time). Over the years I recorded his life story, mainly through eating things he shouldn't have, and in the end his passing from cancer.
Sammy ruled us — we were certainly not pack leaders — but it was all part of growing up with our first family dog. He definitely was family to us and his passing was a cause of much distress.
Rosie
We learnt with experience and became pack leaders… well, almost always. We were though, in part, supported by Rosie, a Golden Retriever that we had adopted through an animal welfare shelter.
She came to us at roughly 15 months old and had, as far as we knew, at least three families before settling in with us. She was a puppy and did puppy things, so it was a shame that her previous owners didn't do their research and took her on when they didn't know what they were in for.
Rosie was the best dog in the world. She took forever to relax when we went out for a walk, years before she would sleep in a kennel, all her life feared the vacuum cleaner, walking sticks and brooms, and cried whenever I wasn't there. Did she miss Sammy when he passed away? Not one little bit, as she had me all to herself.
Barney
So we were back to one dog and my husband started on about them being lonely without a companion for Rosie (she never complained), but then into our lives came Barney.
Barney was an extremely boisterous 15-month-old lab, who had grown up with four cats. He came to us with his own set of issues — namely, he thought he was a cat. No chair was safe from his furry bum, the glass garden table was his permanent sleeping place, and well, he could jump — six-foot fences were no trouble. And standing on the balustrade to see people walking past was his regular security detail. We called him our little Olympian!!
Then suddenly fate hit us — so suddenly and without warning that we had no time to grieve. Young Barney irrevocably twisted his intestines by continually jumping. Even with the wonderful care and skill of Ku-Ring-Gai Vet Hospital, he died from heart failure. He was just six years old.
Lost love
Rosie by now was 12-and-a-half. We had prepared ourselves for her. We knew she had all the problems of an old dog — arthritis, failing sight, etc — but we still had her.
The most loving and faithful of dogs, she didn't mourn Barney. Life was good again for her — "walkies" all the time, no fighting over little tasty bits, it was her paradise. However, paradise lasted for only six weeks, as we found that our poor Rosie had a tumour on her heart. She had come up the stairs from the garden and collapsed on our patio. Ku-Ring-Gai took loving care of her as always, however in the end she succumbed.
The house was awash with tears. Our children, now no longer children but adults, came with food and comfort. We promised ourselves we wouldn't rush into buying another pet. We had plans for a trip, and once the trip was over we would look to re-home another Labrador. Grief is a terrible thing, whether human or animal. You see so many little reminders around the house. The kennel, the lounger, the bowls, the scraps and treats kept for special occasions, and you miss your dog so very much. I couldn't function without her. She had lain by my side, I had constantly tripped over her, I would always remember to fill up the water bowls if we were going out. I just couldn't function.
Bella
Then we did a terrible thing and started just to look. I know we shouldn't have, but my goodness there are so many wonderful dogs looking for loving homes. So we met Bella. Bella has lived with us now for three weeks. Like Rosie and Barney before her, she has had her problems. Bella is five years old, is terribly submissive and her toilet training isn't up to standards, but we are all trying. Does she love us? Absolutely. Do I feel complete again? No, not entirely as we do compare her with our other three furry babies. Are we happy to have her with us? Of course. A bit of the grieving is over and she is helping us move on.
We miss our dearly departed animals so very much. Each with their own little personalities and foibles, but is love "a second hand emotion"? No way, we will just keep on giving and giving. We remember each one and we absolutely never forget them. If you can recover from your loss — please go adopt another lost soul and keep on loving.
Tips to deal with pet loss
• Connect with other dog lovers
The dog-loving community tends to share the same deep bond as you do with your dog, so they tend to be the best people to speak to about the loss of your furry family member.
• Immortalise your dog
Sometimes it helps to create something that will honour your dog's memory. Make a headstone for their grave, draw a portrait of your dog to hang on the wall or create a key ring with your dog's name or paw print on it. It doesn't matter what you make, just reflect the uniqueness of you and your dog.
• Adopt again
You will know when the moment is right. Each dog is unique and has their own quirks and personality, but they have one thing in common — they need lots of love. It is a very personal decision to adopt another dog, so make sure you are in the right headspace before looking again.
Companion animal memorial service
The Lort Smith Animal Hospital in Victoria holds two memorial services a year and also co-ordinates a monthly grief and bereavement support group for people who have lost animal companions.
The animal hospital also has a Companion Animal Loss Support Group, which meets on the third Saturday of each month.
"It can be a devastating and confusing experience," said Chaplin Adele Mapperson, who presented the autumn Companion Animal Memorial Service at the animal hospital.
"Sometime people are surprised to find their grief greater than that they experienced when a loved parent died. Others have told me that they feel their grief is somehow inappropriate, given its depth, and the very different responses of friends or family to the loss."
As well as co-ordinating the bereavement support group and conducting the memorial services, Mapperson provides support and counselling on a daily basis to pet owners whose animals succumb to disease or who may need to be euthanised. She keeps a memorial book where each animal that dies at Lort Smith is recorded and their human companions are invited to provide photos or write memorial pieces about them.
The next Companion Animal Memorial Service will be held in November. For more information, please visit www.lortsmith.com
Here are just a few things that can make life with your dog a bit easier - see them now on our
DOGSLife Directory