September 19th, 2016
By Becky Starr
Dog lovers are no doubt aware of the many beautiful animals that sit in shelters, hoping to find love in a forever home. Thirty years ago, a non- profit foundation by the name of Merlin's KIDS decided to take action. The founder opened up the doors to the new concept of turning shelter dogs into service dogs. The results have been astonishing and heartfelt.
Since 1986, more than 1300 rescued dogs have been rehabilitated and placed into the homes of children with disabilities, and with war veterans with battlefield wounds as service, therapy, and companion dogs.
In essence, Merlin's KIDS found a way of saving two lives in one grand swoop. And they have been able to do so free of charge to the families in need.
Here's just one of many Merlin's KIDS success story.
A dog by the name of Toby, a Cavalier King Charles Spaniel, was rescued from an Arizona shelter's death row, trained, and given a place of honor in the family of a boy named Hunter. A 15-year-old with Autism, Bipolar disorder, ADD and ADHD, Hunter faced numerous challenges. His family had to be concerned about his every move in and out of the home as Hunter did not thrive in most environments.
Hunter's family learned about Merlin's KIDS and felt that perhaps a service dog not only could aid and enhance Hunter's life, but improve the lot of the whole family.  There was one initial problem: Hunter was actually terrified by dogs.
The family was willing to take a chance and after much communication with Merlin's KIDS they took Hunter to meet a possible fit.
This perfect fit was named Toby and in a moment, Hunter had no fear, and there was an immediate connection between boy and dog.
Talk about love at first sight!  Hunter and Toby had an inexplicable bonding. Within moments, Toby was up in Hunter's lap and a love relationship began for both of them.
Toby, the rescue dog, played a much bigger role than provide companionship for Hunter, important as this is. Toby also is Hunter's tether dog that prevents him from wandering off and keeps him safe at all times. He teaches Hunter to remain calm during high stress situations. He stands by his side in all circumstances. Toby has proved to be Hunter's difference-maker, as well as a joy to the family.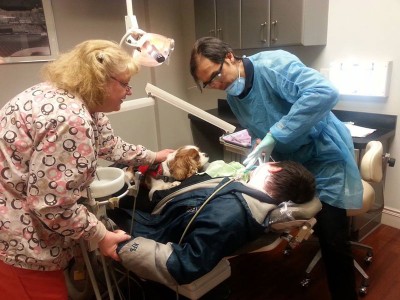 Toby can also detect cortisol levels in Hunter, and alert Hunter's family prior to a meltdown. Toby has taught Hunter how to be empowered and to control his temper. He gives Hunter a sense of responsibility, which improves his confidence and evokes a sense of pride.
Hunter now lives a much fuller life with Toby by his side, as does Toby. Two lives have been saved through an unparalleled bond.
Toby was saved by Merlin's Kids, a 501 C-3 Non-Profit organization that rescues and rehabilitates shelter dogs. They are turned into service dogs and life-saving disease detection dogs that help those with autism and other special needs, including disabled war veterans, firefighters, and victims of violence. Learn more at www.merlinskids.org. Toby was trained through a Merlin's Kids canine behavior partner organization, United K9 Professionals, www.unitedk9pros.com.
Make sure your furry friend is always looked after at our
DOGSLife Directory