September 19th, 2016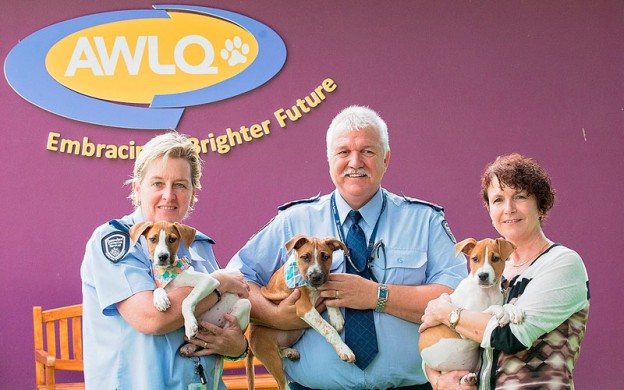 Numinbah Correctional Centre and AWLQ Pups in Prison celebrates ten years of success.
Animal Welfare League Queensland (AWLQ) and Numinbah Correctional Centre are celebrating a decade of collabration that has seen more than 500 four-legged inmates' lives changed.
AWLQ received a high number of Mother dogs who have large litters while they're in the shelter. These pups and mums require two-three months of care on average.
CEO Denise Bradley says they have a hard time finding foster carers for the mothers and litters. That's where Queensland Corrective Services and Numinbah Correctional Centre stepped in to help change and save lives.
"Our first Mother had seven puppies and it went so well that we followed it up with another two Mums and 19 puppies," Ms Bradley said.
Since then more than 500 mothers, and their pups, have gone through the program which has multiple benefits for both the dogs and the prisoners.
Numinbah Correctional Centre Liaison Officer Paul Longman was involved in the initiation of the program in September 2006.
"The program plays an important role in teaching prisoners about responsibility and compassion, but also in providing them with the opportunity to make reparation to the community," Mr Longman said.
"Prisoners care for the dogs until a suitable home can be found for them. They feed and groom the dogs and provide one-on-one care to develop social skills. Prisoners are responsible for assisting dogs in their recovery from surgery and keeping an eye on their overall health."
The dogs get many benefits including healthy socialised mothers and pups, mothers staying with their pups for the full time they were needed, uninterrupted one-on-one attention, and of course, love.
The program was expanded from Mothers and Pups in 2008 to dogs which require foster because of domestic violence situations.
Make sure your furry friend is always looked after at our
DOGSLife Directory